VW Cup leader Aaron Mason in for Kaye at AmD Tuning
Volkswagen Racing Cup series leader Aaron Mason has agreed a deal with the AmD Tuning team to race in place of James Kaye at Oulton Park this weekend.
The 33-year-old from Doncaster will make his debut in the BTCC in the team's Super 2000 Volkswagen Golf, competing for honours in the Jack Sears Trophy.
The team says Kaye had a last minute business commitment he was unable to reschedule, which has forced him to sit out the weekend.
The man taking his place has won four of the opening six rounds in the VW Cup in his Scirocco R, and is the most successful driver in the history of the series in terms of race victories, with 15 to his name.
AmD Tuning are already one the supporters of Mason's programme in the VW Cup.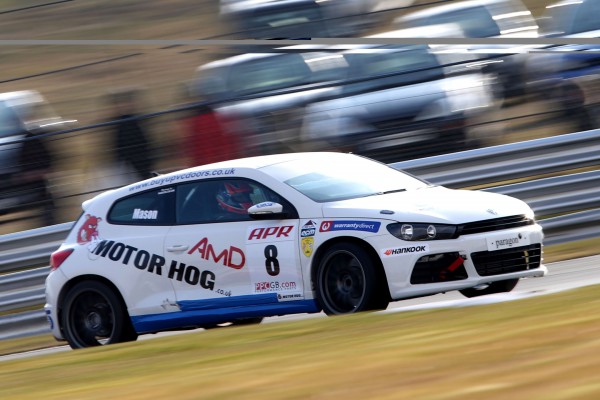 Mason said: "I'm really excited about the chance to get behind the wheel of a touring car this weekend. I already have a relationship with AmDTuning.com from the VW Cup, and when the chance to race the Golf came along, I wasn't going to turn it down.
"Getting to the BTCC is the kind of thing I could only dream of when I started racing five years ago, so I'm glad to have the opportunity to give it a go.
"I think I can be competitive despite it being my first time in the car, although I'm not going to go into the weekend expecting too much as I know it is a big step up.
"Ultimately, the first aim has to be to secure three finishes from the weekend, but if I could finish in the top three in the Jack Sears Trophy, then it would be fantastic.
"My main focus this season is to win the Volkswagen Racing Cup but it'll be interesting to see how I get on this weekend, and who knows where it might lead for 2014."
AmD Tuning team principal Shaun Hollamby said: "Unfortunately, James has a last minute business commitment he couldn't reschedule which means that he isn't able to race at Oulton Park, but at the same time, it's fantastic that we're able to give Aaron the opportunity to make his BTCC debut.
"We know him well from the Volkswagen Racing Cup, where he has really shown himself to be one of the stand out drivers over the last few years. He was keen to see what touring cars was all about, so this is the ideal opportunity for him to get in the car and give it a go.
"The key thing for Aaron is to get three finishes and we don't expect fireworks given it will be his first time in the car with no prior testing.
"I have no doubt that if he was in the car longer term, he would be a contender for the Jack Sears Trophy, but this weekend is all experience and if we are able to come away from the weekend with some silverware, then it will be a huge bonus."