The 2015 European Touring Car Cup kicks off in Hungary
The six-event 2015 FIA European Touring Car Cup gets underway this weekend with 20 cars entered for the opening round, with a hot competition anticipated to come from the revitalised Single-Make Trophy class which features seven all-new SEAT León Cup Racers.
The ETCC has expanded to six events, three of which will support the World Touring Car Championship at the Hungaroring, Slovakiaring and Paul Ricard circuits, and then three standalone events at Brno, Zolder and Pergusa.
The TC2T class for Super 2000 1.6 turbo cars which were the WTCC's top tier between 2011-2013 features four BMW 320 TCs, with the Campos Chevrolet Cruzes which dominated the season last year when driven by Nikolay Karamyshev and Igor Skuz absent from the grid. New to the ETCC is Ülkü Motorsport, running a pair of BMWs for Galip Atar and Ümit Ülkü, while ETCC regulars Borusan Otomotiv Motorsport and Liqui Moly Team Engstler will field cars this weekend for Aytac Biter and David Kajaia, with only Biter having previous experience of the series and circuit.
The TC2 class for older normally aspirated cars is the only class with a multi-manufacturer mix, with Rikli Motorsport bringing their venerable but now ageing eighth generation Honda Civic FD2 for Peter Rikli and new driver Daniel Conrad, an all Swiss driver line-up for the team from Wangen an der Aare in Switzerland.
Borusan Otomotiv Motorsport will also field a BMW 320si for Ibrahim Okyay, whose past record could well make him the favourite for the title, but is likely to face stiff competition from Krenek Motorsport's Michel Matejovsky.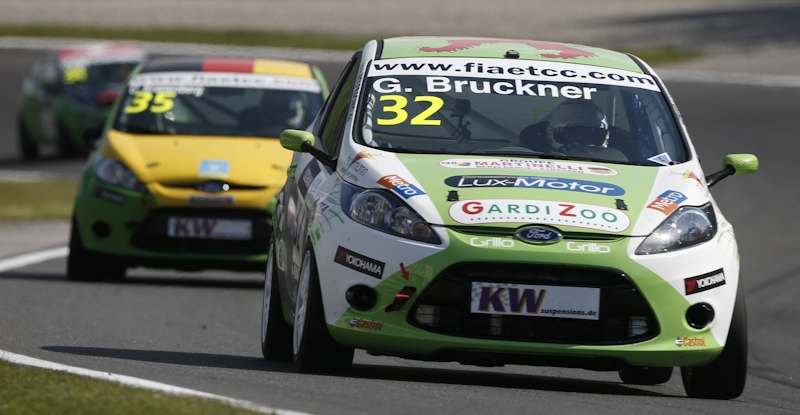 The Super 1600 class is again an all Ford Fiesta affair, featuring cars which were built for the ADAC Procar Series Division 2. Ulrike Krafft, now a shoo-in for the Ladies Trophy title due to the departures of Andrina Gugger and Kseniya Niks from the series, will be chasing the title which narrowly escaped her last year, but will again have to battle against Luxembourg's Gilles Bruckner, who is the only driver to return to defend his title in the same class.
All eyes are likely to be on the SEAT León Cup Racer class however, the most subscribed class with seven entries, with Mat'o Homola, Ronny Jost, Andreas Pfister, Alexandr Artemyev, Ferenc Ficza, Petr Fulín and Dusan Borkovic all vying for honours in the class which will likely contend for overall victories this season.
Race of Hungary Entry List
No – Driver – Nat – Team – Car – Class
2 – Ümit Ülkü – TUR – Ülkü Motorsport – BMW 320 TC E90 – TC2T
3 – Galip Atar – TUR – Ülkü Motorsport – BMW 320 TC E90 – TC2T
4 – Aytac Biter – TUR – Borusan Otomotiv Motorsport – BMW 320 TC E90 – TC2T
5 – David Kajaia – GEO – Liqui Moly Team Engstler – BMW 320 TC E90 – TC2T
12 – Peter Rikli – SUI – Rikli Motorsport – Honda Civic FD2 – TC2
13 – Ibrahim Okyay – TUR – Borusan Otomotiv Motorsport – BMW 320si E90 – TC2
20 – Michal Matejovsky – CZE – Krenek Motorsport – BMW 320si E90 – TC2
24 – Daniel Conrad – SUI – Rikli Motorsport – Honda Civic FD2 – TC2
31 – Gilles Bruckner – LUX – Gilles Bruckner – Ford Fiesta 1.6 – S1600
33 – Ulrike Krafft – GER – Ravenol Team – Ford Fiesta 1.6 – S1600
35 – Christian Kranenberg – GER – Ravenol Team – Ford Fiesta 1.6 – S1600
36 – Niklas Mackschin – GER – Niklas Mackschin – Ford Fiesta 1.6 – S1600
38 – Florian Hildner – GER – Florian Hildner – Ford Fiesta 1.6 – S1600
55 – Andreas Pfister – GER – Pfister Racing – SEAT León Cup Racer – SMT
66 – Ronny Jost – SUI – Topcar Sport – SEAT León Cup Racer – SMT
70 – Mat'o Homola – SVK – Homola Motorsport – SEAT León Cup Racer – SMT
72 – Petr Fulín – CZE – Krenek Motorsport – SEAT León Cup Racer – SMT
73 – Alexandr Artemyev – KAZ – Baporo Motorsport – SEAT León Cup Racer – SMT
96 – Ferenz Ficza – HUN – Zengo Motorsport – SEAT León Cup Racer – SMT
98 – Dusan Borkovic – SER – NIS Petrol Racing Team – SEAT León Cup Racer – SMT
Race of Hungary Timetable
Friday 1st May
13:45 – Testing 1
Saturday 2nd May
09:40 – Testing 2
13:30 – Free Practice
15:45 – Qualifying
Sunday 3rd May
08:45 – Warm up
10:05 – Race 1 (12 Laps)
11:10 – Race 2 (12 Laps)
All times local time (CET)