History: BTCC 1992 – A controversial ending
The final race of the British Touring Car Championship 1992 at Silverstone went to history as one of the most controversial ones in touring car racing history. Three drivers were up for the title – Vauxhall's John Cleland, Toyota's Will Hoy and BMW's Tim Harvey. Cleland headed the championship coming to the race, but had to finish ahead of his two rivals to take the title.
A wet qualifying session had made the starting grid interesting. Cleland, Hoy and Harvey were starting in middle of the grid while Jeff Allam, David Leslie and Andy Rouse headed the field.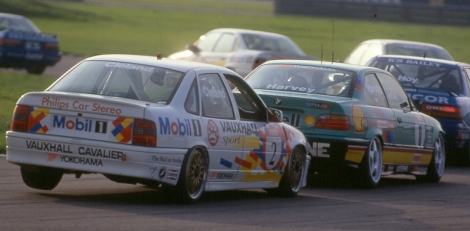 Steve Soper, BMW, came to play one of the key roles in this race and for the championship battle, despite him being off in the points. During the first lap Soper was pushed in to a spin by Leslie and then got hit by Rob Gravett. Soper's car was badly damaged in the rear but he was still able to rejoin the field last and started a spectacular drive through the field.
While Cleland was fighting for fourth place and the championship title with Harvey and Hoy, Soper suddenly caught up with them after a furious drive through the field. On the penultimate lap Soper muscled his way past Cleland who was all but happy.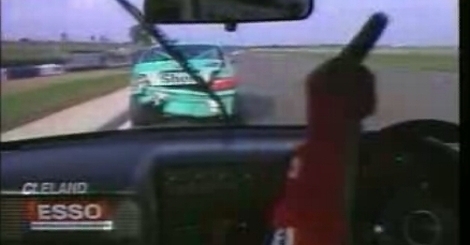 Harvey also managed to squeeze past Cleland in the commotion and was let past a corner later by Soper in to fourth place, taking one step closer to the title. Moments later at Brooklands everything got wrong for Cleland and Soper.
Cleland dove back on Soper and got past while two-wheeling his Vauxhall, as seen in the picture top left. But Soper did not have the intentions to let Cleland take the title ahead of his team mate Harvey. The BMW-driver drove over the grass straight in to Cleland – ending the race for both. Cleland was left fuming: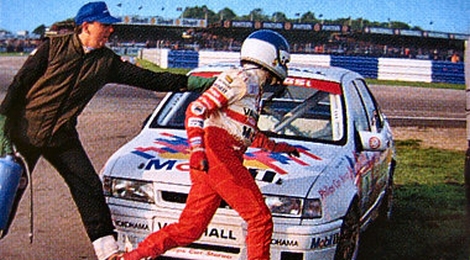 "I just have to say, the man chopped me a couple of times and then takes me straight in to the barriers. I mean what are we doing here? Is this stock car racing or is this motorsport?! He might get away with that in Germany where he might be Mr Superstar. But this is clean – the man is an animal!"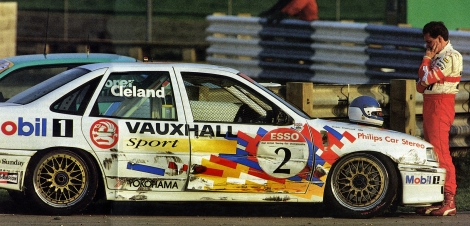 Soper was, unsurprisingly, not taking responsibility for the incident:
"He is not happy, but I am not very happy with him either. And also I don't know who hit me on the first lap and spun me out. I don't know if it was Rob Gravett or David Leslie. Who ever it was, with what is at stake here I think it is bad sportsmanship."
Both teams filed protests against each other and both drivers were found guilty. The result of the race was not changed, though both drivers were heavily fined. Tim Harvey stood as new champion with Hoy second and Cleland dropping to third. Little consolation for Vauxhall was that they secured both manufacturers and team titles ahead of BMW.
The controversial and very exciting race is captured right here with classic commentary from legendary Murray Walker:
BTCC 1992 Final Championship Standings Drivers:
1 Tim Harvey BMW 318is 152
2 Will Hoy Toyota Carina 149
3 John Cleland Vauxhall Cavalier GSi 145
4 Jeff Allam Vauxhall Cavalier GSi 137
5 Andy Rouse Toyota Carina 128
6 Steve Soper BMW 318is 77
7 David Leslie Vauxhall Cavalier GSi 66
8 Tim Sugden BMW 318is 43
9 Alain Menu BMW 318is 27
10 James Kaye Toyota Carina 19
BTCC 1992 Final Championship Standings Manufacturers:
1 Vauxhall 136
2 BMW 134
2 Toyota 134
4 Nissan 96
5 Peugeot 49
6 Mazda 48