Fabrizio Giovanardi back to the BTCC with Motorbase
Touring car legend Fabrizio Giovanardi has sealed his return to the BTCC with Motorbase Performance, taking the likely number of former champions on the 2014 grid to seven.
The Italian returns for his first full-time season in the BTCC since 2009, and will drive one of the Kent squad's Ford Focus STs under the Airwaves Racing banner.
The 2007 and 2008 champion notched up 41 podiums and 24 wins during a five-year association with the BTCC, and last competed at the opening rounds of 2010, when he won twice at Thruxton, driving for Triple Eight, where he spent his entire BTCC career until now.
Giovanardi's return is yet another feather in the cap of the series, with a spectacular looking 2014 grid already boosted last week with the return of another double champion, Alain Menu. Although 2009 title winner Colin Turkington's drive is yet to be announced, he is expected to confirm a deal with West Surrey Racing soon, taking the number of past champions to seven.
Motorbase team principal David Bartrum chose to officially unveil Giovanardi during a one-off special edition of the Tin-Top Tuesday radio show tonight (Tuesday).
The pair said they had spoken about a deal as far back as 2010, which has now finally come to fruition.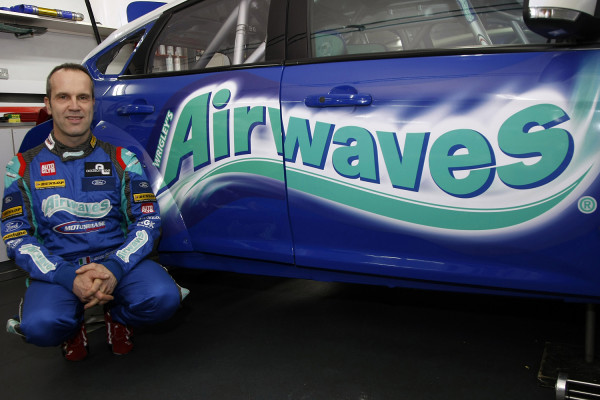 Giovanardi said: "I am really looking forward to coming back to this special championship. For the last four years I have done long distance racing and for me, it's quite boring! I need to be fighting for championships and this is the best place to find that, so I'm really happy to be back. I want to come here and try to win another championship; Obviously, I have to respect the other guys out there but I want to come here and try to win another championship; I need to win the third one!"
"When I stopped racing with Triple Eight I had a chat with David Bartrum and we tried to find a deal but there wasn't the condition to do that, so now after three years, David has given me the technical effort to win the championship."
"In 2008 and 2009 I had a big battle with this team and they were one of the teams to beat then. After four years I believe they've got good experience and they've grown up and they are right at this time to give me the winning chance.
"These are passionate guys, it's a small team but with people that work well together. Good people and the right people make the right target and I believe straight away that we can be one of the teams fighting for the championship."
Bartrum added: "This is a very important year for Airwaves Racing. This is going to be the one when we really do underline the product we've built here at Motorbase Performance and Fabrizio is the man to show you how it should go.
"I tried to get Fabrizio on board a couple of years ago, we've talked a lot about touring cars and this year I decided just before Christmas that was the right way to try and go. It was something that Airwaves wanted; they wanted us to up our game, that was one of the things that set their criteria and I was very happy to meet it.
"The intentions are the same as last year, the team wants to win. "We want to win races and we want to go after the championship and if you're going to go after the championship this is the year to do it. There are thirty cars on the grid and possibly seven guys that have won it before; so I think it's a fantastic year for Giovanardi to come back and join us."
"A lot of work's gone into the car over the winter," he added. "I'm really pleased with what the team has done, they've worked very hard. As I've said before, you need to stop take a step back and look sometimes and that's what we've done and now we're hoping to get the reward.
"We've always been proud of our driver line up and no more this year than last year, but this year it's got a little Italian spice to it that might take the team forward that little bit more."
The team says it will start its winter testing programme "in the coming weeks". It has not yet announced drivers for its other cars.