Thruxton to work with the MSA to evaluate Church corner
Thruxton has said it will work with the MSA as well as the FIA to evaluate any necessary improvements that may be needed to the high-speed corner at Church after three incidents on Sunday. These saw damage sustained to Nick Foster's WSR BMW, Ollie Jackson's Welch Motorsport Proton and Simon Belcher's Speedworks Toyota Avensis.
Nick Foster's car hit the tyre wall at Church in the second race after contact with Rob Austin's Audi, and his BMW 125i bounced over the barriers and lay to rest on the other side, while Jackson and Belcher both had single-car incidents in the third race, with Jackson's Proton Gen-2 ploughing through the tyre barrier and into a tree causing significant damage to the front of the car, while Belcher's Toyota was launched into the trees behind the barrier and ripped both ends off of his Avensis.
Thruxton has vowed to investigate the incidents, but also aims to safeguard the integrity of one of the famous corners in British motorsport.
"Any accidents at a motor racing meeting are regrettable, but as a racer myself, I fully understand that it is not desirable to have cars ending up amongst the bushes," said Bill Coombs, Thruxton Group Managing Director. "That is something we will be addressing, but by the same token, we need to be careful in this kind of situation not to jump to any kneejerk reactions or conclusions.
"Church is a high-speed, challenging corner, and like all the classic corners, it is just this that makes it so exciting and rewarding to get right. There is a significant amount of run-off area – more than at many other circuits – and the result is that when accidents do occur, drivers are thankfully able to climb out of the car and walk away, as was the case last weekend.
"The last thing we want to do is remove the character of Thruxton, but safety is of course of paramount importance and we will be working closely in conjunction with the MSA and FIA, who are the acknowledged experts in this area in our sport, to see if we can make further improvements."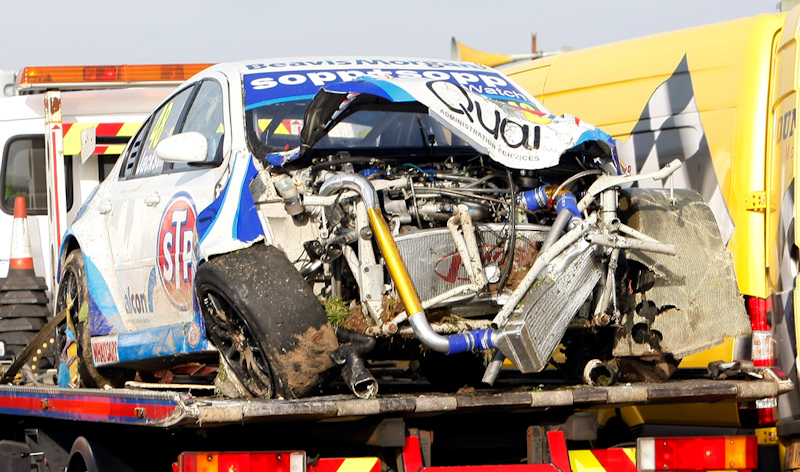 The UK's national motorsport authority, the MSA, has also released this statement:
"The MSA is aware of a number of incidents that occurred during this weekend's British Touring Car Championship meeting at Thruxton.
"The MSA's policy has always been to operate a robust and continual risk assessment programme, an important part of which is to monitor incidents at events and to investigate these as appropriate.
"All race circuits hosting MSA authorised activities are inspected on an annual basis as part of the MSA Track Licence system. In addition to its MSA credentials, Thruxton also holds a valid FIA Track Licence which requires its own tri-annual inspection process.
"BARC (Thruxton) Ltd, as operators of the venue, and BARC, as organisers of the race meeting, are pleased to co-operate with the MSA in the course of this investigation."