Honda could switch to rear-wheel drive in 2017
Honda factory squad Team Dynamics have declared they could be forced to make the switch to rear-wheel drive in 2017 to keep up with the fast-developing Subaru Levorg of Team BMR, which three-time champion Matt Neal describes as the "Frankenstein" of the current technical regulations.
Honda had a nightmare weekend at Croft, with just one top ten finish between the team's drivers Neal and Gordon Shedden, while the BMWs and Subarus of West Surrey Racing and Team BMR controlled the pace, only hampered when the rain played into the Triple Eight MG team's favour in Race 3.
2009 and 2014 champion Colin Turkington won Race 1 and finished third in Race 2, and despite the team missing one whole round of the championship at Thruxton and a slow start at Brands Hatch and Donington Park, the rear-wheel driver, boxer-engined Levorg GT has been the fastest car since its return at Oulton Park, scoring two poles and two race wins, admittedly without success ballast.
"(Turkington) will be there at the end of the year if not winning it," said Neal to TouringCarTimes.
"That car is the death of these regulations because whatever they do, they can't slow it enough. It's too good around the corners because of what they've allowed it. (It) will be unstoppable, or we've all got to spend £100k on our cars and try and do the same," he added.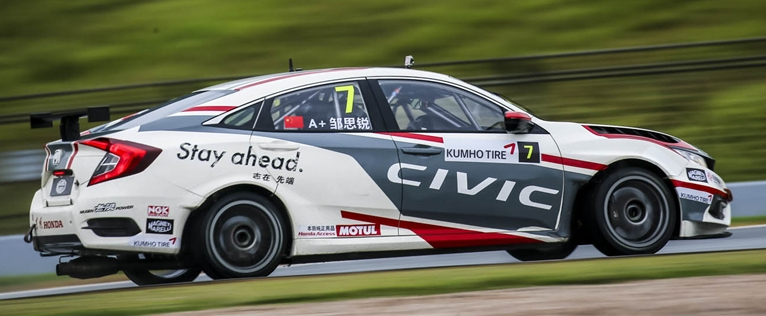 The Subaru Levorg GT as with all Subarus is four-wheel drive in its road-going configuration, but with four-wheel drive banned under the BTCC's technical regulations, the team have had to configure the car as a rear-wheel drive car, which Neal explains is an option that has opened up for Honda with the upcoming tenth-generation Civic model.
"The next Civic is a four-wheel drive car so we can do it. OK, it doesn't have a boxer engine, but we can do what they've done and we would just have to go rear-wheel drive with them, that's what (TOCA) have pushed the formula into," explained Neal.
"That car is Frankenstein," he added referring back to Team BMR's Subaru. "I have nothing against the team, fair play to them, but it's just like the Audi with four-wheel drive, it's like the Alfa with the wings and the diffs, where do you go? It's the thin end of the wedge."
The team could make the switch to the new Civic as soon as next year when the hatchback version of the Civic FC goes on sale in 2017. The saloon version from the China Touring Car Championship is pictured above.
"On current form, we'd have to change," said Neal. "It's been spoken about doing it next year, but that's up to Honda. The new car comes out in January, but it's whether we switch to the new Civic in 2017, or whether they want us to continue to promote the Type R which carries on until 2018."