A weekend with West Surrey Racing in the BTCC: Part Two
Read on for the second part of our feature with British Touring Car Championship stalwarts West Surrey Racing, and find out how they fared on race day at Oulton Park last month.
A BTCC race day at Oulton Park is not a place for the faint of heart. With three races packed into a schedule of little over five hours, time is again of the essence and any issues have to be dealt with swiftly. One thing which is as expected is the weather – just as forecast, it is hot and sunny, so the engineers will not be "chasing the weather" as Benbow described.
There is no noticeable change to the tone of the radio chatter as the real business of the weekend approaches. All communication is kept to a minimum, leaving the drivers free to concentrate on the cut-and-thrust 15 lap encounters which await them.
Well done mate, well done!
Before the race starts, there's a little reminder from Sam Tordoff's engineer John Waterman to his driver after a month away from the circuit. "OK Sam, it's been a few weeks. We've got low tyre pressures for the first few laps. There will be a bit of oversteer to start with," he says.
Tordoff clearly heeds the advice as he climbs to second at the start, while Jack Goff drops to 18th and Rob Collard climbs to 14th. Any hope of further improvement for the latter ends when Jeff Smith clatters into the BMW at the hairpin, a move which later sees him hit with a reprimand and penalty points.
"I got hit so hard by Jeff Smith. He's an idiot," an understandably irate Collard calls in. "I've got damage on the rear, it's causing oversteer." "You've just got to live with it," is the matter of fact response from engineer Drew MacDonald.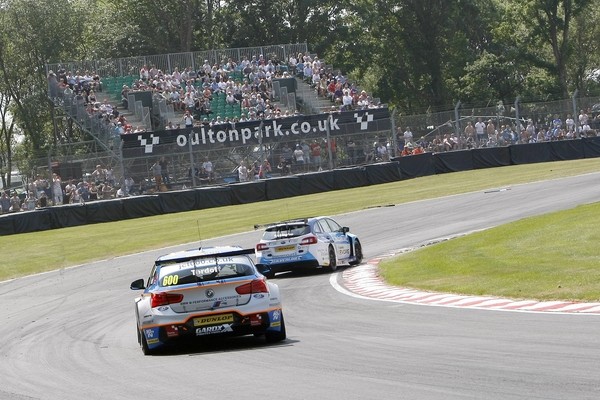 There's delight at the chequered flag for Tordoff who finishes second behind Colin Turkington's Subaru. Goff eventually climbs to 12th, with the delayed Collard down in 23rd and out of the championship lead.
"Well done mate, well done!" says Waterman to Tordoff. It won't be the last time he says this today.
Race two comes up just over two hours later, and it turns out to be a dramatic one for our hosts.
"Sam, your pressures are quite good because the tyres have been in the sun. You should be able to push quite hard early on," says Waterman. This is clearly good news for Tordoff who takes the lead at the start, while Collard starts a huge charge through the field.
Hearts are in mouths when he catches Goff and the pair are told to leave each other room. He quickly passes, but sadly the deserved result is not to be. Collard is already in the top 10 when MacDonald warns him not to take any risks. "Just think of the reverse grid," he says.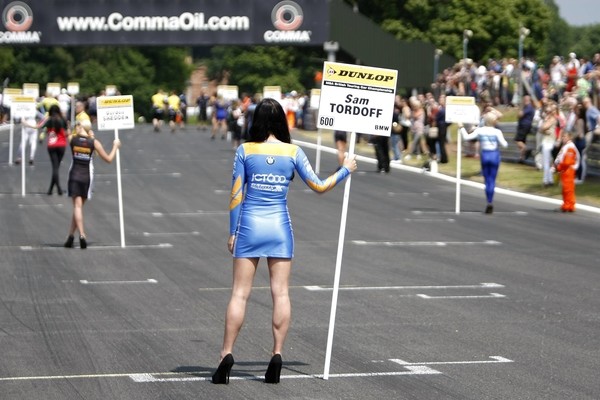 Bad luck mate, you were flying
Collard goes for sixth with a move on Josh Cook's MG6, but the Triple Eight Racing man puts up a fierce defence and runs him up against the pit wall. Collard goes off, runs over the marbles and picks up a puncture.
He's apologetic on the radio, but the emotions are very different at the front as Tordoff comes home to take his first win of the season, and WSR's second.
"Fantastic, well done! Well controlled," says Waterman. "The car was fantastic, the tyre didn't go off at all," replies Tordoff.
Goff makes it through to ninth, while there are consoling words to Collard from Bennetts. "Bad luck mate, you were flying," he says. Goff misses out on the reverse grid pole, with Neal drawn ahead of Cook.
Targets are quickly set for the third race for Tordoff, who has been the team's standout performer of the weekend and jumps into the championship lead with his victory. "It's definitely about accumulation of points this time around," says Waterman.
But all is not well with Goff. "Keep it in fresh air, we've got an issue with the water temperature," says Benbow on the grid.
Much deliberation follows around the parade lap. "It feels down on power. If it goes at the start I'm going to get hit. We need to make a decision quickly," urges Goff.
Then the call comes. "IN, IN, IN. Come into the pits, Jack." Goff's day is over.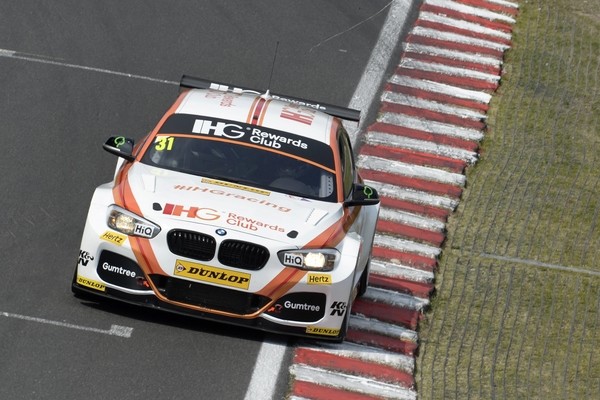 That's the best race I've seen! Those moves were brilliant
Collard, meanwhile, is finding out the big issue with starting right at the back. He can't see the lights! A solution low on complexity is devised: "I'll just shout OUT when they go out," says MacDonald.
It works for Collard, who delivers another trademark charge to make it all the way through to sixth, less than half a second from a podium place. But the plaudits are again reserved for Tordoff, who manages his soft tyres superbly and pulls off several memorable overtakes to finish second behind Neal.
"YEAHHH! That's the best race I've seen!" enthuses Waterman. "Those moves around the outside of the hairpin were brilliant!"
"We finished second, yeah?" questions Tordoff. "Yeah, P2. Shedden had a puncture. You lead the championship into Croft," says Waterman. It's a deserved position and the Yorkshireman is the undoubted recipient of the driver of the day award.
Just ahead of him on the track is Team Dynamics' Matt Neal, who takes a comfortable reverse grid win and is just a point behind Tordoff in the standings.
A time to reflect…
The weekend is seemingly over no sooner than it started, with the well-drilled squad of team members quickly starting the process of dismantling their awnings and packing up to go home. It only adds to the overall feeling that an awful lot is achieved in comparably little time at a BTCC meeting.
Tordoff is understandably delighted in his post-weekend interview, and leads by a point going into Croft. "In the nine rounds before this weekend I've not felt like I've delivered and really shown what I'm capable of. But I knew it was in the locker and this weekend we've arrived," he said.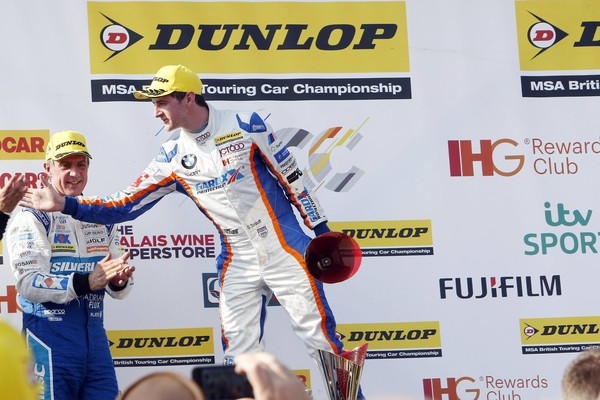 Equally understandably, Collard and Goff are less enthusiastic about their days.
"It's disappointing to say the least because I felt we could be leading the championship. We've lost 25 points this weekend I feel," said Collard.
"FP1 and FP2 were good but in qualifying it didn't happen and that puts us in the pack. We had a problem in race three, but that's motorsport. We move onto the next one," added Goff.
Sam scored 55 points, which is very good
Bennetts found himself in equal parts happy and disappointed for his stable of drivers.
"Sam scored 55 points, which is very good. Normally if you get over 40 in a weekend that is very good," he said. "So now Sam is leading, but the downside is he's carrying an extra 9kg into Croft.
"It was bad luck for Rob, who was hit by Jeff Smith in race one. It ruined Rob's weekend, but it just shows what a racer he is to come up twice to sixth.
"I also feel sorry for Jack. It's our first mechanical problem [of the season] which we will get to the bottom of."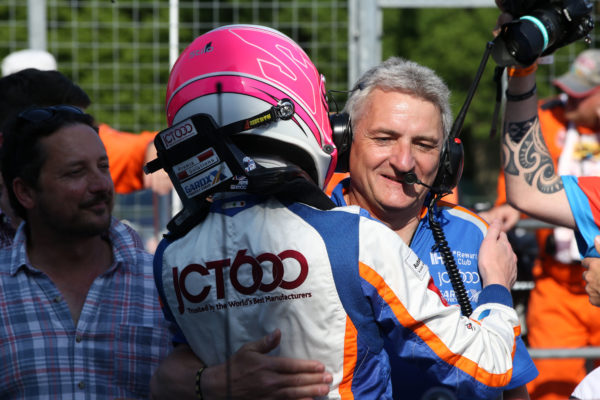 So, with the weekend at a close, surely there's now time for the boss to have a break? Not a bit of it.
"No, it's time for a quick debrief then we wait for the traffic to die down and drive 200 miles home!" he said.
By the time you are reading this, preparation for next weekend's action at Snetterton will be well underway. After the next meeting at Croft, Tordoff extended his championship lead while a win for Collard also put him right back into contention at the top of the standings.
We hope this piece has given something of an insight into just how detailed those preparations are, and how much work goes into a race weekend.
West Surrey Racing is a hugely successful team, running at the front of one of the world's most competitive touring car series every year. And after spending a weekend seeing how they work, this comes as no surprise at all.