Doing a lot with a little: A weekend with AmD Tuning in the BTCC
We've become used to seeing the British Touring Car Championship grow in the last decade, with bigger grids, bigger crowds and more interest from manufacturers a feature of most seasons. And while some of the biggest teams in the series have the manpower to back up the challenge of operating in the UK's toughest motorsport series, one of its established names is rewriting the rule book on doing a lot with a little.
AmD Tuning joined the BTCC in 2010, at a time when independent teams buying second-hand Super 2000 machinery was still the accepted wisdom for going going racing. So you'd have been forgiven for raising an eyebrow when AmD boss Shaun Hollamby arrived on the grid in the team's immaculately presented – and self-built – Volkswagen Golf.
Entering the BTCC was a challenge then, and it's an even greater challenge now. AmD Tuning took its place on the BTCC grid for the eighth consecutive season at Brands Hatch last weekend, and it wouldn't be an exaggeration to say its two Audi S3s have been built with resources that are tiny in comparison to some of its peers in the pitlane.
A mere two-and-a-half full-time members of staff are behind the team's continued presence on the grid, with one man in particular burning the midnight oil week in, week out to help make it happen. TouringCarTimes spent the Brands Hatch weekend with AmD Tuning to understand what makes the squad tick.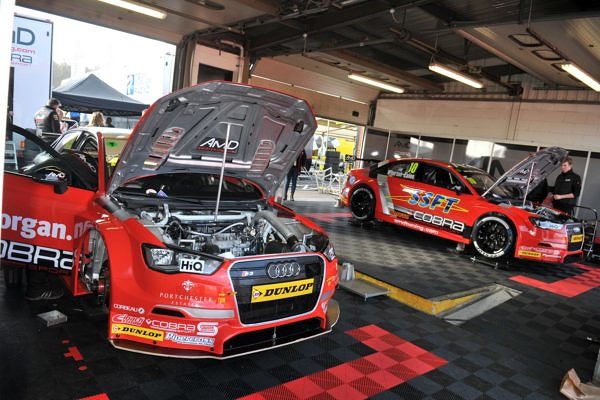 TAKE a walk through any BTCC paddock and you'll see a host of unsung heroes going about their work. From tyre technicians to fabricators, these dedicated individuals don't get much of the glory but are a crucial part of a team's successful operation. Down at AmD Tuning, there's around 16 staff like this, ensuring they stick to the extremely tight schedule of a race weekend.
AmD is based in West Thurrock, just a few miles from Brands Hatch, and is now the fifth longest-serving team in the paddock after Triple Eight Racing, West Surrey Racing, Team Dynamics and Motorbase Performance. This year marks the first time they've run two cars from the start of the season, with one S3 extensively rebuilt over the winter, and the second built from scratch.
The BTCC team is a track-going extension of AmD Tuning, Hollamby's performance tuning company, which specialises in upgrades for all European vehicles. It's clear the attention to detail that has made a success of this business has carried over into the world of the BTCC.
It's all part of an extremely varied background for the 51-year-old, who has raced in Formula Vee; Formula First, Sport Maxx and the VW Cup to name but a few. And perhaps less well known is his work with Formula One Management, directing the world feed watched by millions of F1 fans across the world.
"Time flies when you're having fun!" said Hollamby to TouringCarTimes. "It's something to be proud of, to be honest, because it's always hard work for us to keep the team going, and keep it where it should be – looking smart and tidy and attracting good drivers. That's my job really.
"I love it. It's a pressure environment on and off the track, and it is so hard. I'm always in awe of how these teams keep coming back year after year, and we're becoming one of those teams.
"Our main reason for doing BTCC is that it's great promotion for our tuning company. This helps massively as a marketing tool for us."
Behind the wheel, the team has plumped for a mixture of youth and experience. Ollie Jackson, 32, is back for a second consecutive year, following on from a strong end to 2016 where he regularly demonstrated top 10 pace. In the other car is reigning Clio Cup champion Ant Whorton-Eales, 22, the latest in a long line of talented graduates from the ever-popular one make series.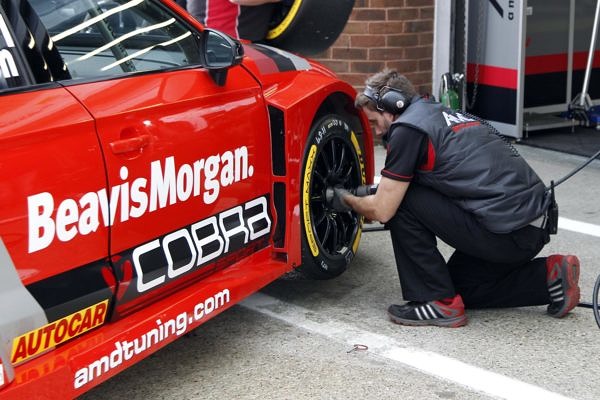 While the team has experience of running two cars in the same season, this year's challenge is a different beast, as Hollamby explained.
"We ran Mike Bushell in the Ford Focus and a half season with Nic Hamilton in our Audi the first time we had it, which was a step up. But it's a bit easier when you add a car halfway through the year, because you've had a run-up to it," he said.
"This year has been particularly hard – as well as adding a car, we've had to update the other car with the new RML parts, both have got new engines so radiator position is different, water pipes are different, manifolds are different…
"When you start with two at the start of the year there's a lot of spares to be built up, a lot of work to be done. My team manager Rob Tickner has worked miracles as we only have two permanent members of staff and Rick [Boardman], our #1 mechanic, is only three days a week.
"Motorsport is always difficult because everyone is very passionate about it, but [you don't want to] lean on that passion and take advantage of it."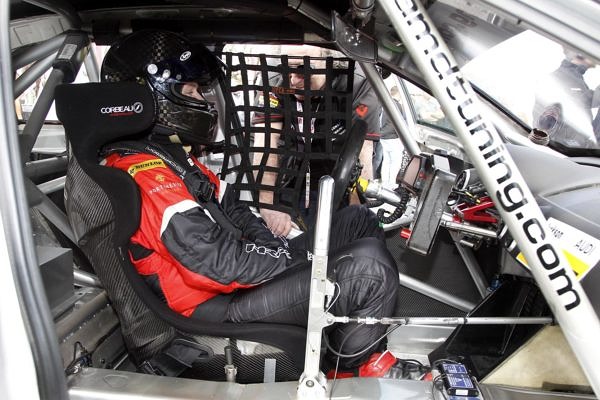 While ensuring everything is right behind the scenes, Hollamby says he is also happy with the driver pairing he's signed up for 2017.
"Ollie's bringing a lot of experience and he showed at the end of last year, when we were within 0.2 of the fastest lap, that he's got the pace," he said.
"We just need to improve qualifying so we can move further forward and there's no reason why we can't. I think we've got 25 guys this year who you could say could win a race, so it's going to be so hard.
"Ant as a rookie is up for the Jack Sears Trophy which is his priority this year. He obviously brings a lot of pace as the Clio Cup champion, and he's got a lot of experience of the circuits and of a TOCA weekend.
"He's a great guy, I think he will be fast – give him two or three meetings to find his feet and I think we can get him up in the points as well."
The proof of the winter's work will of course be on the circuit. Saturday's practice and qualifying sessions will be the first chance for AmD Tuning to judge themselves against arguably the strongest BTCC field in the modern era.
Check back later today for the second part of our AmD Tuning feature.