Good start crucial for Nicola Baldan to encore after maiden TCR Italy win
Nicola Baldan took his maiden TCR Italy win at Misano, dominating the race from lights to flag. The Pit Lane Competizioni driver had started from pole position, and a series of fights behind him allowed him to comfortably stay in the lead and focus on pace rather than defending.
"Honestly (winning) was easy yesterday, but mainly because my rivals were involved in battles, which allowed me to open up a gap", admitted the SEAT driver to TouringCarTimes. "I still pushed because I wanted to understand what my real pace was in race trim, as today's race may be quite different."
Baldan was happy with his race pace, which leaves him optimistic ahead of the second race, where he starts second alongside title rival Eric Scalvini: "I think I was quick enough to be in a position to fight with the Honda Civic, which is still the quickest car on this track despite the 30 kgs of ballast. We will have a new Balance of Performance, which gives the Hondas another 10 kilos and takes 10 away from us. I think that will be fair, because as we can see from the International Series the SEATs have a disadvantage."
Baldan admitted Jaime Puig's presence in the paddock was an extra motivation, as the Italian gets to grips with representing a manufacturer in a semi-works environment: "I have to thank SEAT for their efforts, it is quite touching that Jaime (Puig) chose to come here to see and support me, he was the first to congratulate me when I got out of the car and it feels good to have such a fan. I hope I will be able to give him more reasons to cheer come tomorrow."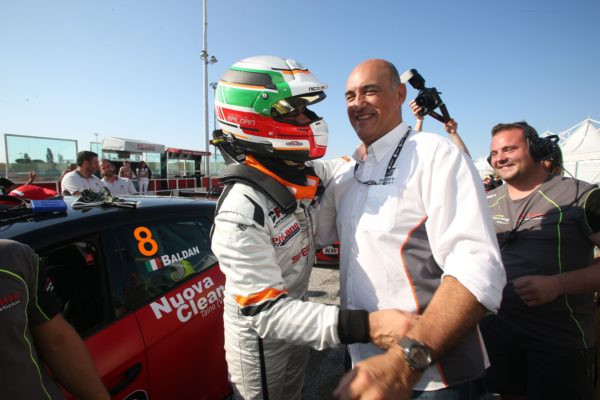 The Veneto-based driver regrets not having been able to put a clean lap together in qualifying, although he admits that losing pole position was down to his own mistake: "To be honest I think I had enough pace, I was seven tenths quicker at the end of the third sector, but I made a mistake at Tramonto and lost time up to Carro and I lost all of my advantage. After all, though, Eric (Scalvini) was better than me in that session and deserved his pole position, so hats off to him."
Another good start will be important in today's race, as the SEAT driver believes temperatures will be a factor in the heat of Misano: "I have to do a good start, or it will be difficult to overtake. To be honest it's not going to be easy to do a race in the slipstream of the Honda, because not just the SEAT, but all cars struggle when they breathe hot air, so all temperatures tend to go sky high."
Tyres will also play a key role in the race, as the degradation can be dramatic if one pushes too much too soon: "The factor I need to take more care of is tyre degradation, you have to be careful in the first few laps, because the drivers who finished behind me proved that if you ask your tyres too much they will only last four laps before fading. I was obviously helped from the fact that I had nobody glued to my rear bumper, but my car was great from lights to flag. My goal is to have a good start and be able to manage my tyres to keep my rivals behind me."
MM Motorsport's Eric Scalvini still leads the championship after his double win at Adria in the season opener, but the gap is now down to eight points after Baldan also scored the fastest lap. Jonathan Giacon's multiple contacts left him with no points, leaving the Opel driver 21 points shy of the leader.