Contrasting fortunes the story of TCR Australia round one
The story of the inaugural TCR Australia round held in Sydney at the weekend was the contrasting fortunes experienced throughout the field.
While a pair of young drivers battled furiously at the pointy-end on Sunday, further down the grid a challenging start to several high-profile contenders show there is much to be done behind the scenes.
Young-guns Will Brown – who won two of the three races – and Dylan O'Keeffe battled throughout races two and three in what was ultimately an entertaining debut for the global Touring Car class on local shores.
HMO Customer Racing driver Brown said he 'loved every second' of a weekend that saw him qualify fourth and finish third in race one, before passing his way to the front in each of Sunday's two races.
"In testing it looked like everyone was going to be spread out, but to come here with right racing it was lots of fun," he said.
"Everyone kept it pretty clean all weekend and the racing was just impeccable. I loved every moment."
At a circuit renowned for being hard to pass, runner-up O'Keeffe said that the strengths of the Hyundai i30 N TCR driven by Brown gave him a slight upper-hand compared to his own Alfa Romeo.
"We seemed to have good tyre pace and when the greens are at their best, but once they start to drop off you get a lot of understeer and you have to be ultra-patient on the throttle or you get wheel spin," he explained.
"My car is faster down the straight compared to Will's. They can carry more mid corner speed and they can rotate a bit harder."
By contrast, the story of Saturday was the performance of the 46-year-old Jason Bright.
The former Bathurst 1000 champion etched his name into the record books as the first winner of a TCR Australia race, ending a more-than 1800 day streak without a race victory for one of Australia's more successful Touring Car racers.
"The battle up front was great and I'm sure that will get better and closer as everyone learns more about these great cars," Bright said.
At the other end of the spectrum, Kelly Racing's debut in the category could hardly have been worse.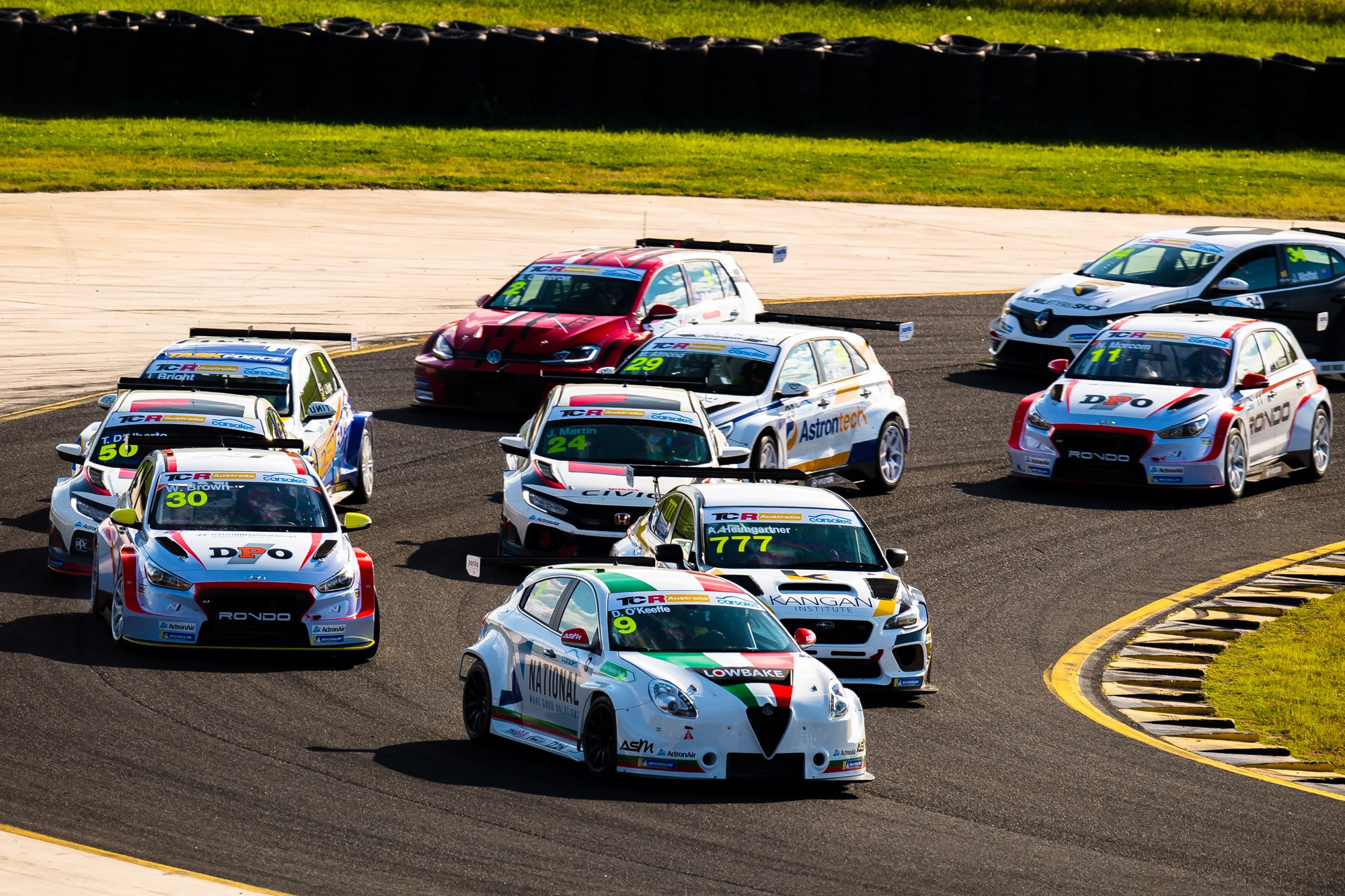 The four-car team entered a pair of Subaru Impreza and Holden Astra entries in the opening round however all four cars battled mechanical issues across each of the three days.
Andre Heimgartner was the standout performer but had to battle through a litany of gear selection issues that hampered his Subaru throughout Friday and Saturday.
With those issues resolved he raced well on Sunday, scoring fifth in race two before challenging for the lead in the finale' following a flying start and superb cold-tyre pace.
Unfortunately the car broke a suspension component at turn ten, forcing him out mid-race.
The Kiwi, who is the only driver doing double-duties in TCR and Supercars, said the failure was a frustrating end to a frustrating weekend.
"We had a suspension failure at the second to last corner and that was that," he said.
"It was so disappointing to say the least after all of the gearbox drama we had to finally be able to get somewhere and then have this, it's pretty annoying but we'll regroup and see what we can improve for next round."
Rally champion Molly Taylor's Subaru was also afflicted by the same gearbox issues as her teammate, only for her final race to be undone by a puncture that forced her to pit lane.
The unfortunate ending hampered an otherwise promising circuit-racing debut for Taylor who showed continued improvement across the weekend.
Kelly Racing's pair of Holden-badged Opel Astra's had slightly more promising weekends; teenager Alex Rullo edging himself into the top ten of the championship by the end of the third race.
The West Aussie did, however, complain of a persistent misfire issue and of being down on outright power compared to the cars he was racing.
Rullo said he was unsure if the issue was a fault in the car, or related to Balance of Performance restrictions in place.
Chelsea Angelo also showed promise, however battled through the same engine issues before her car broke a tie-rod in the steering in the final race – rather unfortunately leaving her stranded on track next to where Heimgartner had earlier parked his Subaru.