Matt Neal: "I dodged a bullet at Oulton Park"
Matt Neal has reflected on his controversial clash with Jake Hill at Oulton Park, admitting that he had "dodged a bullet" but that he felt no malice towards his rival.
Neal and Hill were dicing for the lead of the final race of the weekend when the Honda driver went for the inside at Old Hall, with Hill then trying to get the cut-back for the run down to Cascades.
Contact between the two cars saw Neal tipped into a spin in front of the field, with his Civic Type R going sideways across the track twice in a cloud of smoke; luckily without contact from anyone else.
Following the race, Neal confronted Hill in parc fermé before the Trade Price Cars Racing man was handed a time penalty that took away his maiden race win.
Neal was also called before the stewards to explain his actions following the race, and was handed a suspended fine.
Appearing on the Tin Top Tuesday show with circuit commentator Alan Hyde, Neal opened up about the incident and his reaction to what happened on track, making reference to incidents in the past involving Kieth O'dor and Ian Taylor.
Former BTCC racer O'dor was killed in an accident at the AVUS circuit in Berlin in 1995 when he suffered a spin in front of the field and was hit side on by the Audi of Frank Biela, whilst Taylor died in a similar accident whilst racing in the British Rover Cup at Spa back in 1992.
"The thing that upset me about the incident with Jake is that it was needless," Neal reflected. "You are never going to pass someone there as even if he had got the cut-back, he would have been on the outside for Cascades and would have been hung out to dry.
"What you find is that people keep their foot in regardless and that is what upset me. Jake kept his foot in and turned me round. When you're side on in front of the field, people likened it to be lined up in front of a firing squad; you shut your eyes and are waiting for the bang.
"A lot of people on the grid, and on social media, don't know Kieth O'dor and they don't know Ian Taylor, but I did. Our cars now are half a ton heavier and faster in a straight line than Kieth's car was, and the B-pillar on his car was six inches past the centre line of the car where he was sitting after his accident and he didn't stand a chance. I still remember that like yesterday.
"People do sometimes get blasé and when you are younger you feel indestructible. The thing is that I've lost friends who are good blokes through incidents that shouldn't have happened, and I know I dodged a bullet at the weekend."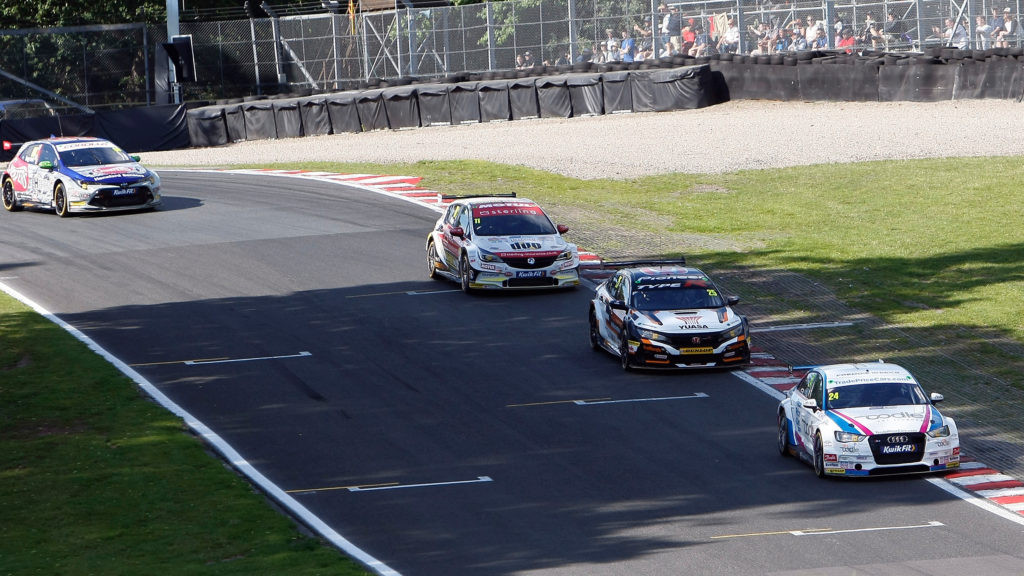 Neal went on to explain the post-race confrontation with his rival, and said he was now keen to move on from the weekend and focus on the remainder of the season.
"There were quite a few people – ex-drivers and current drivers – who messaged me afterwards and said they were surprised I didn't hit him, and when they called me into the Clerk I said I was being controlled," he said. "Alan [Gow] said that the issue was that I did it in front of everyone, but I did it there for a reason.
"I know it's wrong, but I wanted to make my point because people who don't know about these things, don't know. There was a reason why I did it where I did it.
"I've known Jake and his dad for a long time and he isn't a bad guy. I know that and I'm holding no malice going forwards, and we have to just get on with it."
Hill himself was also a guest on the show and apologised again for his part in what happened.
"On the podium, I felt I better kiss the trophy because I could be handing it over pretty quickly which wasn't a nice feeling," he said. "I was hurting inside in the car with what had happened in the final laps and I apologised when I got back to parc fermé; it wasn't how I wanted to 'win' my first race.
"For sure I have learned a lot about leading a race and starting on pole and there were mistakes that hopefully won't happen again in the future. There was no question that I made an error of judgement that put Matt in harms way, and that is the last thing I wanted to do. I've been in that position and know how it feels and know what Matt went through. It's a bloody horrible feeling.
"I was terribly sorry after the race and it was a genuine mistake on my part, and I paid the price in having my win taken away. It hurts me as well but I get why the stewards came to the decision they did and like Matt said, hopefully we can all move on as I don't want to have a fight with anyone for the rest of the year – particularly someone like Matt who I have looked up to for a long time.
"I'll always be sorry for what happened, both for myself on losing the win, and for Matt for putting him in that position."