Ashley Sutton joins expanded Laser Tools Racing programme
Laser Tools Racing has announced the signing of former champion Ash Sutton as part of a two-car assault on the 2020 British Touring Car Championship.
The 2017 title winner will line up alongside Aiden Moffat in a pair of new-build Infiniti Q50s in a deal that confirms the expanded programme that was first suggested to TouringCarTimes last month.
The new-look programme will see Laser Tools Racing join forces with BMR Racing after the latter's four-year deal with Subaru UK came to an end, with the two combined outfits now hard at work with the build of the two 2020-spec Infinitis ahead of the new season.
"We have been speaking to Ashley for a number of months now and we are delighted to welcome him into the Laser Tools Racing team," team boss Bob Moffat said. "Ash is going to bring a wealth of skill and experience to the team and I know that Aiden is already looking forward to working with him.
"For the 2019 season we made the decision to bring all race preparation and design work in-house to Laser Tools Racing. This paid great dividends and gave us the confidence to change cars mid-season.
"We built Aiden's Infiniti up from a bare shell in just ten days and had it ready for the Snetterton tyre tests in July, and then racing at the same venue just two weeks later. The new car proved very quick at Knockhill and then Aiden achieved a worthy second place at Silverstone.
"This accelerated development showed that the Infiniti has considerable potential, so with Ashley Sutton joining the team, we decided to build two new cars which will be engineered with considerable improvements in weight distribution and stiffness.
"We will also be concentrating on the car's aero package and the car is booked into the wind tunnel at MIRA in early December for this development.
"The result should be two very competitive NGTC cars and with our 'dream-team' of young guns Moffat and Sutton, we are all going into 2020 with a sense of great excitement and determination."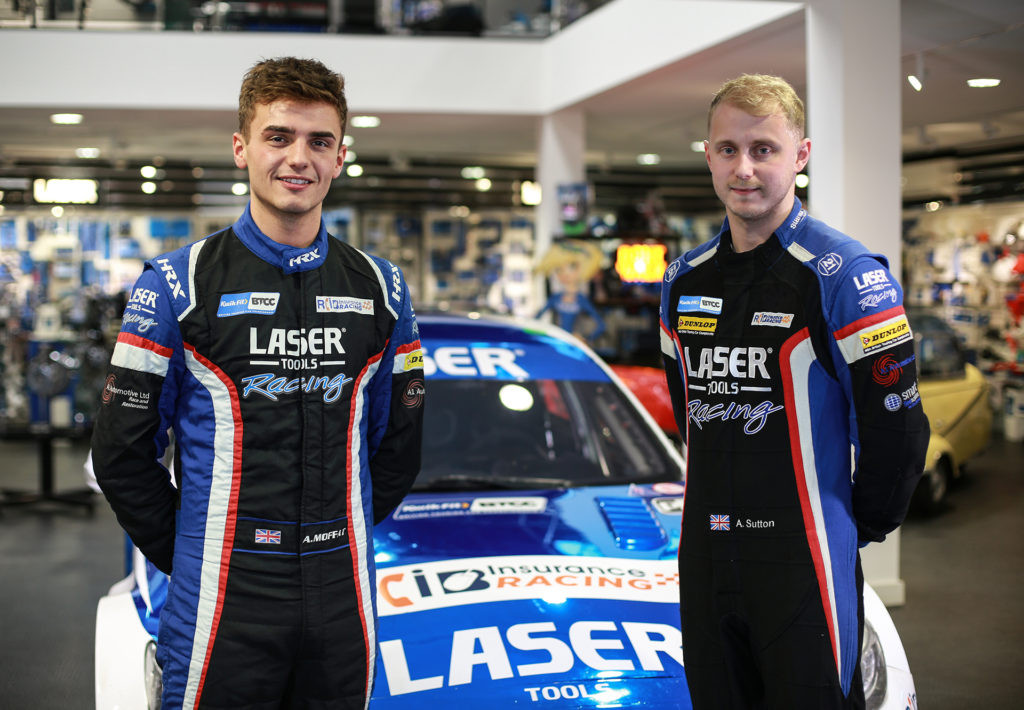 Having already tested the 2019 Infiniti at Snetterton earlier in the year, Sutton said he was excited to now confirm a deal to race the Q50 next year as he looks to challenge for a second title.
"I'm delighted to be back in the BTCC and back for a fourth successive season," he said. "The team I have around me feels like home and I wouldn't have been able to achieve what I have in this series without them; so carrying that over and signing a new deal with them was a no-brainer.
"Partnering with Laser Tools Racing and Aiden to drive the Infiniti Q50 in 2020 is hugely exciting and the result of a lot of hard work. We've all got the same goal and that is to win; and by bringing together the resources of both teams is only going to benefit everyone moving forward.
"Me and Aiden have had a respectful rivalry on track; there have been a few occasions where we have got our elbows out but it has always resulted in things staying clean. After visiting Laser HQ with Aiden and seeing the car during the build its left us both buzzing for what's ahead.
"I sampled the Infiniti at Snetterton earlier this year and was really impressed. All of the ingredients are there and that was even more apparent when you look at Aiden's run of results towards the end of the 2019 season.
"With the work going on behind the scenes and the pre-season testing programme that we are planning, I'm confident that we will be able to hit the ground running come the start of the year and be in the mix for some top results. I've got that same exciting feeling that I had at the beginning of 2017…"
New team-mate Moffat meanwhile said he was excited about having a partner in the Laser Tools Racing line-up for the first time.
"I can't wait to get going!" he said. "I think it will be a very exciting year for myself and the team. We are all really looking forward to expanding to a two-car team and I am particularly looking forward to working with my new team-mate.
"For me, Ash is one of the best drivers on the grid and I'll have my work cut out trying to keep up! But Ash is also a friend of mine and he's someone I can work with. We can work together and bring the best out in each other."