Jamie Whincup and Lee Holdsworth talk about respective incidents with Scott McLaughlin
Supercars championship leader found himself caught up in two incidents throughout today's opening race at The Bend, bookending his day with two helpings of controversy to spice up the title race.
The two-time defending champion led a majority of the opening lap after getting the DJR Team Penske Ford Mustang off the line ahead of title rival Jamie Whincup, the Triple Eight driver shadowing him throughout the first tour.
Whincup made his move for the lead at the penultimate turn but locked his rear brakes and slid into McLaughlin, taking both off the circuit and earning himself a 15 second penalty for the incident.
McLaughlin recovered to run as high as fifth before trying to get past the Tickford Racing car of Lee Holdsworth, spinning the #5 entry after getting alongside him, copping his own 15 second penalty which demoted him to 15th, four spots ahead of Whincup in 19th.
Whincup admitted fault for the incident but said it was a par for the course of the championship battle.
"We were racing, you know? He made a little error the corner before, of course I was going to go down the inside," Whincup said.
"(I) don't like to see two cars in the grass. He was about to spin so I opened-up the steering and straightened him up, hoping we could keep going.
"The penalty is harsh but it's not harsh, I would have probably made the same decision if I was upstairs.
"It's racing. I'm not going to hand it to him on a plate. We're going to go hard to try and get some points back and unfortunately it's not our day."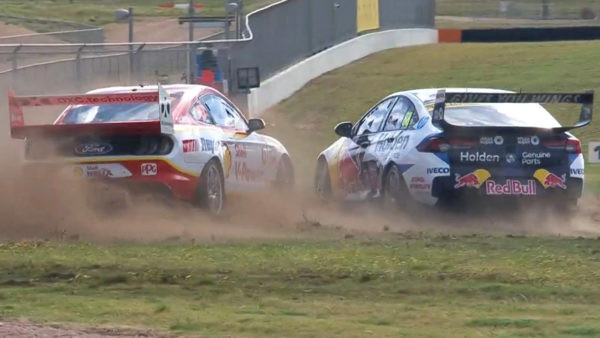 McLaughlin was relaxed about the incident, knowing that he just had to do what he could to get a gap over Whincup and make use of his rival's penalty to stretch out a points gap.
"I knew he was going to have a crack, I tried to give him the room to do it and obviously he must have hit the inside and locked a wheel and hit me," McLaughlin said.
"I pretty much knew he was probably going to be penalised after that so it was about me trying to maximise what I had from then on and I felt like we were doing that."
However, McLaughlin was less than pleased about his penalty for the contact with Holdsworth, saying the move was on and that it was a fair attempt at gaining another spot.
"For me, the move with Holdsworth was on and I had a crack," he said.
"I wanted to try to get on the podium with my teammate, congrats to Fabian [Coulthard] for the win, but just for some reason the stewards didn't agree with it."
"I fully understand (not) being in control of your car and diving down the inside but the whole time I was completely in control, there was no lock-up on my front-left.
"The guy on the outside has to give you some space, so I mean it's up to him as well. I was stuck, I couldn't go any further on the left – what do you do?
"I don't agree with it at all."
Holdsworth slammed McLaughlin for having a "desperate" ambition to get past despite the advantage he held over Whincup in the race as well as the championship battle.
"I think he's driving in desperation for some reason," Holdsworth said.
"I don't know why he would, he's got the championship nearly in the bag, so it's a bit disappointing.
"I gave him room, saw him go for the pass and gave him a car width on the inside.
"He just tagged me mid-corner when we've got as much load on the rear as possible and it spun pretty easily from there."
Qualifying begins at 920 local time with the first of the top races getting underway at 1155 with the weekend's final race starting at 1425.