18 cars on the grid for TCR Australia opener at Symmons Plains
18 cars will line up for the TCR Australia series season opener at Symmons Plains that will start this weekend and run until Tuesday during the Australia Day holiday.
The field will take to the track for the first time on Sunday for two practice sessions, followed by qualifying and the first race on Monday, with a further two races on Tuesday.
Reigning champion Will Brown is not part of the grid, with HMO Customer Racing instead fielding two Hyundai i30 N TCRs for drivers Nathan Morcom and Josh Buchan.
Chaz Mostert, one of six current and former Supercars drivers on the grid, will drive an Audi RS 3 LMS for Melbourne Performance Centre alongside team-mate Luke King.
Garry Rogers Motorsport will have no less than seven cars on the grid, running two Alfa Romeos, two Renaults and three Peugeots.
James Moffat will continue driving a Renault Megané RS TCR for the team alongside team-mate Dylan O'Keeffe, who topped the official pre-season test.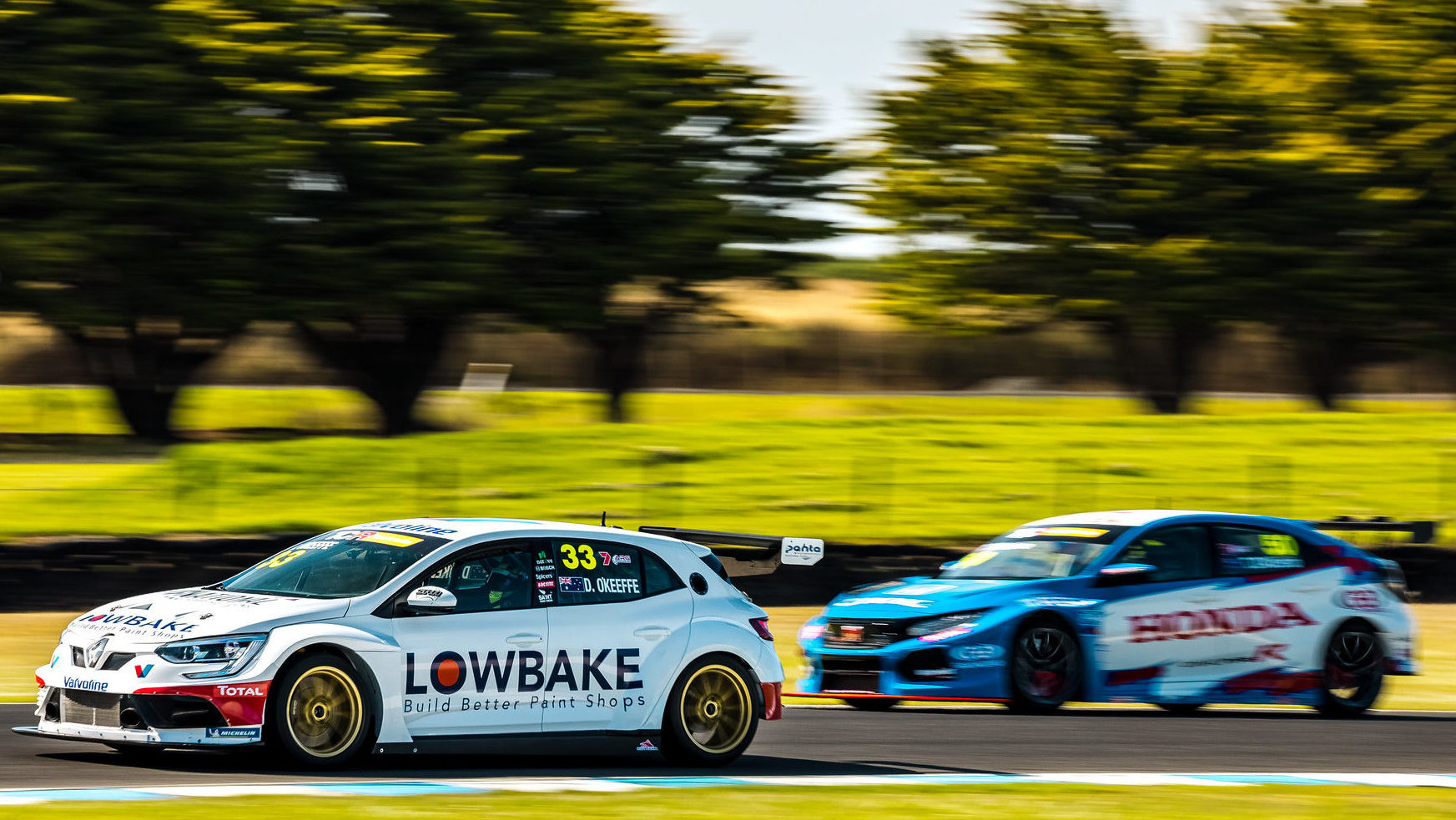 Michael Caruso and Jordan Cox will drive the two Alfa Romeo Giulietta TCRs while father and son Jason and Ben Bargwanna will drive two of the Peugeots. Aaron Cameron will drive the third Peugeot 308TCR for GRM.
Ashley Seward Motorsport will field a further two Alfa Romeos, one for former Supercars driver Lee Holdsworth and one for Jay Hanson.
A total of four Hondas will be on the grid, with Wall Racing running two for Tony D'Alberto and John Martin. The other two cars are run by privateer teams Michael Clemente Motorsport with driver Michael Clemente and Team Soutar Motorsport with Zac Soutar.
Another privateer entry is the one of Tilton Racing, running a Hyundai i30 N TCR for Bathurst-based driver Brad Shiels.
Chelsea Angelo will not be on the Symmons Plains season opener grid due to her jobs outside of racing, but could be back for the second round at Phillip Island.
The races will be broadcast live on 7plus and 7mate, as well as Motorsport.tv for international viewers.
Time table
Local time/CET
Sunday
11:05/01:05 – Practice 1
13:25/03:25 – Practice 2
Monday
14:15/04:15 – Qualifying
16:58/06:58 – Race 1
Tuesday
11:13/01:13 – Race 2
15:27/05:27 – Race 3
Symmons Plains entry list
2 – Luke King – Melbourne Performance Centre – Audi RS 3 LMS
5 – Jordan Cox – Garry Rogers Motorsport – Alfa Romeo Giulietta Veloce TCR
7 – Michael Caruso – Garry Rogers Motorsport – Alfa Romeo Giulietta Veloce TCR
9 – Jay Hanson – Ashley Seward Motorsport – Alfa Romeo Giulietta Veloce TCR
10 – Lee Holdsworth – Ashley Seward Motorsport – Alfa Romeo Giulietta Veloce TCR
11 – Nathan Morcom – HMO Customer Racing – Hyundai i30 N TCR
15 – Michael Clemente – Michael Clemente Motorsport – Honda Civic Type-R TCR
17 – Jason Bargwanna – Burson Auto Parts Racing – Peugeot 308TCR
18 – Aaron Cameron – Garry Rogers Motorsport – Peugeot 308TCR
24 – John Martin – Wall Racing – Honda Civic Type-R TCR
25 – Chaz Mostert – Melbourne Performance Centre – Audi RS 3 LMS
30 – Josh Buchan – HMO Customer Racing – Hyundai i30 N TCR
33 – Dylan O'Keeffe – Garry Rogers Motorsport – Renault Mégane RS TCR
34 – James Moffat – Garry Rogers Motorsport – Renault Mégane RS TCR
50 – Tony D'Alberto – Wall Racing – Honda Civic Type-R TCR
71 – Ben Bargwanna – Burson Auto Parts Racing – Peugeot 308TCR
110 – Zac Soutar – Team Soutar Motorsport – Honda Civic Type-R TCR
333 – Brad Shiels – Tilton Racing – Hyundai i30 N TCR