TCR Australia debutant reflects on first round heading into second outing
Lachlan Mineeff is set to make his second TCR Australia series round start next month for his Purple Sector team after a solid debut round in the category back in March, the 18-year-old now shifting his focus to the tin-top category.
Having achieved a surprising ninth place in his first ever start at a rain-soaked Phillip Island, Mineeff took 13th and 12th in the remaining two races over the weekend but had to put his TCR ambitions on the sidelines to focus on the Bathurst 6 Hour, winning his class in a Toyota 86.
Now with TCR success as the main goal, the Bowral-based driver opened up on his debut round, how he prepared with the help of Melbourne Performance Centre and the goals for his 2021 campaign.
"I use iRacing at home, however the hardware that MPC use is far greater than my humble setup at home," Mineeff explained to TouringCarTimes.
"The option to have an engineer look over my data live and provide tips on how to drive the cars fast realistically was fantastic too.
It was all a bit of a whirlwind, we made sure we bed brakes in the first practice to get it out of the way, so that we had the benefit of bedding brakes, bringing in a new tyre and shaking down the car in one. Once I started to push, I was super impressed with the car and doing my best to take as much in."
Though he qualified last in the dry, the start of race one saw a large amount of rain cover the track in water, something which Mineeff said was more of an equaliser which allowed him to pick his way through the field later in the race.
"I was a little bit apprehensive to be honest.
"I was never super quick in the rain in Formula Ford but the out-lap was surprising to see just how much grip the Michelin wet tyre has (albeit a really old set of travel tyres) and I just had the goal of circulating.
"It was a positive and a negative.
"Positive was it was more of an equaliser as the field had less wet laps on me, however it was a negative as I was starting P20 and had the most spray in front of me, and I could barely see anything!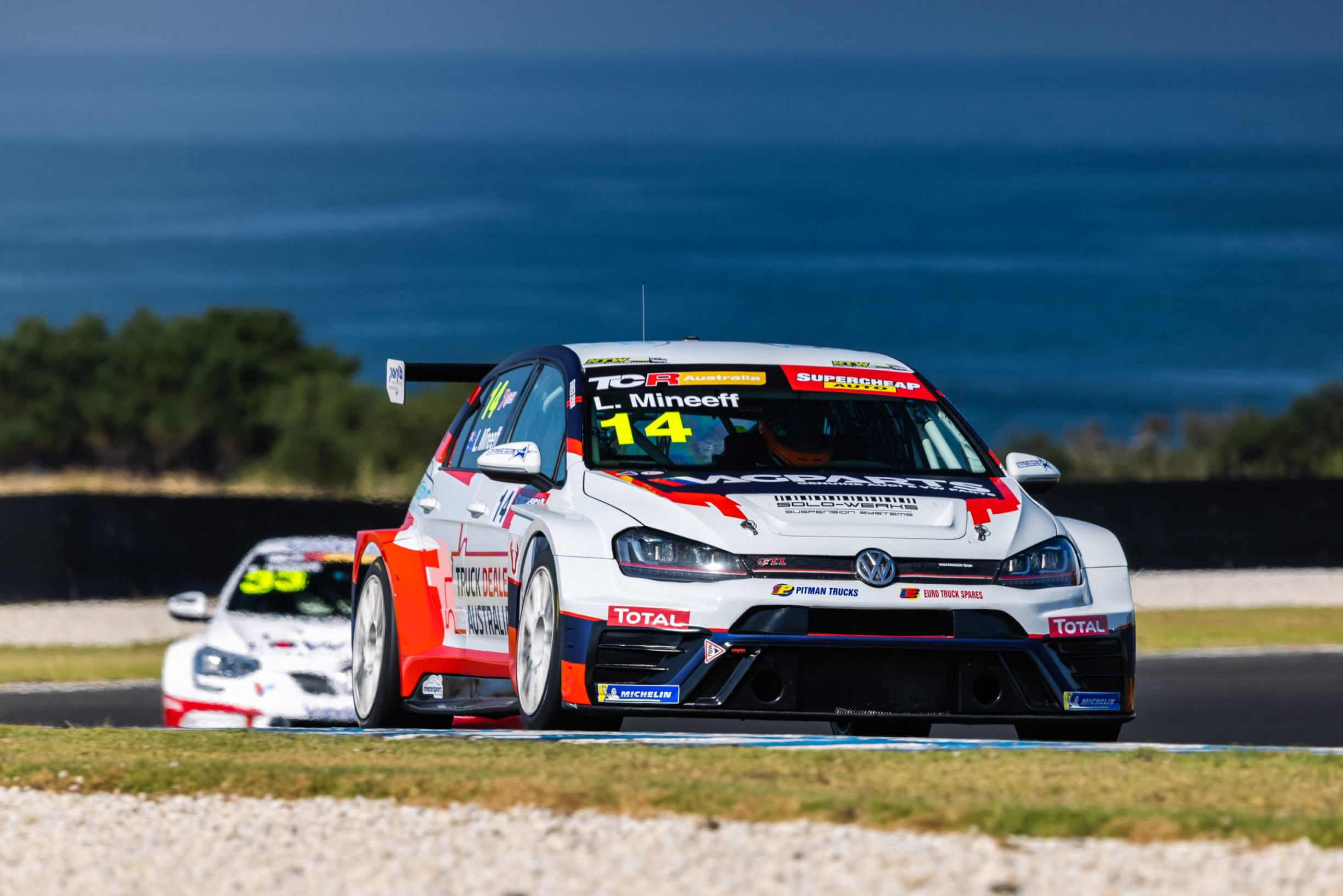 "I had to drive the car looking out the side windows, but once the field dissipated, I was able to just pick cars off one by one.
"It was certainly encouraging, I could barely believe it. I just made sure I kept hitting my marks and ignored their names and just focused on everyone else just being another car.
"It was pretty cool after the race to see the results, and be in front of drivers I have looked up to in the past.
"It was a huge learning process, but certainly happy with my results. Sure, there were a few small mistakes I made which cost me a position here or there, but I'm not too hard on myself because of the limited experience I have had in the car, and how different they are to drive than anything I have ever driven.
When asked to give himself a report card, Mineeff was confident in giving his team and himself a solid wrap for their debut in TCR Australia, saying he's looking for improvements before the next round at Sydney Motorsport Park.
"Overall, considering our limited experience, a 9/10 springs to mind.
"That is both my on track performance, and my teams hard work for providing me a competitive and reliable car over the weekend. We have some clear points we can improve on before our next round, but that is a positive, as we have a direction to head towards and some goals we can kick before and during our next round."
Round four will be at Mineeff's home track of Sydney Motorsport Park, held over May 1-2 at the Western Sydney venue.