Jay Hanson forced to switch to older Audi following Bathurst practice crash
Jay Hanson crashed his new generation Audi RS 3 LMS during the first TCR Australia practice session at Bathurst and is forced to switch to the older generation Audi RS 3 LMS spare car of Melbourne Performance Centre.
Hanson crashed heavily into the wall on the run to The Cutting during the warm up lap of the first practice session.
"It's lap one – Practice 1 – we're still getting tyre temp driving around we come into Turn 3 there, the rear came around on me and that's all it takes throughout this place, isn't it?" said Hanson.
"It's very unfortunate. We're trying to get as many laps as we can and to learn the new car, and unfortunately, we think the damage is definitely repairable but it's going to take some time.
"It's a big learning curve now, stepping into the other Audi. I'm very fortunate for the guys at MPC who are working very hard and to have this spare car here, not many teams can say they have a one that you can get into after a mistake like that."
The team has ruled out that the car can be repaired for this weekend and the older generation Audi that Hanson is going to drive instead was last raced by Luke King in the 2021 TCR Australia season.
"If it wasn't Easter and there was a panel shop open in town, we could probably try to get the rails pulled back across and fix it, but being Easter Friday, finding a panel shop is really not going to happen," said team owner Troy Russell.
"Fortunately, the boys had it [the spare] ready so it's just roll it out of the truck, put some stickers on it, the right number, put his seat insert in, swap some tyres on the rims, and we're ready to go.
"We'll make the next practice no problem. We made the call to just can it, move into the other car and we'll fix it when we get home. It's just right-front chassis rail damage unfortunately, but other than that it's not too bad."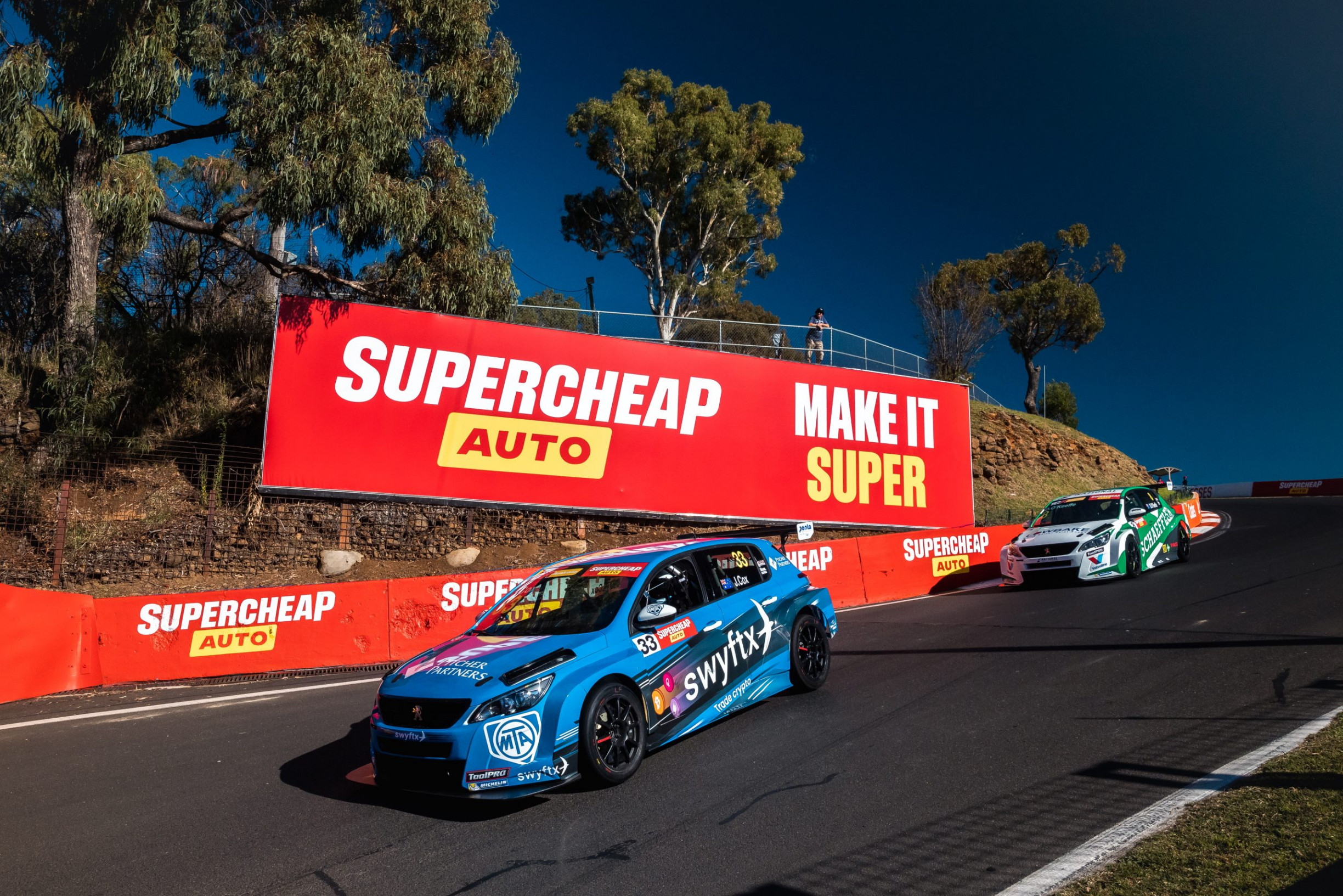 GRM Peugeot driver Jordan Cox topped the first practice session with a time of 2:17.076, beating team-mate Aaron Cameron by 0.108 seconds.
And Garry Rogers Motorsport occupied the top four positions, with Dylan O'Keeffe in third and Ben Bargwanna in fourth, making it a Peugeot 1-2-3-4.
Bailey Sweeny was best of the rest in fifth behind the wheel of his Hyundai, 1.5 seconds from the top time.
The second practice session saw Cox and Cameron as 1-2 again, two tenths of a second separating the two.
Bargwanna was third and Alfa Romeo Giulietta driver Michael Caruso of Ashley Seward Motorsport was fourth, 1.4 seconds from Cox.
Hanson was tenth fastest behind the wheel of his older generation Audi.
Qualifying starts at 12:20 local time/04:20 CEST tomorrow.