Bailey Sweeny claims Sunday double at Sandown
Bailey Sweeny bounced back from a troublesome Saturday to win both TCR Australia races on Sunday for HMO Hyundai.
Sweeny was given a post-race penalty of five seconds for blocking Ben Bargwanna in Race 1, a penalty which handed him a front row start on the reversed Race 2 grid next to Lynk & Co driver Tom Oliphant.
But as the lights went out for Race 2, it was Jordan Cox who made the best start from fourth on the grid to claim the lead into Turn 1 ahead of Oliphant.
But Oliphant made contact with the rear of Cox's Peugeot 308TCR who then dropped a couple of positions.
Former BTCC driver Oliphant had a tough time keeping the lead due to a lack of top speed, dropping down the order to ultimately finish eighth.
Instead it was Sweeny who took command at the front, making the move on lap two and never looked back.
Diaster struck Audi driver Will Brown who had to retire on lap 12 due to an engine issue.
Sweeny won the race close to 2,5 seconds ahead of Garry Rogers Motorsport driver Aaron Cameron while Audi driver Lachlan Mineeff claimed the final podium position.
Cox and Hyundai Elantra N TCR driver Josh Buchan rounded off the top five.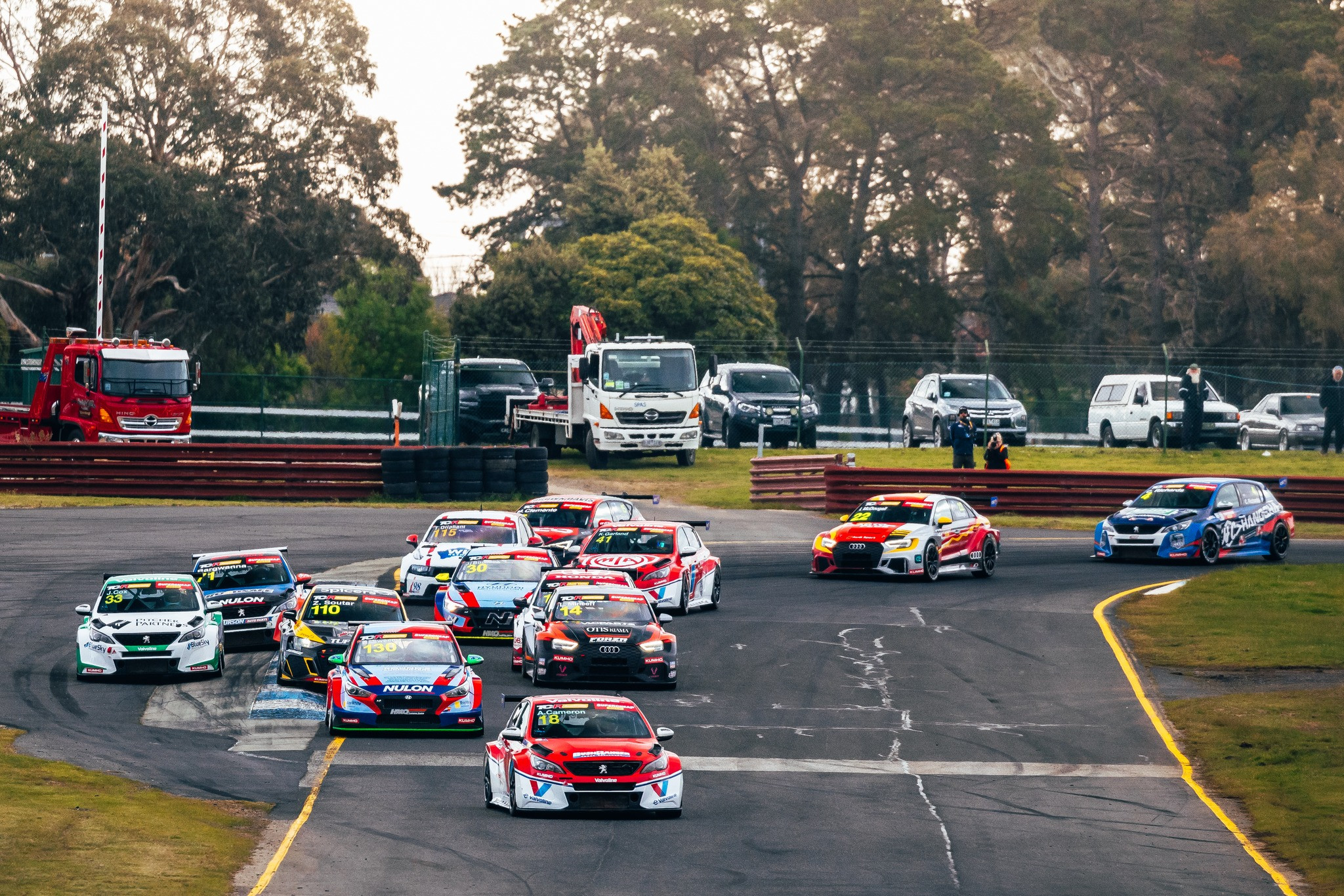 The third and final race of the weekend saw Sweeny starting from pole position, but once again it was one of the Peugeot drivers making the best start.
Cameron made a cracking start to claim the lead from third on the grid.
But the joy wasn't to last for the Peugeot driver who was unable to withstand the pressure from Sweeny who made the move for the lead at mid-point of the race, heading for his fifth win of 2023.
There was a tough fight for third behind the leading duo between Audi rivals Zac Soutar and Lachlan Mineeff.
The two were close throughout the race until lap 18 when Soutar made a mistake, allowing Mineeff to get alongside.
The two made contact, sending both into retirement due to the sustained damage.
A new fight was sparked for third place between Cox (Peugeot), Michael Clemente (Cupra) and Race 1 winner Tony D'Alberto (Honda).
Cox got hit from behind by Clemente on the final lap, allowing D'Alberto to pass them both and snatch the final podium position.
Sweeny won the race well clear of Cameron while D'Alberto was a distant third ahead of Clemente and Cox.
The victory has elevated the i30 N TCR driver to the championship lead on 589 points, 30 points ahead of Buchan and 38 points ahead of Cameron.
Next up for the TCR Australia field is the joint TCR World Tour round at Sydney Motorsport Park on November 3-4.