Comtoyou looks forward to TCR World Tour after TCR Europe clean sweep
Comtoyou Racing boss Jean-Michel Baert is already looking forward to next year's TCR World Tour after his team wrapped up two TCR Europe titles on Saturday.
The series' Diamond and Rookie trophies were won by Comtoyou drivers last month at Monza, then Franco Girolami became the overall champion in Q2 at Barcelona.
In the race later that day, Comtoyou won the teams' championship as well.
The title celebrations was not the only matter that day putting a smile on Baert's face, as he was also enthused by Friday's announcement of the World Touring Car Cup – which his team also competes in – coming to an end and being replaced by a TCR World Tour in 2023.
"I'm very proud because I'm the last one to win the championship [TCR Europe]," Baert laughed as he spoke to TouringCarTimes.
"Last round it was Viktor Davidovski and Marco Butti winning the Diamond Trophy and Rookie title. Then after the qualification it was Franco with the driver's title, and finally I am the champion. I spoke to Nunzia [Corvino, WSC sporting director] on the grid and I said exactly like that.
"And she said to me: 'yeah, you respect your customers [by letting them win first]'. This is maybe what I want, and this is what I do! It's a language, my philosophy. I'm happy for my customers, of course I'm happy because this is the second time we win the TCR Europe. And we are working hard for that now. This is not easy. The level is very high."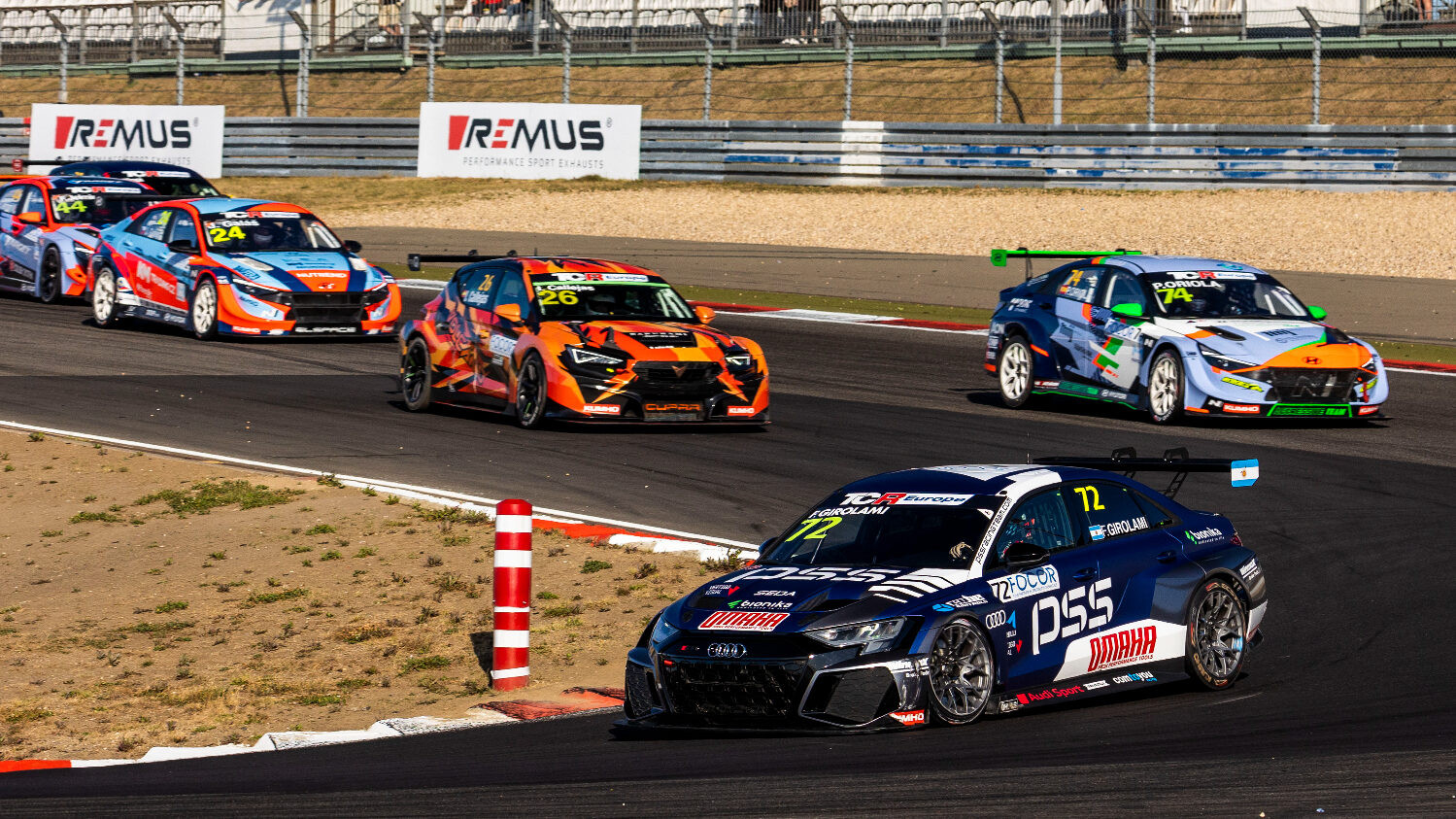 In addition to going for a third TCR Europe title in 2023, Baert also intends to enter his Audi RS 3 LMS IIs in the new TCR World Tour too.
"I'm happy with the new championship we will have. I'm happy with the decision of Marcello [Lotti, WSC president], and we were at the beginning of the discussion [about this new project] because – this is not a secret – we don't have anymore the confidence with [WTCR promoter] Discovery Sports Events and the FIA. So yes we are happy because it is changing. So thank you Marcello Lotti, thank you Nunzia for that," said Baert.
"It's interesting, for me TCR is a pyramid. [The World Tour] is a chance for everybody to share the races between the national competition with the world competition. It's a chance for everybody. It's a chance for us as a team, it's a chance for the manufacturers because they can show the potential of the car in different countries, and it's a chance for young drivers around the world. So it's a very good thing to share that, and to have that philosophy basis, finally the philosophy of the TCR and not the philosophy of the World Touring Car Championship."
Details on the TCR World Tour are still light, with Lotti spending the Barcelona weekend speaking to teams following the announcement to provide them with more details than the initial announcement and to also hear their feedback on the idea.
"I don't have a calendar, I have an idea of the calendar. But if Marcello says 'you will have a calendar for next week', then next week or in 10 days I'm confident we will receive it," Baert said.
"We need a calendar right now, because we are a private team, we have a good partnership with Audi, we have a lot of customers. For me the future of motorsport is not factory teams-based championships, but this is a customer racing championship. So if we have some customers, we have to find some customers.
"September, October, November and December are dedicated to the negotiations with the different customers, and to negotiate we have to know where we will go, what are the rules. But we ask before [in WTCR], and we never had the answer. OK, maybe the pandemic, maybe the war in Ukraine, there is always an excuse, and at the end we can't work like this. So no, I mean we are on a good base and we are waiting for the calendar, but I am confident. I hope we go to different regions around the world, and this is what we want."