Can anyone beat the Cupras at Anderstorp?
The Scandinavian Touring Car Championship resumes this weekend at Anderstorp Raceway after a six-week break following the season opener at Knutstorp.
PWR Racing dominated the races at Knutstorp with Daniel Haglöf winning one race and claimed the championship lead, one point ahead of his team-mate and reigning champion Robert Dahlgren who finished second in both races.
"The time since the start of the season has been used to fine tune our form and to get back after an intense pre-season. We hope to be as strong at Anderstorp as at the season start," said Haglöf.
"My car is going to be 20kg heavier as I am in the lead of the championship, but my goal is crystal clear, I want to keep that success weight in the car for the rest of the season."
The Balance of Performance is a hot topic in the STCC with weights being changed during the premiere and title contenders Kristoffersson Motorsport criticising the BoP system.
The Volkswagen team has completed a test at Rudskogen in Norway in the time after the first race weekend and Johan Kristoffersson, who has been busy with three rounds of the FIA World Rallycross Championship since then, is aiming to bounce back.
"We had hoped to be more competitive (at Knutstorp), but we still did what we could with the speed we had," said Kristoffersson.
"We were far behind at the beginning of the weekend but the team did a good job, so we got closer and closer. We are going to try and optimise our setup for Anderstorp and bring parts of what we learned during the test day at Rudskogen a couple of weeks ago."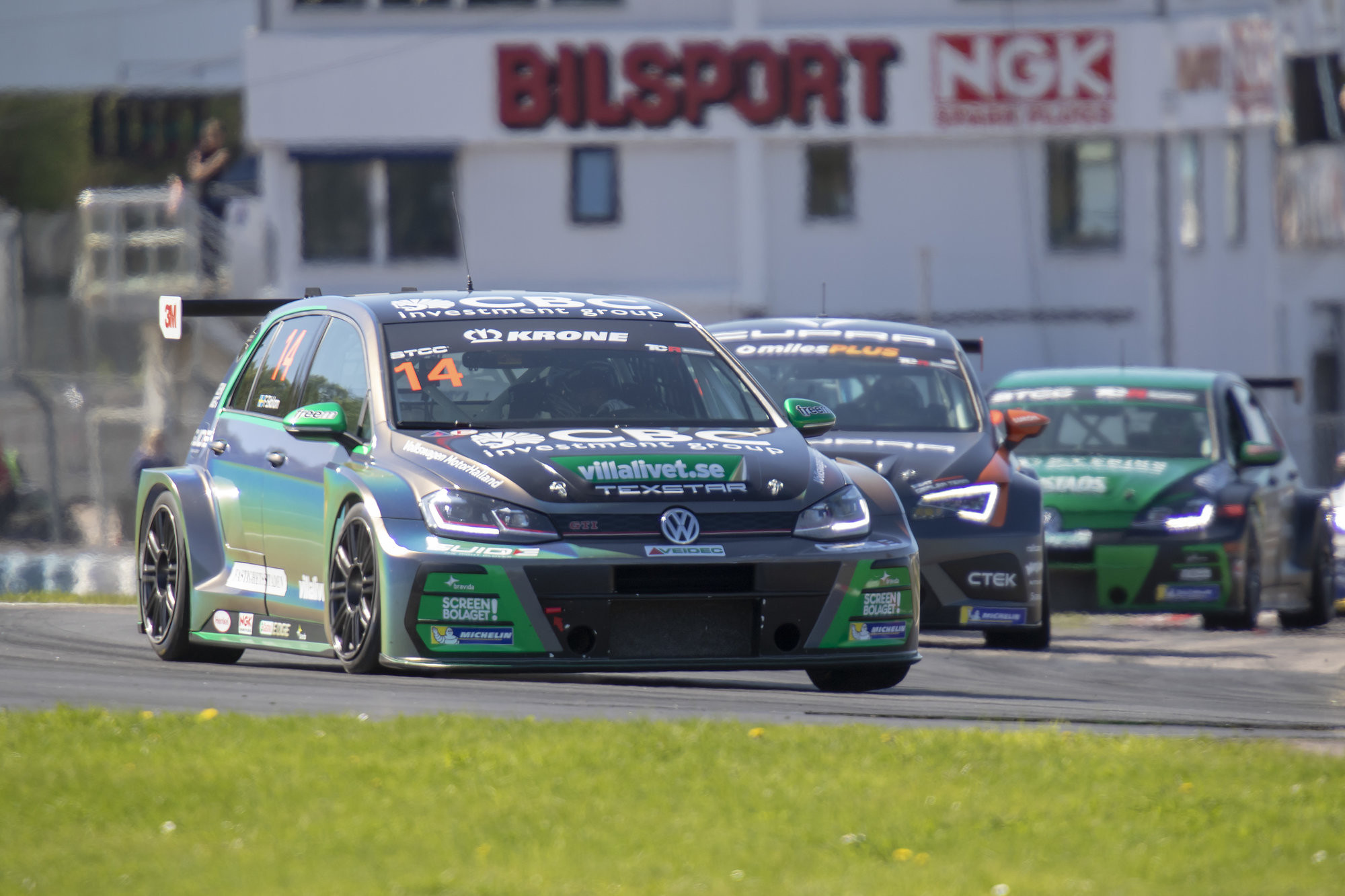 Another team on the hunt is WestCoast Racing with triple champion Fredrik Ekblom hoping to climb from fifth position in the championship.
"We are fifth in the championship so it is no disaster but there is definitely more to wish for and I hope we have found more speed for this weekend," said Ekblom.
"There are many good ideas within the team after Knutstorp where we were not as fast as we hoped for and now we are just going to turn them into reality on the track as well. It is going to be nice to be back, there has been too much time since the last race."
Lestrup Racing Team driver Andreas Wernersson impressed in the season opener by claiming victory in the second race and is placed third ahead of Anderstorp, proving that the established teams are not going to have it all their own way this year.
There are plenty of other challengers for the top positions at Anderstorp, including Audi team Brink Motorsport that had a promising season opener that was hampered by technical issues as well as the sole Honda entry of Mattias Andersson who was well down on pace at Knutstorp compared to last year.
22 cars are entered for this weekend's round of the STCC, with Estonian driver Andre Kiil making the first of a number of planned appearances in an ALM Motorsport-run SEAT León TCR, added to the 21-car full season entry.
Testing and qualifying are scheduled for Saturday, with two 12-lap races on Sunday at 12:45 and 15:15 CET.
Entry list
No – Driver – Team – Car
1 – Robert Dahlgren – PWR Racing – SEAT Dealer Team – Cupra TCR
3 – Johan Kristoffersson – Kristoffersson Motorsport – Volkswagen Golf GTI TCR
4 – Oliver Söderström – Lestrup Racing Team – Volkswagen Golf GTI TCR
7 – Andreas Wernersson – Lestrup Racing Team – Volkswagen Golf GTI TCR
14 – Fredrik Ekblom – WestCoast Racing – Volkswagen Golf GTI TCR
15 – Oskar Krüger – Micke Kågered Racing – Volkswagen Golf GTI TCR
19 – Mikaela Åhlin-Kottulinsky – SEAT Dealer Team – PWR Racing – Cupra TCR
20 – Mattias Andersson – Honda Racing Sweden – Honda Civic Type R TCR
21 – Andreas Ahlberg – Micke Kågered Racing – Volkswagen Golf GTI TCR
22 – Albin Wärnelöv – Experion Racing – Volkswagen Golf GTI TCR
23 – Alex Andersson – Brovallen Design – Audi RS 3 LMS
26 – Jessica Bäckman – WestCoast Racing – Volkswagen Golf GTI TCR
29 – Andreas Bäckman – WestCoast Racing – Volkswagen Golf GTI TCR
36 – Micke Ohlsson – Brink Motorsport – Audi RS 3 LMS
37 – Daniel Haglöf – PWR Racing – SEAT Dealer Team – Cupra TCR
44 – Olli Kangas – LMS Racing – Cupra TCR
59 – Peter "Poker" Wallenberg – PWR Racing – Customer Team – Audi RS 3 LMS
69 – Hugo Nerman – Kristoffersson Motorsport Volkswagen – Golf GTI TCR
71 – Tobias Brink – Brink Motorsport – Audi RS 3 LMS
81 – Nicklas Oscarsson – Kristoffersson Motorsport – Volkswagen Golf GTI TCR
86 – Philip Morin – SEAT Dealer Team – PWR Racing Cupra TCR
91 – Andre Kiil – ALM Motorsport – SEAT León TCR
Timetable
Saturday 16th June
09:00 – Test 1
14:00 – Test 2
16:47 – Qualifying 1
17:12 – Qualifying 2
Sunday 17th June
09:00 – Warm up
12:45 – Race 1
15:15 – Race 2
All times CEST