Battle breaks out between the top teams at Karlskoga
The 2018 Scandinavian Touring Car Championship season erupted at Karlskoga, with what was starting to look like a rather pedestrian run to the title by the PWR Racing team seriously baulked by a pair of protests which saw four of PWR's cars kicked out of the results at the Gelleråsen Arena near Karlskoga
The situation has been coming to a head all season, with protestations down the pit lane about the performance advantage of the Cupra TCRs of PWR Racing, which are driven by Robert Dahlgren, Daniel Haglöf, Philip Morin and Mikaela Åhlin-Kottulinsky.
While grumbling about other cars' performance is hardly rare in TCR series, with the formula's Balance of Performance measures the #1 go-to excuse in the drivers' handbook, there was something peculiar about the struggles in the STCC, which features a grid comprised of 95% Volkswagen Group cars.
The Cupra TCR and Volkswagen Golf GTI TCR are both produced by the Cupra Racing workshops, and are predominantly the same car and engine.
The original specification Volkswagen Golf TCR car was previously considered to have a performance disadvantage to the Cupra, and so was granted a weight break in comparison with its Spanish sibling last year, but the new 2018 aero package has countered these shortfalls, with the new BoP now favouring the Cupra, which is able to run 10kg lighter than the Volkswagen.
Married with the STCC's compensation weights, that difference has been nullified over the last two race events, with the Cupra carrying 60kg compensation weight against the Volkswagen's 50kg, meaning the two cars were running at an identical 1,305kg at Falkenberg and Karlskoga.
With PWR romping to another 1-2 result in Race 1 at Karlskoga, their third of the season, STCC stalwarts WestCoast Racing filed a protest between heats which was subsequently accepted regarding the team's exhaust system.
The exclusion of PWR was only confirmed during the second race, while Mikaela Åhlin-Kottulinsky was powering her way to what was briefly a historic victory in the team's fourth car.
Shortly after, another team filed a protest and Åhlin-Kottulinsky's victory was short-lived, with her car also excluded from the race's results.
The 'catch' by WestCoast Racing seems to have vindicated the veteran STCC squad, who've been at a loss all year to explain why the Cupras have been so much faster.
While the Halmstad-based team's STCC season has been behind their usual standard, with championship success only really an outside possibility with their lead driver Fredrik Ekblom now fifth in the standings, 38 points behind Johan Kristoffersson, their protest has very much worked in the favour of their Volkswagen rivals KMS, with Kristoffersson now in the lead of the championship, albeit by just one point.
Kristoffersson has also been vocal all year about the difficult to comprehend pace of the PWR Racing Cupra squad, and now with the team losing its Karlskoga's results due to a component which they've been running all season, the 2012 champion was quick to question the validity of their performance.
"It's an odd feeling not knowing if the championship has been fair all season, or if this has been only for one race," said Kristoffersson to TouringCarTimes. "For sure I'd have liked to have shown it on the track from the first race at Knutstorp."
With the Volkswagen KMS and WestCoast Racing teams having being banding complaints about their Cupra rivals all year, did the finding of Karlskoga justify their position?
The main benchmark thrown out by both WestCoast and Kristoffersson himself, is his performance in comparison to PWR's junior drivers, with Philip Morin in his debut season, and sophomore Mikaela Åhlin-Kottulinsky often outpacing the former champion on raw pace.
WestCoast Racing team principal Dick Jonsson-Wigroth was highly critical of the team, noting the team have been caught cheating before when the team were found to have broken the seals on the dampers of their Solution-F specification SEAT León STCC in 2016.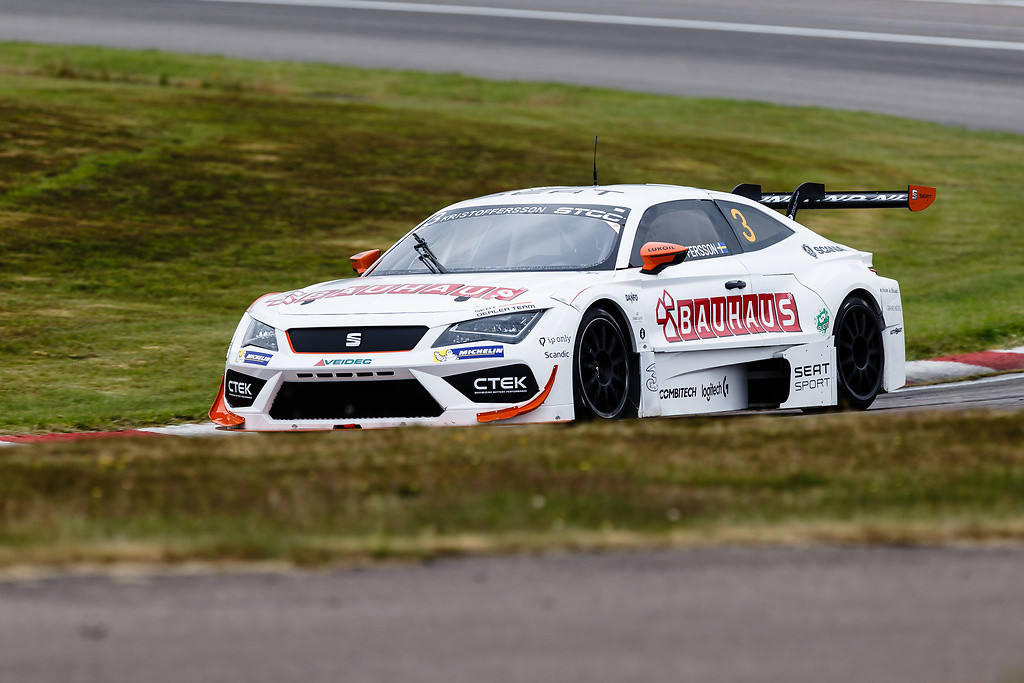 This incident coincidentally also took place at Karlskoga, with their then lead driver, Kristoffersson, excluded from the race in the year which WestCoast, running the Polestar factory programme, went on to win the championship.
PWR Racing however vehemently deny any foul play on their part. Team principal and driver Daniel Haglöf said he immediately contacted Cupra Racing, who confirmed to him that the regulations had been misinterpreted.
"We have talked with Cupra and TCR, they say our exhaust is OK," said Haglöf to TouringCarTimes. "We have the stock Cupra exhaust. They have different options with downpipes, a middle damper and rear dampers, and you can use what configuration you want to get it below the 95 decibels.
"I just called the technical director of Cupra Racing who said 'What?! That is wrong!" Quite frankly the TCR regulations are not bulletproof, so we will see what happens.
"I know that from Cupra Racing's side and TCR we have our backs covered. If we get penalised for it, it is because of paperwork. From my point of view, we did not do anything wrong and I hope that we will get the points reinstated."
The seal issue of 2016 was also down to red tape, but on that occasion, it was still found to be a technical violation and the team were excluded from Karlskoga's results.
The question is whether this issue is truly over performance enhancement, or technicalities.
There's no question that PWR Racing's results over the last two years have been very impressive, no doubt enviable by their more experienced rivals, and the question is whether that envy has turned to jealousy, or if there's firm grounding in WestCoast's position regarding PWR.
PWR's Haglöf certainly believes the former. "I hate this kind of crap, I just want to race," he said. "They just can't beat us skills-wise, so they play games like this."
PWR Racing have said they intend to file a protest to the Swedish ASN today (Monday), in order to have the results of Karlskoga reinstated.
Should they be successful, Robert Dahlgren would be restored to the championship lead, just 14 points clear of Haglöf, with Kristoffersson down to third, 20 points adrift with just two races left to run at Rudskogen, Norway, and Mantorp Park, Sweden.