DRS and option tyres? Save the latter for F1, please
The end of lap four was where it was evident and I'd made up my mind that I don't really like it.
After pole sitter Timo Scheider had kept Augusto Farfus' blue and green RBM BMW M3 at bay during the race's opening stages, come the end of the fourth lap, the Brazilian deployed his DRS at the hairpin to sweep by the Abt Audi and take the lead of the race. Done. No fuss. No wheel banging. No nip-and-tuck.
A shame.
Whilst I'm for on-track etiquette and clean, opportunistic passing like in Sunday's F3 race, Farfus' move on Scheider is precisely why I'm not a fan of DRS; despite the feeling amongst drivers that it made passing slightly easier, although not easy, I still feel it makes things artificial. I've never liked it in Formula 1 and I'm certainly none too keen on it in DTM.
Whilst the technical freeze at the end of 2012 means this season's cars are so evenly matched, you could argue that something had to be done to increase passing in DTM, which in the past has had the tendency to be somewhat processional; for example, last weekend's race saw three times as many passes compared to last year's season finale Hockenheim.
Still, that's not the point.
Look at Valencia last year as an example, and allow me to use the battle between Ralf Schumacher and Joey hand at around ¾ of the race distance. Whilst there were no points at stake for P15, that didn't stop Hand and Schumacher from trying and the Mercedes and the BMW were actually racing. Racing is the key word here. It was through skill, no gimmicks, no DRS and no fast graining tyres that allowed Ralf to get past the BMW. Just skill and doing what racing drivers do best.
Now fast forward to lap 33 of the same race. Mike Rockenfeller's sixth placed 'Brazilian flag' Audi A5 was trailing stablemate Filipe Albuquerque by +0.568s; Had Rockenfeller had the use of DRS, then it is inevitable he would have breezed past the Portuguese at the push of a button.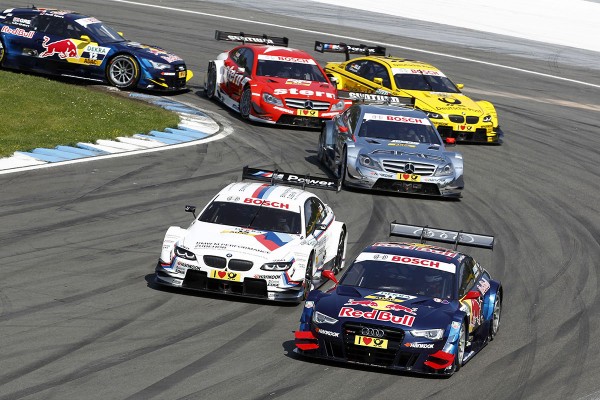 Is that really racing?
If you're reading this, I guess you're a racer, so ask yourself this; Which would you prefer; a battle where the driver actually makes a pass; a pass which people will talk about in years to come as being 'incredible', or one which both you and the driver know was facilitated by DRS?
It's an easy decision to make, isn't it?
On the other hand, there is the matter of the ITR's over zealous stewards who, if you look at some of the decisions made during Sunday's race – the one second lap time penalties issued to Edoardo Mortara and Jamie Green are two shining examples – border on the absurd. They simply aren't well thought out.
It's the same with the passing rules; think about the amount of flak Andy Priaulx suffered for daring to overtake Rahel Frey at Valencia last year. Yes, he dared to do his job and he got told no; imagine, a racing driver who dared to overtake…
Therefore from that perspective, it does make sense to create a system where passing is easier because the steward's wrath will not be incurred and nobody, irrespective of whether they're a team member, a fan or a journalist wants a series where a driver is scared to do what they're paid to do; race. It would remove the whole essence of the series if that were to happen.
As I said, I'm not keen on DRS and I don't think I ever will be. I find it too artificial and with the rumours flying around that KERS could be in the DTM by 2014, I feel it's pushing the sport I love further into the mould of Formula 1.
On the other hand, if it does encourage drivers to race – and judging by some of the comments from the weekend, it did – as opposed to facing the wrath of the stewards should they try, then I still won't like it, but I'll be in favour for it.
One thing from the weekend that I won't be in favour for however, is the introduction of the option tyre. Ever.
Why is it necessary? If we have DRS, there will be passing. Yes, the drivers may have to work a little harder for it, but there will still be passing. Fact. Look at Sunday's race as evidence.
As I said earlier, it worries me that the introduction of DRS to the DTM moved it closer to Formula 1; the arrival of the option tyres pushed it further still. The DTM is a far different, a friendlier, far more welcoming series with a different type of racing than Formula 1. It's a different animal. Good.
Certainly, I agree that in F1 something had to be done to spice up the show, but the DTM whilst at times processional, was never really dominated by one particular car of driver, was it?
Whilst not only do I find the option Hankooks unnecessary, I find the whole issue surrounding them – yes, I'm going to say it – boring and confusing. I, and I'm sure everyone else who I sat with in that very, very, warm press-room on Sunday at Hockenheim, would like to see a race that isn't dictated by drivers conserving their tyres or pit strategy. Certainly If I wanted to watch such a spectacle, I'd go and watch a game of chess.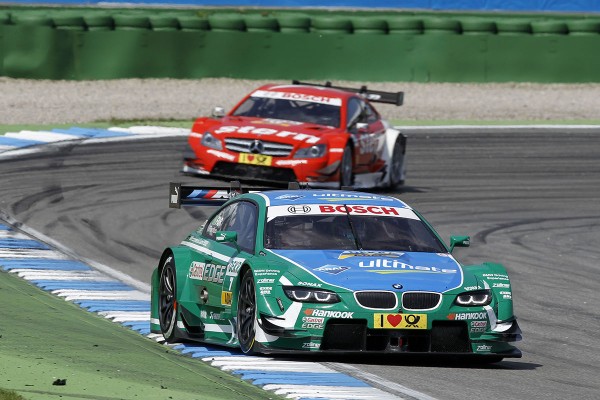 When race-winner Augusto Farfus and third placed man Christian Vietoris alluded to some confusion about their on track position after the race on Sunday, my feelings surrounding the tyres became confirmed. What's the point? It takes away from the series we love, and my reason for loving it is the great racing it provides.
Then there was the matter of Hankook not labelling the options clearly enough, which if like me, you allude to the Ekstrom school of thought, you would agree this issue could be easily solved by painting the sidewalls orange.
If it was difficult for us in the press-room to see see which tyres are being used – especially when we're armed with timing screens and tyre sheets – then how must it be out there for the fans?
Whilst DRS I can get behind, the option tyres I can't. I won't. I find the whole issue boring, confusing and most worrying of all, a step too close to F1.