STCC title race: the case for team orders at Kristoffersson Motorsport
There are two words that are sure to divide public opinion in motorsport. Team orders, they are a necessary evil for all involved but have an established and logical place in the sport.
As the STCC passed the half-way stage of the season Falkenberg last weekend, the time came for Kristoffersson Motorsport to put such orders in place. Their reluctance to do so may not have cost them too much in the post-event standings, but neglecting the clear need for them before season's end could cost the team the championship.
The STCC has experienced something of a renaissance in 2017. While only two teams – PWR and KMS – have won a race all year, a titanic title battle has emerged between SEAT and Volkswagen and given the series the shot in the arm it has so needed.
But with just three rounds of the series to go and a 12-point difference between points leader Robert Dahlgren (PWR) and Johan Kristoffersson (KMS) who is doing a part-season, could KMS deny us the perfect championship showdown by not favouring regular driver Fredrik Ekblom?
Team boss Tommy Kristoffersson faces a difficult choice: will he implement team orders from the fifth round of the series at Gelleråsen which would effectively kill off any remote chance his son Johan – top-scorer in each of the STCC rounds he has competed in – to favour Ekblom in the battle against Dahlgren, or let the KMS drivers sort things out for themselves and risk handing Dahlgren the title without any real opposition?
The sporting spectacle side of the argument says the latter. Kristoffersson is a winner, and despite being the third best VW on 45kg of success ballast in Falkenberg, was as frustrated with third on the grid for race one as many would be with being knocked out in Q1. That's the measure of a man who just cannot seem to lose in 2017.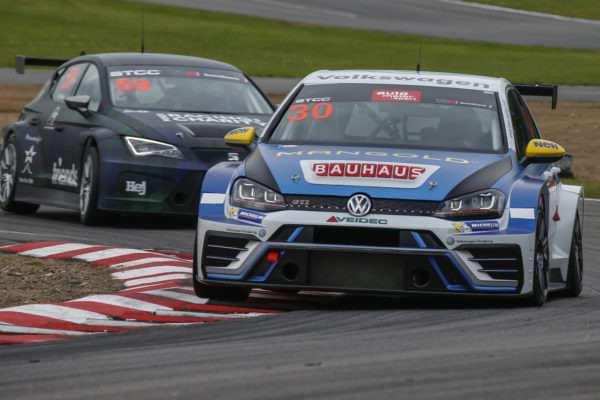 Then there's Ekblom who has taken ten podiums this year but only two wins. He beats himself up unnecessarily over his starts, which admittedly have been poor since the first round at Knutstorp. His race pace is exceptional on his day however and he isn't afraid to get the elbows out in a battle.
But common sense must prevail in a team that is up against some of the best in the business in PWR. The latter team have had their ups and downs in 2017 and have accurately labelled themselves as the second best team for the past three rounds.
However, PWR have done what PWR have always managed to do. Remain in the hunt to pick up podiums and wins when they crop up.
Dahlgren has finished every race inside the top five and it is this consistency – three wins and nine podiums – that has led many in the paddock to look at the former Volvo driver as the champion-in-waiting, not least KMS.
And therein lies the problem from Falkenberg. With Dahlgren clearly the main obstacle in KMS' pursuit of the title, why on Earth did the team allow Fredrik Blomstedt take his maiden win in the opening race of the weekend with Ekblom finishing third – just one place ahead of Dahlgren?
Take nothing away from Blomstedt, his first series win was masterfully taken and rightly deserved. But with the title on the line, surely it made sense to at least instruct Kristoffersson move aside for Ekblom.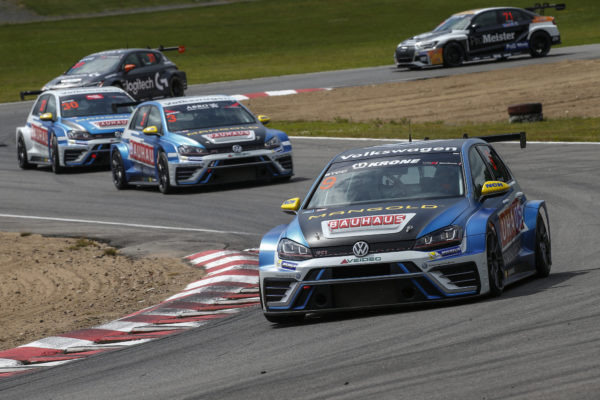 Had Kristoffersson done that and Ekblom not crashed out of the lead with a puncture in race three, Dahlgren's championship lead would have been cut to two points. Instead, it is ten points larger a gap.
Kristoffersson admitted after his race three victory that he had made a pact with Ekblom ahead of the final race to stay behind the erstwhile leader to "take points away from Dahlgren" and "protect Fredrik in the championship".
So the drivers know the score but the management are still coy on the possibility of employing team orders to one or the other. On one hand this is admirable, but on the more practical side, it is baffling. It's easy to see Tommy Kristoffersson's trepidation. After all, Ekblom was only meant to fill in for Johan while the latter was on World Rallycross duties and hasn't been confirmed for the remainder of the season. But with Johan definitely missing the final two rounds at Anderstorp and Mantorp, Tommy admitted "it looks more positive that Ekblom will see out the season."
He added: "individually, they are all very competitive and they all like to win, but in the end we have a responsibility for the brand, for Volkswagen, so we will see how we play the cards."
That should settle it then? Although Johan has six wins this year already – and has won at least one race on each of his STCC appearances this season – he isn't likely to score enough points in Gelleråsen to put himself in contention come Mantorp, particularly when you look at Dahlgren's consistency. Ekblom, since being dropped by Volvo's WTCC outfit, is free for the remaining rounds.
KMS should, from Karlskoga onwards, impose team orders to favour Ekblom's push for a first STCC title since 2007, making the most of Johan and Blomstedt's speed and disruptive influence on PWR before it is too late.