2019 points system would have made a different champion in 2018
The new championship points system which has been introduced for the 2019 World Touring Car Cup, had they been used for 2018, would have meant Gabriele Tarquini would not have taken his second world title, but in fact seen Yvan Muller take his fifth.
The FIA World Motor Sport Council confirmed a new points system for 2019, which has three major changes over the 2018 system, and the combination of those changes would have had quite an impact on the results of the championship.
While Gabriele Tarquini won the 2018 title by three points over his Hyundai rival Muller, the 2019 system would have seen Muller secure the title by 20 points over Tarquini. Here's the breakdown of why that would have been.
Points for first qualifying
First, let's look at the introduction of qualifying points for the first race.
In 2018, WTCR came to life with a three-race format, different to the WTCC's, with two qualifying sessions setting the grid for the weekend's three races. While the second session, which includes the top-five shootout, still allocated points for the top five – something which was originally introduced to tempt drivers away from aiming for the reversed top ten grid pole position, the 'new' first qualifying session was 'pointless'.
It was recognised that awarding points for one qualifying session and not the other was very uneven, and this was rectified for the WTCR's second year, with both qualifying sessions now rewarding the top five drivers with points; five for pole, down to one for fifth.
This in itself isn't responsible for much of Muller's gain on Tarquini. Muller was more a race-points scorer than a qualifier. He only made the top five in the first qualifying session twice in 2018, and so only would have scored an additional five points.
Tarquini on the other hand was much stronger in the Saturday qualifying session, making the top five five times, and so would have banked an extra 13 points, so the revised qualifying session is not where Muller would have gained on his Italian rival at all.
More points for more finishers
The second key change is adding points for more finishers in the race. For 2019, the top 15 drivers will now score points, as opposed to the top ten.
Given that just a year ago, the 2017 WTCC season had only 15 cars at the start, it's a marker of successful the WTCC and TCR International Series merger has been, with the points system being expanded to cover more finishers, which is likely to account for less than half the entries in the 2019 season.
Muller gains back some from this, as the Frenchman finished between the positions of 11 and 15 four times throughout the 2018 season's 30 races, while Tarquini either scored big or not at all, and only once finished between 11 and 15, earning him back three points, while Muller would have netted 15.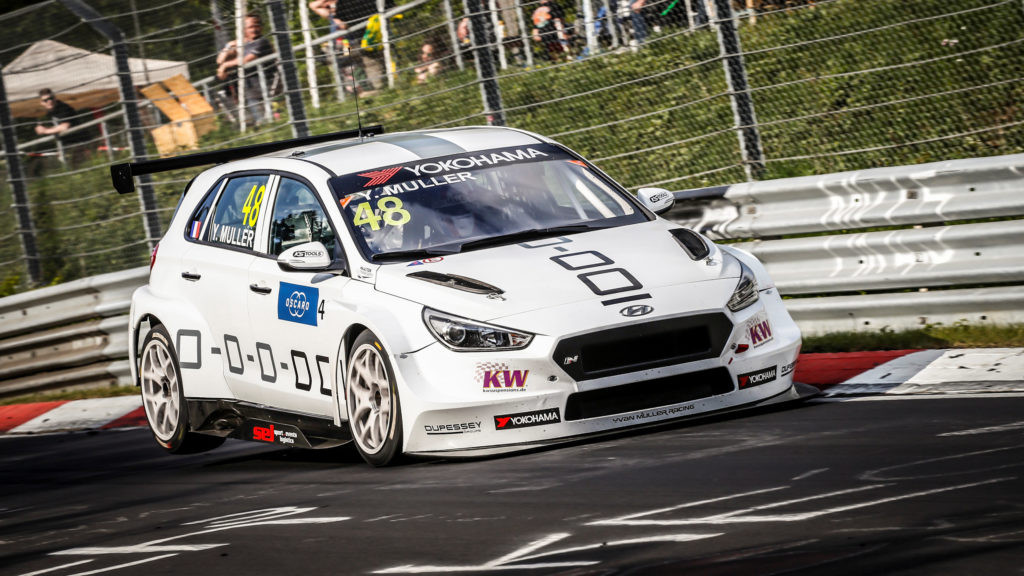 A new, flat, points scale
It's the final change, and not necessarily the most popular one, that would have made all the difference.
After one year of having a mixed points system, the WTCR will introduce a flat points scale, just as the WTCC did for its 13 years in 2019, with all race results being the same value.
In 2018, a victory in the first race was worth slightly less than the third race, with 27 points on offer against 30 for Race 3.
This was perhaps a little too positively weighted for Race 3 – after all, the race was only 7km longer, typically around two laps, and there's certainly some debate to be had around whether that makes the race of significantly more value over the course of the weekend.
The notable change here is for Race 2, which was also as long as Race 1 (55km), but featured the reversed top ten grid from qualifying.
After many years, it was a regular criticism that this race was weighted as strongly in terms of points as the other races, effectively rewarding those drivers who were towards the back end of the top ten in qualifying with higher grid positions and giving them better chances of results they could not have achieved with a conventionally-formed grid.
In 2018, winners of Race 2 includes Rob Huff (twice), Yvan Muller, Gabriele Tarquini, Jean-Karl Vernay, Esteban Guerrieri, Frédéric Vervisch, Aurélien Comte and Mehdi Bennani. The last three drivers in that list only won reversed grid races, and would probably have struggled to win otherwise.
With the same points now on offer for Race 2 as the other two races, this is where Muller makes his money back on Tarquini, as the Frenchman finished ahead of the Italian eight out of ten times during the course of the season.
Conclusion
Applying new points systems to existing seasons isn't just about the mathematics however. The drivers race to the points systems, and small changes in behaviour means the results would still be different. A few more "fresh tyre" sets would be rolled out for the first qualifying session, especially since the first qualifying session and race are the same value as the others; drivers would try a little harder in the second race to make up ground, knowing each point is worth a bit more and not save everything until Race 3.
That being said, in a season as close as 2018 was, there was not much quarter given, and it's still quite likely that this calculation would ring true, and Lynk & Co-bound Yvan Muller would probably have been taking the #1 with him to the team had this new system have been in place.
It's not just the top two drivers affected. Münnich Honda driver Esteban Guerrieri would still have finished the championship in third place, but YMR Hyundai's Thed Björk, who finished the 2018 season in seventh coming off the back of his 2017 WTCC drivers' title success, would have finished up in fourth in the standings.
Campos Racing Cupra driver Pepe Oriola would have been one higher as well, coming out in fifth instead of sixth, with WRT's Jean-Karl Vernay slipping from fifth to sixth, and BRC Hyundai's Norbert Michelisz falling from fourth to seventh in the championship classification.
The new system will drive different behaviour in 2019. Drivers will fight harder in the reversed grid second race, as they used to, which should be more exciting, but equally more risky in terms of potential damage sustained ahead of Race 3.
Saturday's race and qualifying will also be more of a focus than before, and less of a 'practice run' for Sunday.
Whether Yvan Muller will be the 2019 champion as a result of these new changes, I guess we have to wait 11 months to find out.