Scott McLaughlin: "We really executed as a squad"
Scott McLaughlin now leads the Supercars field by a massive 142 point margin following Race 12 of the championship, another comprehensive performance from the Kiwi coming in Supercars' first ever event under lights in Perth.
DJR Team Penske driver McLaughlin rebounded from slow starts in both races to finish second – behind team-mate Fabian Coulthard – on Friday night before leapfrogging early leader Jamie Whincup in the first round of pit stops 24 hours later to sweep to his eighth win of the year.
The dominant weekend was backed up by the fact McLaughlin added to his pole position tally on both days – his Saturday effort seeing him top the field by almost 0.5 seconds on one of the shortest laps on the calendar.
The Mustang team has now finished 1-2 in five of the 12 races this season with McLaughlin finishing first or second in all except one race he's actually started this year.
"Just really stoked for everyone, really proud of the team," the defending champion said post-race.
"Fabs got a win last night and we got a 1-2. Unfortunately we couldn't get a 1-2 tonight (Saturday) but the win was an absolute bonus.
"Our cars have, since 2017, been really good here (in Perth). It's amazing for our team. Very proud of everyone. The stops have been amazing and the strategy calls have been great – even yesterday with the two tyre thing and believing in our car and the group and how we looked after out tyres. We really executed this weekend as a squad, Fabian is pushing me like anything."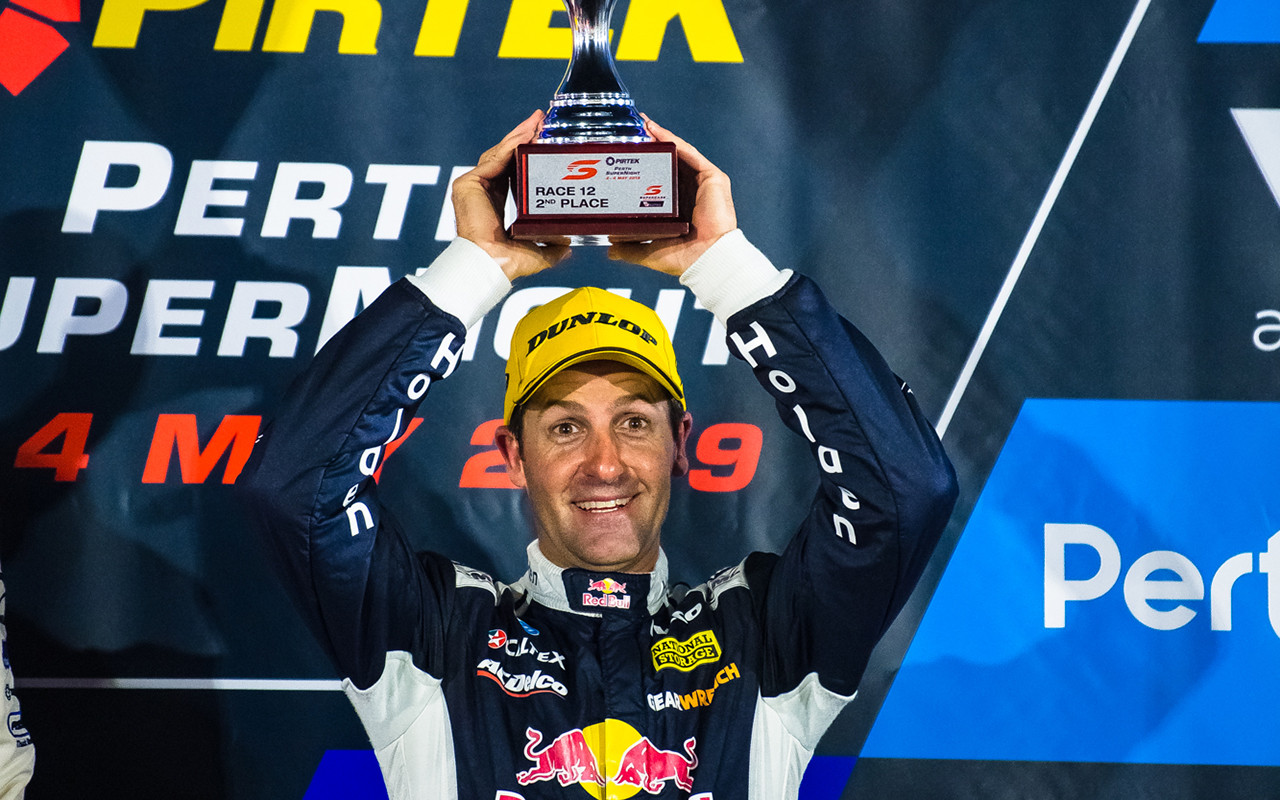 While the DJR Team Penske Fords continue to dominate, the Perth weekend marked something of a return to form for the Red Bull Holden Racing Team – in particular, Triple Eight Race Engineering driver Jamie Whincup.
While the team's battles with the regulation changes surrounding the banning of multiple-spring dampers this year have been well documented, in Perth Whincup finished fourth and second in the two races, respectively – also qualifying second on Saturday.
The seven-time champ was the biggest mover in the standings across the two races, climbing from ninth to sixth after five events – though 409 points behind leader McLaughlin.
"I feel like we have won the most improved award, as we were very ordinary three weeks ago," said Whincup, noting the team's sup-optimal performance at Phillip Island last time out.
"The engineers have done a fantastic job to turn things around and give us competitive pace this weekend, but the next step isn't a click of the dampers of a roll bar – it's a lot more involved."
Despite recent changes to the Mustang – both in centre of gravity and aerodynamic performance – Whincup said it was up to his team to help stop the dominant cars from 'the team next door'.
"I feel that for the good of the sport it's up to us to do something and step up to the challenge," he said.
"It's fantastic to beat everyone else but if we are serious, we need to make some big changes to beat Car 17 at a consistent level. We feel good about maximising this weekend with the tools we had but again when we get back, we will sit down as a team and work out how we can get more tools in the toolbox."
Behind the leading battle, Brad Jones Racing continued their quietly impressive season – the team now vying for honours of 'next best Holden team' with Erebus Racing.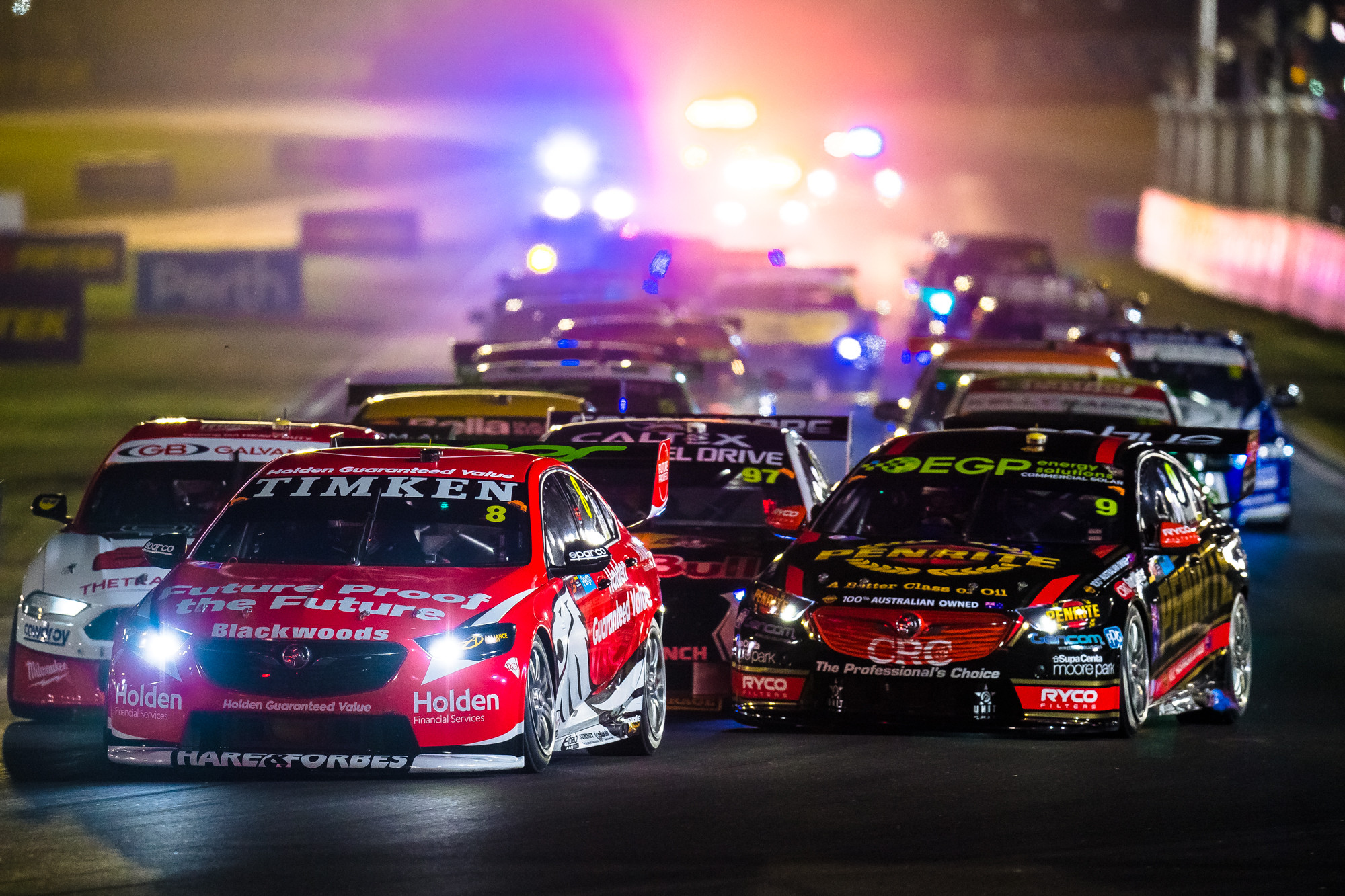 Nick Percat notched up his 10th top-10 finish of the season on Sunday, taking his streak to eight in a row.
Slade, meanwhile, banked a pair of elevenths to ensure the Albury-based team retains third place in the team's championship – behind DJR Team Penske and Triple Eight – and narrowly in front of Tickford and Erebus.
"It was good on Saturday, we got a really good start and result and it's a credit to everyone out here and at Supercars," Percat, who sits eighth in the driver's championship, said.
"This is really good what they've done to put this night race together."
Those to lose out included Chaz Mostert, who dropped from third to fifth in the standings following his first non-finish of the season.
Shane van Gisbergen moved to third and Reynolds – who salvaged 10th and 6th in the pair of Perth races despite poor qualifying performances – fourth.
McLaughlin's 142-point lead is substantial, however Coulthard's 180-point margin on van Gisbergen in third is even more substantial. Behind that, however, things are much closer: 187 points covering third through ninth in the championship.