Thruxton bosses respond to latest Church incident
The boss of the Thruxton circuit, Bill Coombs, has moved to defend the venue from criticism that followed Dan Lloyd's accident during the third round of the 2017 BTCC season.
Lloyd's MG went off at high-speed at Church – the quickest corner in the UK – after contact from Senna Proctor's Vauxhall Astra during the second race of the weekend, making heavy contact with newly-installed armco barriers and being briefly launched into the air before coming to rest.
The accident was the first serious incident to take place at Church since development work began to improve safety following the accidents back in 2014 involving Simon Belcher and Ollie Jackson.
That work began over the winter, with the first phase seeing the line of trees on the boundary of the circuit removed and the run-off on the outside of the corner being raised substantially to reduce the huge drop-off that previously existed.
New barriers were also installed to replace the tyre wall that had been in place, and which had played a part in contributing to cars ending up in the trees in recent years.
Despite that work, Lloyd's car still suffered a heavy impact during his incident, although it should be noted that travelling across nearly 100 metres of run-off before making contact with the barriers provided the chance for some speed to be rubbed off – in contrast to the incidents suffered by Belcher and Jackson where the respective cars failed to slow when heading downhill on grass.
Understandably, a shaken Lloyd spoke out about the changes when quizzed following the incident both on ITV4 and to the assembled media, questioning the manner in which the work had been carried out.
"All the worries and topics got brought up two weeks ago after the test day here," he said to TouringCarTimes. "Gordon Shedden spoke to the championship about it and nothing was done. In the drivers' briefing there was a massive kick-off about it. Matt Neal stuck his two pence in, Jason Plato said something needs to be done, why can't we get tyres there?
"None of the drivers were happy – and I unfortunately was the one who got tagged and hit the barrier hard. People might have their opinions, but then when you hit it at 110mph like I did then, you might have a different opinion."
Thruxton was given the chance to respond to comments from both Lloyd and others during ITV4's live coverage on Sunday afternoon, with TouringCarTimes then taking the opportunity to speak to Coombs in more depth to gain his view on what had happened.
"I think there are a number of things," he said. "First of all there is sometimes a lack of understanding in some quarters about how hard these changes are to make, but you will be aware from our discussions last year [when TcT was amongst those to be taken on a tour of the circuit to discuss redevelopment plans] that the day after the incidents back in 2014, we started to consult with the MSA and the other licensing bodies about what we could do with that area at Church.
"The cheap option would be to put a chicane in, but we are racing people and we didn't want to spoil the nature of the circuit. We do want to improve the safety but we don't own that land and more importantly, we don't own the land behind that hedge line, so we had to get planning permission to carry out the changes that were agreed with the MSA and the FIA.
"It's important to bear in mind that changes have to be suitable for all kinds of cars, not just touring cars, and it was more difficult to obtain that planning permission than we expected – partly because the stream behind the trees caused some ecology issues.
"When we got planning, we looked at when we could shut down circuit activities to start work and then got on with phase one of the work. Previously the run off at Church dropped 3.5 metres, which meant you actually speeded up to the point of the accident, which would be the trees.
"We got rid of the trees, which was a huge win for us, and a massive amount of material has gone into that first stage. It's been a huge operation and that was a £250,000 cost. It's the most we could do at this point and it's important to stress that this is a programme that we always said would take time.
"What we have now isn't the final product and eventually the run-off will go up 2.5 degrees to slow cars down even more before they reach the barriers, and there will be 50 metres more run off – which is way more than anyone else. It means if you go off early, as was the case again with the incident this weekend, you have acres of room before any impact."
One issue raised in comments following Lloyd's incident was a lack of protection in front of the barrier, but Coombs added that there were reasons why there were no tyres in place.
"It's an easy assumption to make [that there should be tyres]," he said, "but the licensing authorities make the decision over what type of barrier protection should be used, and they make that decision with the benefit of all the data they have access to. As a circuit, we then comply with the licence requirements that we are given by the authorities.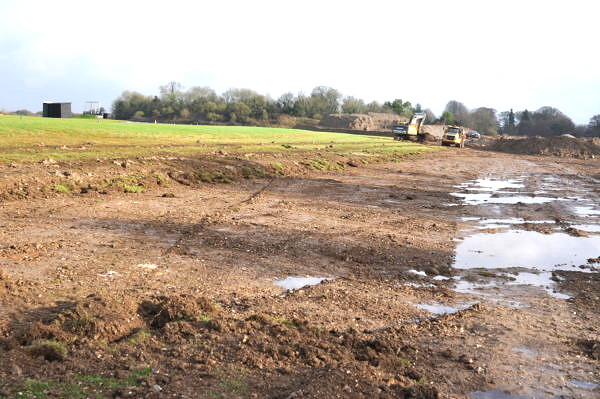 "If a car goes off on a shallow angle, which is more 'traditional' incident at Church, then if it were to reach the barrier it would grab against a tyre wall or soft impact barrier and it could be thrown into the air or rotated quickly, which would cause a range of other issues for the driver. What we have is something similar to NASCAR, where a car will impact the barrier and run along it.
"Of course in something like touring cars, you will have some contact accidents and they are the ones that cause cars to go off in ways that you can't prepare for. We know there are other circuits that have had incidents where cars have ended up where they shouldn't have done, but it's easy with hindsight to look at an individual incident afterwards and say 'We should have done this' or 'We should have done that'.
"What we are doing is spending a lot of money to improve safety, but the work we are doing isn't something that you can do overnight. A lot of other work has been carried out that people may not realise since we took over the circuit and that work is also continuing and, as mentioned, we are lucky that the MSA makes use of a lot of data and can call on the expertise of a lot of people to decide what needs to be carried out.
"We've agreed a programme of work with them, and we are following it through."