Matías Rossi takes thrilling last lap victory at Termas
Sharing the race weekend with the WTCC just last year, Turismo Nacionál (TN) went to Termas de Río Hondo for round 7 of its calendar around the 4.8-kilometre track, now improved with magnificent facilities which were finished in April for the MotoGP event.
On Friday, Amadís Farina set pole position in Class 2 with his Renault Clio (1:59.356s at 144.898 km/h). There was only one qualifying session instead of the usual two because of the compact timetable for the weekend. The following day, Adrián Percaz (Peugeot 207), Lucas Mohamed (Volkswagen Gol) and Ever Franetovich (Chevrolet Corsa) won the three six-lap heats.
Although Franetovich started from pole on Sunday, Percaz got into Turn 1 as the leader at the start. The Corsa driver would overtake him during the fifth lap, and from then on they would both have to defend from Mohamed's attacks, a driver who lives only 80 kilometres from the track and where he regularly tests.
Not far behind them, a three-car crash meant that the first safety car period occured on lap nine. A gearbox problem delayed Percaz's Peugeot and Lucas Mohamed jumped to second easily, making sure he would go back home still as the championship leader, even if with a 35kg ballast in his Volkswagen for the next round.
The Tucumán native has 168 points and is followed by Percaz (151) and Hanna Abdallah (138), fifth last weekend.
Back to Saturday's activities, current Class 3 champion Facundo Chapur dominated the whole day in his works Peugeot 308, setting fastest times in both training sessions and then qualifying (1:56.059s at 149.014 km/h), ahead of former World Sport Prototype winner Oscar Larrauri's nephew, Leonel Larrauri (Honda Civic) and Matías Rossi (Citroën C4). Out of 43 cars, the first 20 were covered by less than a second. Without turbochargers and far less aerodynamics, these 2-litre vehicles were just 10% slower than the WTCC cars.
It was 1-2 for the lions in Heat 1 with a tough fight on Sunday morning between team-mates Chapur and Mariano Werner and then partial wins for Larrauri and Rossi in the others.
Late winter in Northwest Argentina can be anything but cold. It was at least 30 degrees celsius by noon, the race was absolutely amazing and unpredictable. As a matter of fact, the winner was not determined until the very half of a lap. As there were four safety cars due to several incidents, the event was run to a maximum time of 40 minutes.
Facundo Chapur held Rossi all the way, but the pressure did not end there because the group fighting for the lead was also completed by Werner, Mungi, Larrauri and Fabián Pisandelli (Chevrolet Cruze).
It was 45 seconds before the chequered flag would be ready to be come down over the victor, 35,000 cheering spectators watched on in the grandstands as the Citroën driver made a very late braking manoeuvre on the inside of Turn 9 and deprived Chapur of the win he needed to reduce the points gap in the championship between them. If the 308, which was caught unaware of such a prompt move would have turned inches before that, they would probably ended up clashing together.
The champion did not enjoy the situation and continued side-by-side with the C4 for a couple of turns until he hit the dirt on the outside and went off. This was to the benefit of his team-mate Mariano Werner – taking his best result so far since joining the series this season- and the other Citroën of Mungi, who scored his first podium result. Chapur would cross the line in fourth, with Pablo Otero fifth at the wheel of an Alfa Romeo, all of them covered by 1.5 seconds.
As they returned to the pits, with the WTCC Citroën Racing team members watching and celebrating along with Citroën Argentina's TN squad, Matías Rossi stopped and climbed out of his car to get the applause of a crowd, delighted with such a show. He will have a heavy car next time out, with 75kg of ballast, but he said he was pleased with his win and extending his lead in the standings, now on 184 points against Chapur's 146. Bruno Bosio is still third with 117, Werner climbed back to fourth with 113, Juan Pipkin fifth with 108 and Diego Mungi 99.
The next round will be a second visit to La Pampa on 24th August.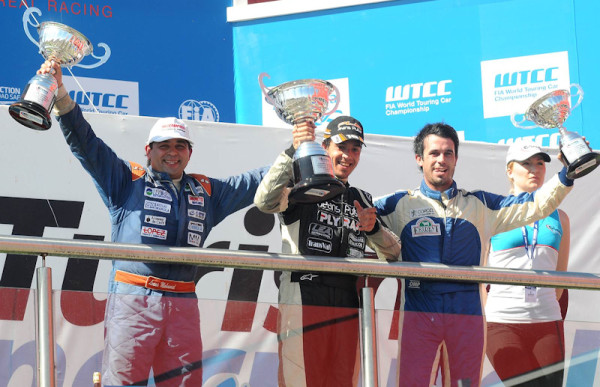 Turismo Nacionál Class 3 Race Result – Termas de Río Hondo