Silvente and Castellano claim wins at La Pampa
Matías Silvente and Jonathan Castellano became the respective winners in Turismo Nacional Classes 2 and 3, both for the first time at Toay in La Pampa, where the eighth round of the calendar was held this weekend.
In the 1.6 category, Friday and Saturday were run in damp conditions with Luciano Bosio setting pole position in his Renault Clio (1:31.818 at 162.635km/h). The heats on Saturday were also run in pouring rain, which were won by Bosio, Hanna Abdallah and Amadís Farina (both in Clios).
Sunday was sunnier, but with strong wind of up to 40km/h pushing the cars from behind, all drivers had to brake hard before Turn 1 after the long main straight. Abdallah was leading the main race on the first lap when the fifth gear of his gearbox broke, becoming the first key retirement.
Luciano Bosio tried to avoid Abdallah's car, moving to the left and collected Guillermo Albertengo's vehicle, who slided and broke advertising signs at over 200km/h. Even if not entirely responsible, the stewards decided to exclude Bosio, who was given the black flag while running in first.
Diego Pérez (Chevrolet Corsa), Lucas Mohamed (Volkswagen Gol) and Farina were fighting hard for second when Pérez braked too late, crashing against the championship leader who, at the same time, hit the Renault.
With Mohamed out of the event, Adrián Percaz jumped to first in the standings as he was also fighting for the top places, but that did not last long and the former champion, after making it to second, fell to seventh.
With two safety cars and seven different leaders, the final stages saw Matías Silvente's Volkswagen, Joel Borgobello's Clio and Ever Franetovich's Corsa push for the win. The first two of them were new to the podium.
Mohamed has now only three more points than Percaz (172-169).
In class 3, for the second time in a row, Facundo Chapur put his works Peugeot 308 on pole in the wet (1:27.902 at 169.880km/h). Former Minardi F1 driver Esteban Tuero was second in a Fiat Linea (+0.351) and Marcelo González third in a Peugeot 307 (+0.356s).
Despite driving in very different conditions on Sunday, Chapur still managed to keep a good balance in his car, though he did not have a good start in the first heat and was overtaken by Castellano's Vectra, finishing in that order. The other 6-lap heat winners were Emanuel Moriatis in a works Ford Focus and Leonel Larrauri in a private Honda Civic.
Jonathan Castellano led the main event (23 laps) from start to finish. He had a very comfortable lead halfway through the race when the pace car came out, but he was able to just pull away for the remaining part of it. Matías Rossi could not engage first and second gears from his sixth spot in the grid, so he had to start from the pits among 44 cars, losing all chances to take some good points for Citroën.
Behind the JCB Motorsport Vectra setting the pace, the fight for second was intense. Larrauri, Pablo Otero (Alfa Romeo 147), González, Moriatis and Mauro Giallombardo (Ford Focus) switched positions several times and there were corners in which three of them would drive the whole way side by side. The Honda went off a little in lap 18 and in the move it was Giallombardo and Chapur who made the most climbing up the field.
With almost 4.2.kilometer distance and the second longest straight in the country (plus tail winds still blowing fast), the 2-litre cars reached 255km/h here, a TN record in terms of top speeds.
Rossi came to Toay with a 38-point lead (and a very heavy car: 75kg. ballast) which has now been reduced to 16. The C4 driver (28th this time) has 189 points. Facundo Chapur is second (173) and Juan Pipkin third (122).
After August, the only month in the calendar in which there were two events, the sport returns to its monthly basis to run at Mendoza on September 14th.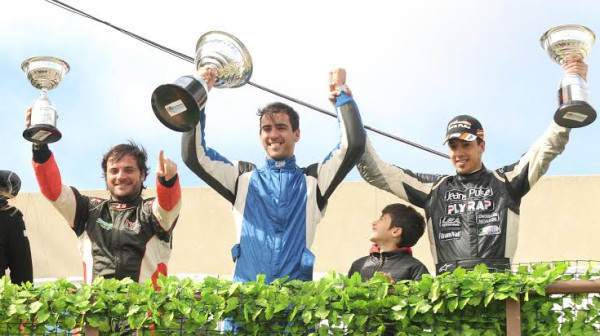 TN La Pampa – Class 3 Race Result