Matías Rossi secures TN Class 3 title in Olavarría
Last year's Super TC 2000 champion Matías Rossi may have had a tough time in 2014 in that series, but the 30-year-old added a second title to his tally in just 2014 alone after winning the Turismo Nacional series this weekend in Olavarría for Citroën, a week after winning the Turismo Carretera series.
Olavarría was the final venue of the 2014 season for TN this weekend, which the category had not visited since 2009. Hanna Abdallah and Matías Rossi emerged as the new champions in Class 2 and 3 respectively by the end of the weekend.
In the Class 2 1.6-litre cars, Nicolás Posco was a first-time pole-sitter at the wheel of a Ford Fiesta (1:40.725) and went on to win Saturday's Heat 1, while the other two heats were won by Lucas Bagnera (Renault Clio) and Cristian Pérez (Volkswagen Gol).
On Sunday's main 16 lap race, at the start, Posco was overtaken by Bagnera and Luciano Bosio (Renault Clio), but a threatening Cristian Pérez (Volkswagen Gol) was close to them throughout the race. Pérez had been a title candidate several years ago and had quit racing for financial reasons. On his return, he was on the pace straight away.
On the second lap, one of the two candidates for the title, Lucas Mohamed, retired with an electrical failure with his Volkswagen. From that moment on, Adballah, who had taken the series' leadership in the previous round, just had to keep his car on the track and finish 20th (among the 46 starters) to make sure the title was his. Adrián Percaz also had a mathematical chance, but he also retired his Peugeot 207 on lap six.
At this point, Pérez had overtaken Lucas Bagnera for the lead with a clean move, and began to pull away, claiming victory by over three seconds over the Clio. Emiliano Giacoponi completed the podium.
Hanna Abdallah went home to San Luis with a title won with a score of 256 points, ten more than Lucas Mohamed and 38 more than Percaz. The remaining drivers in the in standings were: Luciano Bosio, Lucas Bagnera, Ever Franetovich (Chevrolet Corsa), Mariano Pernía (Renault Clio), Andrés D'Amico (Volkswagen Gol), Giacoponi (Renault Clio) and Guillermo Albertengo (Renault Clio).
In Class 3, the fastest lap in qualifying was set by Pablo Merayo for the second time in a row (1:38.458). Facundo Chapur put his Peugeot 308 in second, one tenth behind the red Mitsubishi Lancer.
During the final race, Matías Rossi had to do the same Abdallah had done one hour earlier in Class 2, simply keep his car on the road. Facundo Chapur tried to push hard in the first few laps, but his 308 suffered bad understeer halfway through the event and he started to drop down in the field, finishing 17th while Rossi crossed the line in eighth.
Sebastián Gómez took his Kia Cerato to his second overall win in the sport, winning after 20 laps with a 3.5 second gap over Adrián Chiriano and 7.6 seconds ahead of the Chevrolet Cruze of Matías Muñoz Marchesi.
The weekend before Olavarría, Matías Rossi had clinched the Turismo Carretera crown and now adds TN to his remarkable set of achievements in Argentina, helping Citroën to win the manufacturers' title in TN for the first time.
The C4 driver finished the TN 2014 season with 257 points, Chapur 234, both Pablo Merayo and Mariano Werner on 177, Sebastián Gómez, Diego Mungi, Bruno Bosio (Ford Focus), Iván Saturni (Ford Focus), Leonel Pernía (Renault Mégane) and Muñoz Marchesi.
The 2015 season will kick off at La Plata on February 15th 2015.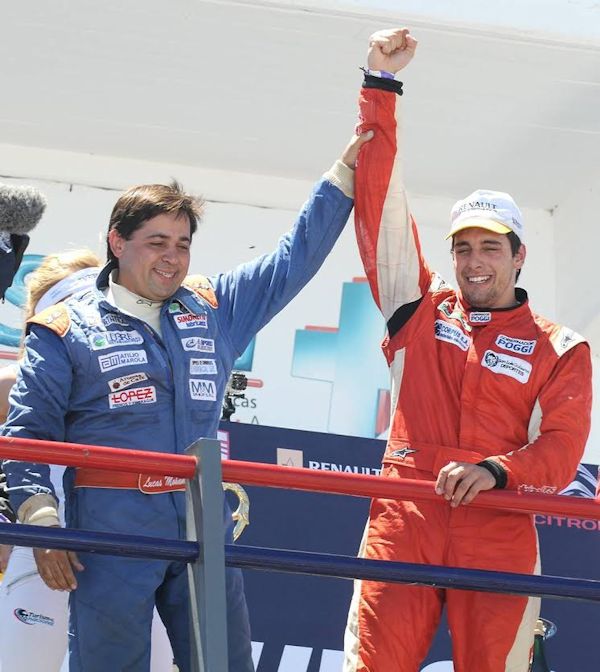 Class 3 Race Result – Olavarría