Facundo Chapur starts 2015 TN season on a high
Peugeot driver Facundo Chapur won the first round of the 2015 Argentinian Turismo Nacional Class 3 series at La Plata, while Cristian Pérez scored a narrow victory in his Chevrolet Corsa in Class 2 at the opening round.
There was a typically short summer break for TN since the last event in mid-December, while some teams had to prepare new cars and test new drivers during the short gap.
The championship kicked off at La Plata near Buenos Aires on Sunday, using the faster circuit layout without a chicane at the end of the long main straight.
Nicolás Posco took the pole in Class 2 with a Ford Fiesta, with a time of 1:36.768, while Ever Franetovich impressed in his first ever Class 3 Qualifying outing, putting his Fiat Linea on the top of the time-sheets with a time of 1:34.616. The Class 3 two-litre cars have now larger disc brakes for this season, which has changed the performance level somewhat.
Saturday's heats for the 1.6-litre division were won by Matías Vidal (Chevrolet Corsa), Agustín Herrera (Renault Clio) and Emiliano Giacoponi (Renault), while the main event saw a well deserved win for Cristian Pérez. The driver from Mar del Plata is a peculiar case. He always proved to be fast, but for a few years has struggled to find a proper budget, occasionally taking his Volkswagen Gol to races, the car he drove to claim a fine win in last season's final round.
He now rented a JCB Motorsport Chevrolet Corsa and was the man to beat for a second consecutive time. Pérez overtook Herrera's Renault first, while Vidal and Giacoponi fought hard for third.
Giacoponi charged hard and took the lead when the race was restarted after a safety car intervention, but Pérez would do everything right one more time to take the lead and the win in the closing laps.
Herrera was second, Giacoponi third, both with Clios, as were the pursuing Luciano Bosio and Gabriel Fernández, with pole-sitter Posco completing the top six.
On Sunday morning, Class 3 Heat 1 went to Franetovich, chased by the Peugeot 308 of Facundo Chapur and Mariano Pernía in a private Chevrolet Cruze. His more experienced brother, Leonel won Heat 2 in another Fiat Linea (the Renault Sport team in which he competed with the Mégane RS coupés until now has left the series), leaving the Kia Cerato of Roberto Luna in second and the Ford Focus of Lucas Bagnera in third.
Heat 3 was won by Guillermo D'Aguanno in his Alfa Romeo 147, followed by Luciano Ventricelli (Volkswagen Bora) and Peugeot-returnee Fabián Yannantuoni.
The 20-lap afternoon event saw Facundo Chapur win here for a second year in a row. The young Cordoban, 2013 champion and 2014 vice-champion, put on a flawless performance in his Peugeot as much as good luck by his side. The opening lap showed Leonel Pernía leading for a handful of metres until the Fiat engine blew up and spilled out a lot of oil at the corners, a problem that caused the spin of at least five cars behind him.
Chapur was among them, but a swift recovery saw him emerge from the spinners in the race lead, never again being threatened by his rivals. On the contrary, he made his gap larger by mid-race.
The runner-up battle was very interesting between ex-Formula 1 driver Esteban Tuero, now a works Ford driver, and Guillermo Ortelli who is at the wheel of a Chevrolet Cruze this year. Great moves by these two very experienced names were often seen and Ortelli would end up taking second place.
Among the top ten, Ventricelli made it to fourth with his Volkswagen, Fabián Pisandelli (Chevrolet Cruze) in fifth, Pablo Merayo (Mitsubishi Lancer) in sixth, D'Aguanno (Alfa Romeo 147) in seventh, current champion Matías Rossi (Citroën C4) in eighth, Marcelo González (Peugeot 307) in ninth and former TN, TC, Top Race and TC2000 champion, veteran Ernesto Bessone in tenth after a massive shunt on Thursday unofficial test and his team repairing the back of his brand new Focus in just one day.
The next round will be at Termas de Río Hondo, sharing the date for a third time with the FIA World Touring Car Championship (8th March).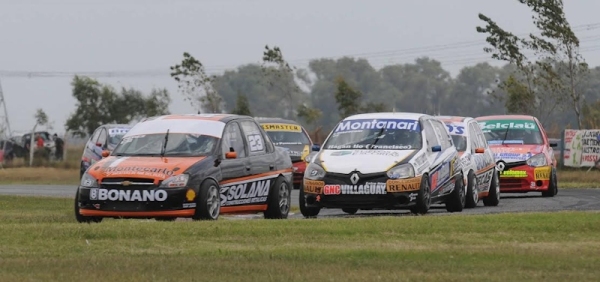 TN La Plata Class 3 Results