Oschersleben hosts record 44-car field in TCR Germany curtain raiser
The TCR Germany season is set to kick off in Oschersleben this weekend, with a record field of 44 cars from 13 different countries and six manufacturers. The battle kicked off as early as in pre-season testing, despite the noticeable absence of defending champion Josh Files in the Honda Civic TCR.
The Norwich-based driver is looking forward to the season, although he is aware the large field will pose new challenges for the Target Competition driver: "I am excited ahead of the season opener, it will be a very different championship compared to last year", said the Brit. "If you think about the past too much, you forget the present and the future. I feel ready for the new challenge, and the team has worked very hard during the winter, I think people will have to consider us as contenders. As usual, though, we will focus solely on ourselves."
The Honda driver believes Audi driver Sheldon van der Linde and 2016 title contender Steve Kirsch in his Honda Civic TCR will be the main threats to his title defense, at least based on what we have seen in pre-season testing.
"Our only objective for Oschersleben is to win", said Files. "We are sure our rivals didn't really show what they were capable of in testing. Of course Kirsch and van der Linde looked strong in the first day of testing."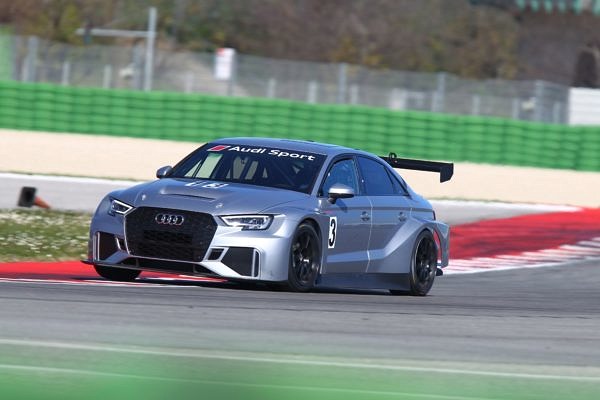 South African teenager Sheldon van der Linde will drive an Audi RS 3 LMS run by Prosport performance. The 17-year-old was fastest in pre-season testing, introducing himself as a contender for top positions despite his young age and the lack of experience in touring cars.
"The Oschersleben test was very important for us, it gave us the chance to get to grips with the car and the team", said van der Linde. "We have a lot of good mechanics and engineers, and their vast experience will be very useful. I'm optimistic going into the season, a podium in the first weekend would be great. Even if I don't get that kind of result, it will be important for me to gain some experience in my first year in TCR."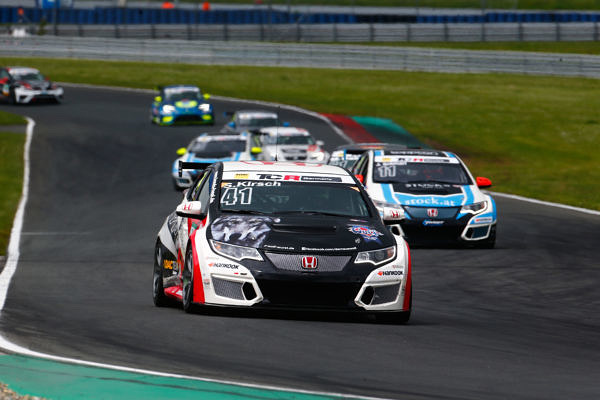 Honda's Steve Kirsch is also expected to perform well, despite original team-mate Dominik Fugel having had an injury and being replaced by Moritz Oestreich: "With such a huge field of cars it is very important to have support from team-mates, particularly during qualifying", said the Honda driver.
Besides the two ladies, Audi's Gosia Rdest and Opel's Jasmin Preisig, there are other drivers to watch out for, based on last year's results. Harald Proczyk will return in an HP Racing SEAT, as will Finland's Antti Buri. Last year's rookies' champion Tom Lautenschlager has switched to a Target Competition Audi RS 3 LMS, and will have to confirm the talent he has shown last year with the new machinery. Mike Halder, who also performed well last year, will have to make just that extra step to challenge for the title after a good 2016 season in his SEAT. Former ADAC Formula 4 driver Luca Engstler will also have to live up to the expectations coming from being Franz Engstler's son, the German teenager driving for his father's team. 2016 European Champion Kris Richard will also be on the grid, having to confirm the good results he has taken on the European stage.
The season will kick off this weekend, marking the first of seven events in three countries, the series also visiting Austria (Red Bull Ring) and the Netherlands (Zandvoort).
The action will start with free practice on Friday at 10:00 CET, with the second session scheduled at 15:20. The first segment of qualifying will be split in two groups due to the huge grid, starting at 9:40 for group A and 10:05 for group B, while Q2 will start at 10:30. The first race will be held on Saturday, starting at 14:50, just 24 hours before Race 2 which will be held on Sunday. The races will be streamed live on the TCR Germany website.
TCR Germany – Oschersleben Timetable
Friday 28th April
10:00 – Free Practice 1
15:20 – Free Practice 2
Saturday 29th April
09:40 – Qualifying Group A
10:05 – Qualifying Group B
10:30 – Qualifying 2
14:50 – Race 1 (30 Minutes)
Sunday 30th April
14:50 – Race 2 (30 Minutes)
2017 TCR Germany entry list
No – Driver – Nat – Team – Car
1 – Josh Files – GBR – Target Competition – Honda Civic TCR
2 – Alexander Morgan – GBR – Wolf-Power Racing – SEAT León TCR
3 – Gosia Rdest – POL – Target Competition – Audi RS 3 LMS
4 – Roland Poulsen – DEN – Liqui Moly Team Engstler – Volkswagen Golf GTI TCR
5 – Kristian Poulsen – DEN – Liqui Moly Team Engstler – Volkswagen Golf GTI TCR
6 – Urs Sonderegger – SUI – Wolf-Power Racing – SEAT León TCR
7 – Mike Halder – GER – TBA – TBA
8 – Luca Engstler – GER – Liqui Moly Team Engstler – Volkswagen Golf GTI TCR
9 – Stefan Goede – GER – Liqui Moly Team Engstler – Volkswagen Golf GTI TCR
10 – Antti Buri – FIN – LMS Racing – Audi RS 3 LMS
11 – Jürgen Schmarl – AUT – Target Competition – Honda Civic TCR
12 – Simon Larsson – SWE – Target Competition – Audi RS 3 LMS
13 – Kai Jordan – GER – One Racing – Volkswagen Golf GTI TCR
14 – Niels Langeveld – NED – One Racing – Audi RS 3 LMS
17 – Jasmin Preisig – SUI – Lubner Motorsport – Opel Astra TCR
18 – Sheldon van der Linde – RSA – Prosport performance – Audi RS 3 LMS
19 – Max Hofer – AUT – Prosport performance – Audi RS 3 LMS
20 – Niko Kankkunen – FIN – LMS Racing – Audi RS 3 LMS
22 – Harald Proczyk – AUT – HP Racing – SEAT León TCR
23 – Sebastian Steibel – GER – Steibel Motorsport – Volkswagen Golf GTI TCR
24 – Robin Brezina – GER – Aust Motorsport – Audi RS 3 LMS
27 – José Rodrigues – POR – Target Competition – Honda Civic TCR
28 – Pascal Eberle – SUI – Steibel Motorsport – SEAT León TCR
35 – Rudolf Rhyn – SUI – Topcar Sports – SEAT León TCR
36 – Dino Calcum – GER – Lubner Motorsport – Opel Astra TCR
38 – Jason Wolfe – USA – Liqui Moly Team Engstler – Volkswagen Golf GTI TCR
39 – Florian Thoma – SUI – Liqui Moly Team Engstler – Volkswagen Golf GTI TCR
40 – Dillon Koster – NED – Certainty Racing Team – Audi RS 3 LMS
41 – Steve Kirsch – GER – Honda Team ADAC Sachsen – Honda Civic TCR
42 – Lukas Niedertscheider – AUT – Niedertscheider MSP – SEAT León TCR
44 – Sandro Kaibach – GER – Aust Motorsport – Audi RS 3 LMS
54 – Simon Rich – AUT – Certainty Racing Team – Audi RS 3 LMS
64 – Sven Markert – GER – German Flavors Racing – Audi RS 3 LMS
66 – Ronny Jost – SUI – Topcar Sports – SEAT León TCR
71 – Juuso-Matti Pajuranta – FIN – Positionemotorsport – Volkswagen Golf GTI TCR
77 – Balazs Fekete – HUN – Botka Rally Team – Kia Cee'd TCR
78 – Fabian Danz – SUI – Schläppi Race-Tec – SEAT León TCR
82 – Thomas Kramwinkel – GER – German Flavors Racing – Audi RS 3 LMS
84 – Maurits Sandberg – NED – One Racing – Audi RS 3 LMS
88 – Moritz Oestreich – GER – Honda Team ADAC Sachsen – Honda Civic TCR
90 – Istvan Bertold Bernula – HUN – Botka Rally Team – Kia Cee'd TCR
94 – Kris Richard – SUI – Target Competition – Honda Civic TCR
98 – Tom Lautenschlager – GER – Target Competition – Audi RS 3 LMS
99 – Tim Zimmermann – GER – Target Competition – Audi RS 3 LMS