All-electric ETCR series confirmed for 2020 introduction
TCR promoters WSC Technology today confirmed the first all-electric multi-brand touring car series, ETCR, which is due to make its debut in 2020.
Head of WSC, Marcello Lotti, presented the new series concept during the official launch at the Circuit de Catalunya, where the final round of the TCR Europe series season takes place later on today.
Lotti said that he hoped ETCR would "open a window to the future of touring car racing" and added that the series would race on homologated FIA circuits.
Speaking at the official launch press conference, Lotti said: "In the wake of the global success achieved by TCR and being aware of the automotive market's current trend towards a new and responsible mobility, two years ago WSC Technology embarked on this ambitious project with the aim of educating the motorsport community in making contact with these new technologies that represent the future reality."
"The ETCR applies electric power units to the very same chassis concept of TCR cars. It is already attracting the interest of different car manufacturers that also regard it as a tool to restore the role of motorsport as a platform for research and development that can transfer experience and innovations to the standard products," Lotti continued.
Former WTCC driver Jordi Gene completed a series of demonstration laps in the specially built Cupra e-Racer car around the Barcelona track and praised the performance of the rear-wheel-drive car.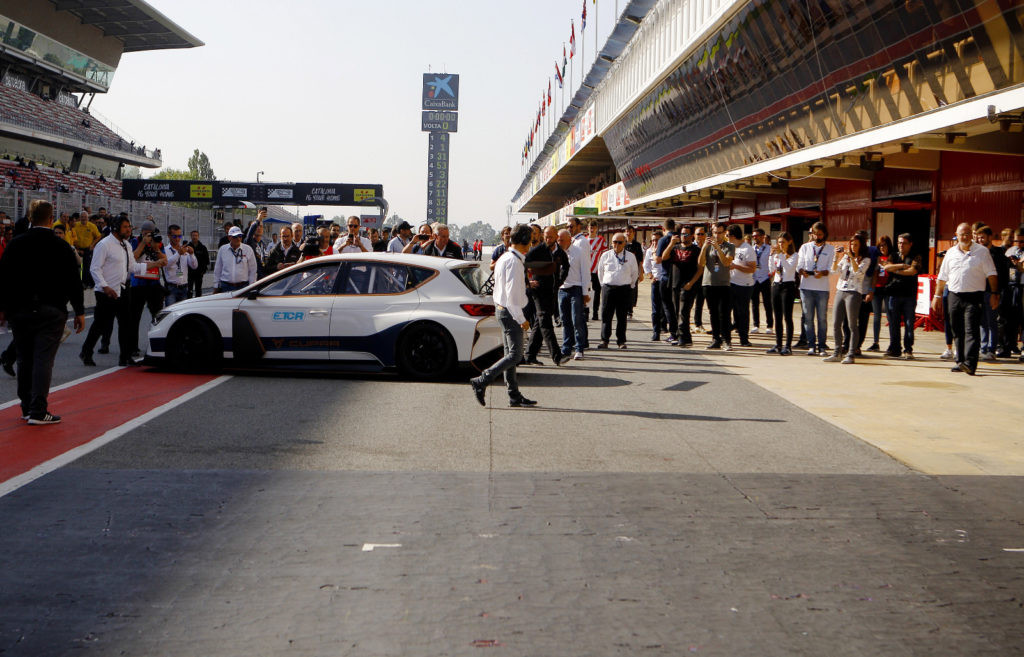 The Cupra is the first brand developed for ETCR and possesses two twin-electric motors over the rear axle and outputting up to 500 KW (680bhp). It also includes a regenerative braking system on-board.
The car is 400kg heavier than the current TCR-spec Cupra, but has a significant amount of torque which translates to 0-100km/h in just 3.2 seconds, and 0-200km/h in 8.2 seconds.
Lotti said that the series was "in serious discussions" with several manufacturers and aims to launch as an international championship before expanding into regional series.
Cupra began work on its electric car nearly two years ago and has continued the development of its e-Racer to the point that it has helped create the first all electric touring car series. Lotti, and WSC CEO Mauricio Slaviero Campos re-iterated that further development, energy recovery and performance testing is to take place in the next 18 months before its scheduled racing debut in 2020.
"Our ultimate goal is to show the fans that electric car races are as entertaining as those for the internal combustion-engined cars. And we would like to highlight the deep involvement of Cupra in the overall project from a technical point of view," said Lotti.