Cupra e-Racer "paving the way" for electrification
Xavi Serra, the head of technical development at Cupra Racing, has said that the the new electric racer being developed by the brand has "paved the way" in technical terms.
The Cupra e-Racer is scheduled to race in the new PURE ETCR series when it kicks off, with experienced pairing Mattias Ekström and Jordi Gené as the two drivers after both worked closely with Cupra on development of the all new machine.
Based on the latest incarnation of the Cupra Leon, the e-Racer has been designed from the base up to deal with the added challenge of running a touring car on electric power, with extensive work having gone into making the car as light as possible to deal with the added weight of the batteries that will power it on track.
Plenty of focus has also been put on the bodywork of the car, not only in weight terms, but also when it comes to ensuring that the car is as aerodynamic as possible to improve efficiency.
"The e-Racer was the benchmark for creating an international multi-brand competition," Serra said. "From a technical point of view, we have paved the way.
"The chassis is completely new, as it is based on the platform of the new Leon, which is 50 millimetres longer and has a more efficient standard design. The floorpan and moving parts of the body are strictly standard features. The bumpers, door sills, wheel wings and spoiler are all newly designed. In addition, aerodynamic elements such as a front splitter have been added.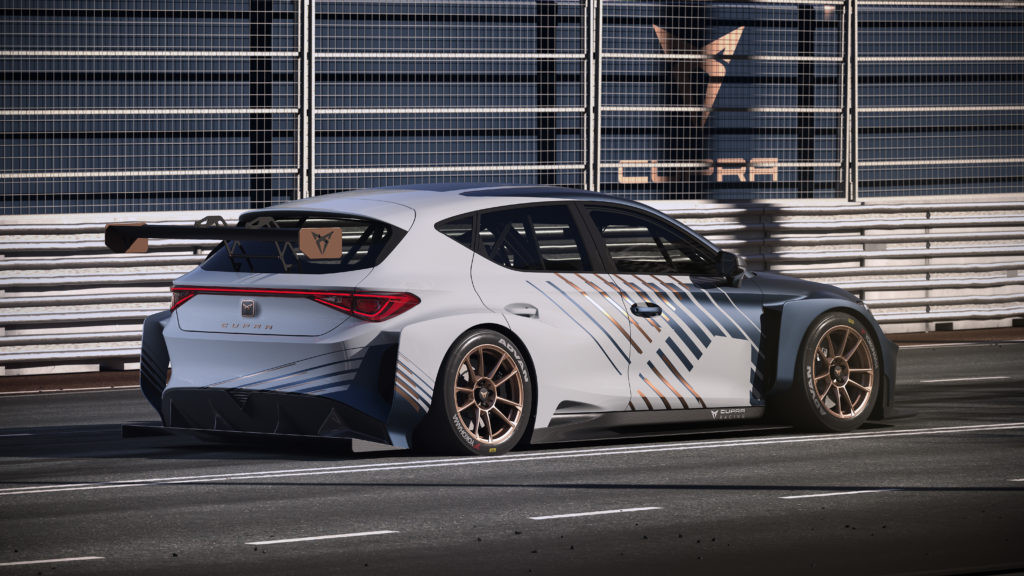 "We have optimised the weight of many of the components. Internally, the bodywork features significant changes to install the battery and other electrical components. Not only has the safety arc been reinforced from a racing point of view, we have also worked with new components to achieve a better level of rigidity and torsion", explains the head of Technical Development at CUPRA Racing."
Expanded battery capacity with improved cooling will also be a feature of the new car when it debuts on track, with the e-Racer featuring four engines producing impressive performance figures of 3.2secs to reach 100 km/h and a top speed of 270 km/h.