Goodyear gets set for new challenge with ETCR deal
Goodyear is looking forward to its new venture as the exclusive tyre supplier to the PURE ETCR series, which kicks off at Vallelunga on the 18-20th of June.
The company secured the deal to supply ETCR as part of an expanding touring car portfolio that already includes WTCR and the British Touring Car Championship.
"Goodyear has developed a completely new tyre for the PURE ETCR," project manager Sebastian Trinks told TouringCarTimes. "We launched a new Eagle SuperSport RS range for road legal cars and then adapted this tyre for the PURE ETCR."
The series will race with a treaded single tyre specification for all surfaces and all weather conditions, differently to the WTCR, with slicks and wet weather tyres.
"The series needs a new tyre because it's completely different, with a lot of instant power and torque," Trinks continued. "We would normally have to do a lot of testing of the tyre on the track, but due to COVID this was not possible. We did a lot of simulations and a lot of running on the test bench so we had already a few indications on which direction we needed to go to have this treaded tyre, which we'll use in all weather conditions.
"We had a single track test in 2020, which was very successful. We then released the tyre we would use from 2021 onwards and had a very positive feedback in a test we did at Vallelunga.
"The teams and drivers were happy with the compound and we needed that, as an electric car is completely different to a combustion engine car, with much more power and rear wheel drive."
The development of the Goodyear Eagle F1 SuperSport race tyre wasn't exclusively theoretical, as the PURE ETCR tyre partner also had some input from drivers with electric racing experience.
"It was a good mix, we had a few drivers' input during the development phase so we could quickly choose a tyre specification we could focus on and we had quite a positive feedback from drivers from electric championships," said Trinks. "But, obviously, you cannot compare the ETCR to any other electric championship as it is completely different from formula cars for example, and the ETCR drivers will have to adapt their driving style as they'll have so much power and torque than in other touring cars, so it'll be an interesting challenge for the drivers."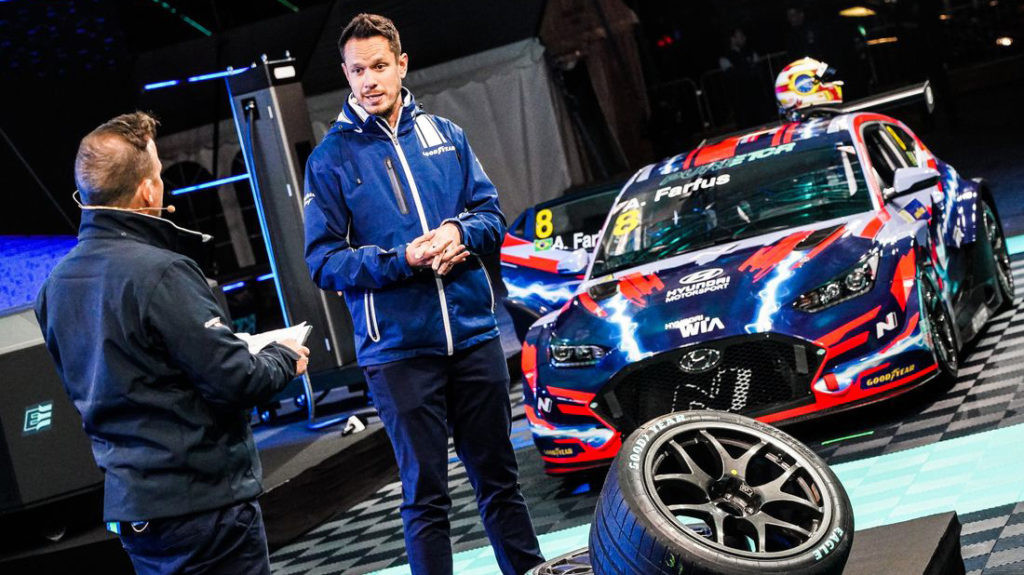 The PURE ETCR will become a FIA World Cup from 2022, with Goodyear expecting more manufacturers coming to the series.
"It's really good news that the PURE ETCR will be a World Cup from next year onwards, for both motorsport, but also for Eurosport and for us, as we are already partners as single tyre suppliers for the WTCR and I think this will be quite attractive for new manufacturers to join the ETCR grid from 2022," Trinks continued.
"It's a long term commitment and we continue to work in the development, as there are circuits where we don't have any experience yet."
The ETCR faces a five-event inception season, visiting a variety of tracks. Trinks believes their tyre is ready to perform in all of them, regardless of their different characteristics.
"We don't have any concerns as we've completed a lot of testing here in Vallelunga with different cars," he said. "I've been to all the tests and they've been very positive, also in wet conditions. We'll compete in a street circuit at Copenhagen with low grip and it will be a challenge, going later to circuits such as Hungaroring or Inje in South Korea, which will be very interesting, and we are prepared for this challenge.
"It still isn't confirmed how many tyres will be made available to each driver during a weekend, but we expect it'll be similar to the WTCR in the sense that they will have a limited number of tyres available, and then some they can carry from the previous event and which they could use for practice."