Petr Semerád and Bartosz Groszek share wins in Poland
Petr Semerád won the first TCR Eastern Europe race at Tor Poznań, a race marred by a horrific accident for Sanel Ćehić, while Bartosz Groszek won an entertaining second race.
With only eleven cars on the circuit for round three of the 2022 season, it was Czech racer Semerád of Janik Motorsport who got his first pole position in the series for the first race ahead of his compatriot and Fullinrace Academy driver Petr Čížek.
The other Janik Motorsport Hyundai of team boss and driver Václav Janík lined up in third on the starting grid. Championship leader Bartosz Groszek posted the fourth fastest time while his main title contender Milenko Vuković qualified in seventh position.
Race 1
Semerád made a strong start and pulled a gap to the rest of the grid while Groszek got up to second. Janík meanwhile made a mistake and fell back to eight place.
Čížek was in third his Cupra, ahead of Renault driver Vuković who gained three places during the opening lap.
The safety car was brought out as Ćehić lost control, putting one wheel on the grass, which sent his Audi RS 3 LMS into roll. The marshalls got Ćehić out of the car unharmed and the field was released after two laps, while yellow flags were kept at the corner where his Audi rested on its roof.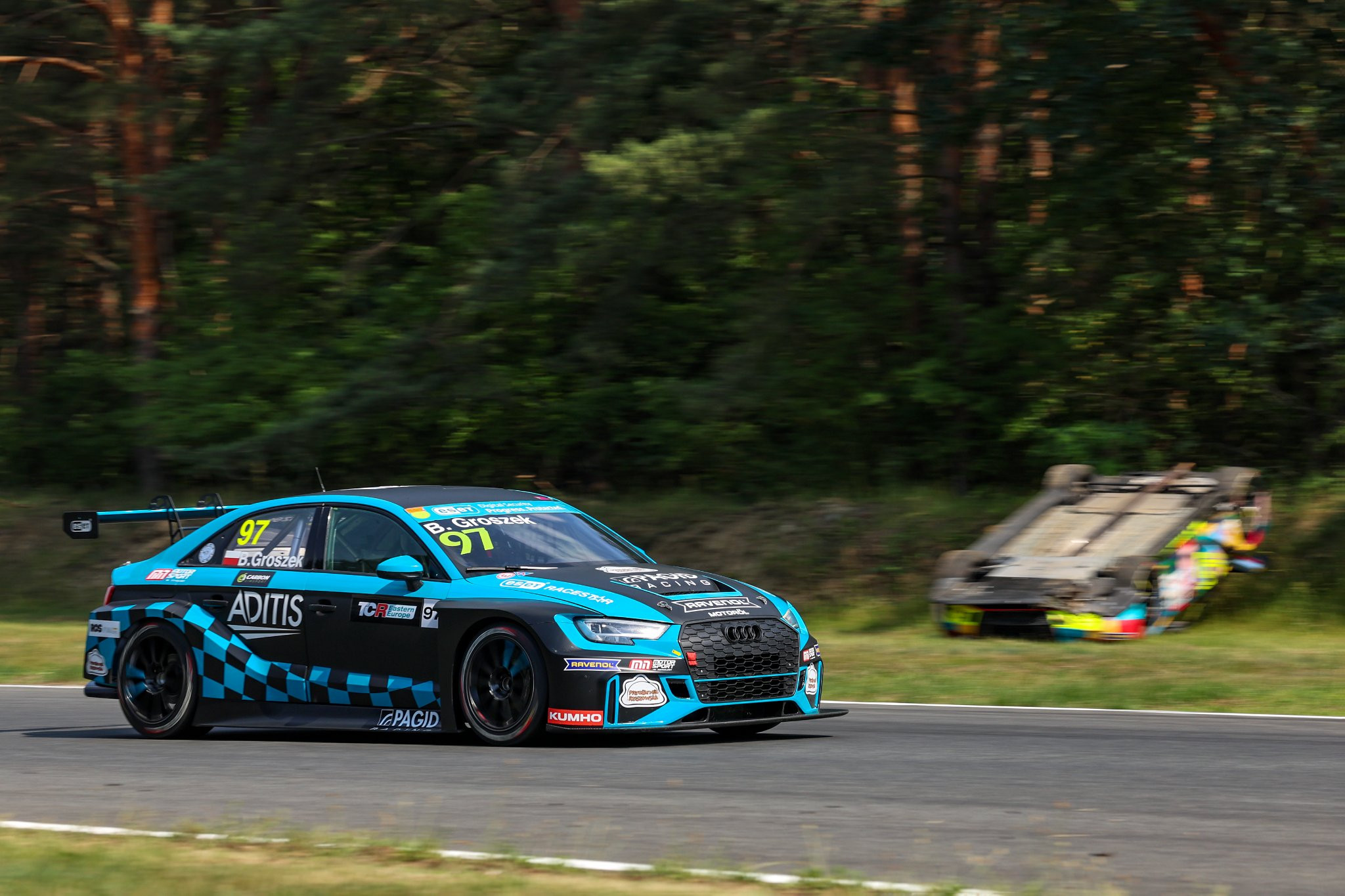 Croatian racer Žarko Knego was penalised for jumping the restart and got a drive through penalty, dropping him from seventh to tenth place.
Petr Semerád crossed the finish line first to score his first TCR Eastern Europe victory. Groszek finished the race in second place, ahead of Čížek and Vuković, with Janík in fifth place and Sebastian Steibel sixth.
Race 2
With a draw determining the starting grid for the second race, it was Steibel who started from pole, ahead of Janík and Vuković.
Ćehić was a non-starter as the team was not able to repair his rolled Audi in time for the race, which brought the number of runners down to ten.
Disaster struck Steibel at the start as he stalled from his pole position slot, handing the lead to Janík who was under a lot of pressure from Vuković.
During lap two, both Vuković and Groszek managed to pass Janík.
At the end of lap five, Vuković made a mistake and got into a slide, which opened the door to Groszek to go past. Lap seven saw the other Renault driver Milan Vuković, the son of the Milenko, retiring from the race due to a cooling system issue.
Not long after that, Milenko Vuković was forced to retire as well due to a technical issue.
That saw Hyundai i30 N TCR driver Semerád being promoted to second place while Čížek made a mistake, going across the gravel trap and lost third place to Janík.
Groszek scored his second win of the season ahead of the Janík Motorsport Hyundais of Semerád and Janík.
Čížek got his Fullinrace Cupra to fourth place ahead of another local racer, Tomasz Rzepecki in a Volkswagen Golf GTI TCR.
Groszek remains on top of the standings with 107 points ahead of Semerád on 98 points while Milenko Vuković is third with 70 points to his name.
The next race for the TCR Eastern Europe field will be held in Croatia, on the Grobnik circuit July 23-24.