Four drivers in contention for FIA ETCR title decider at Sachsenring
The Sachsenring in Germany hosts the sixth and final round of the shortened 2022 FIA ETCR season this weekend where four drivers are in title contention.
Cupra drivers Adrien Tambay and Mattias Ekström, Hyundai's Mikel Azcona and Romeo Ferraris' all have mathematical chances of winning the drivers' crown.
Following a close season, consistency has become a key factor during the year, with Tambay becoming the 'King of the Weekend' only at the Hungaroring, but stepping onto the second podium spot at Pau-Ville, Jarama and Zolder, allowing the Frenchman to lead the drivers' championship with 435 points in his first year of the series.
"Fighting for the championship in the first year against Mattias it's actually a great feeling and I'm very proud of the trust they've put in me at Cupra and I give them back what they also deserve," said Tambay. "So I'm very happy and I'll fight until the end."
Ekström won the title in last year's inaugural season as PURE ETCR but, despite winning at Pau-Ville and Jarama, the Swede lies second, just 14 points behind his team-mate.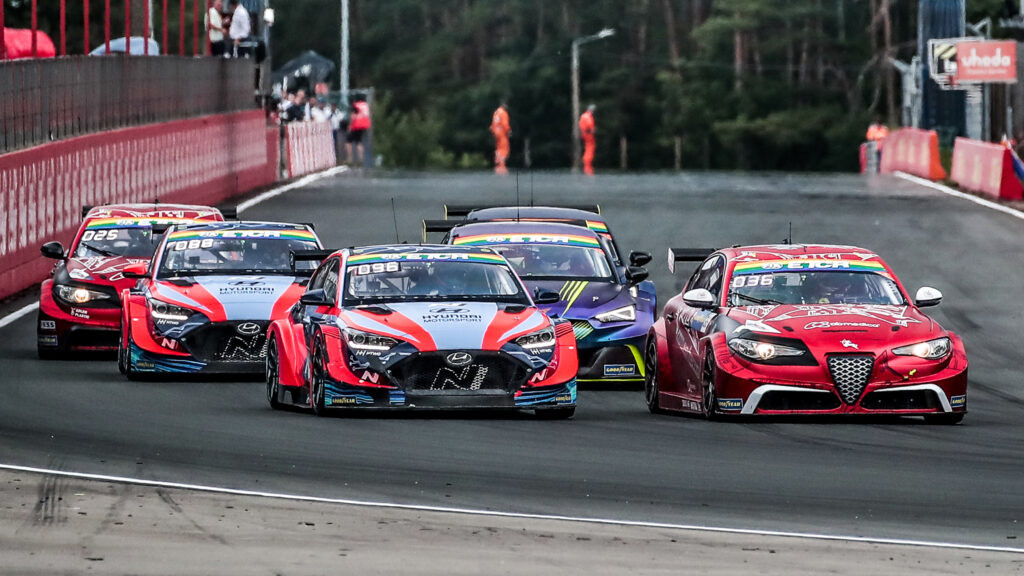 Azcona, who switched from Cupra to Hyundai for the 2022 season, has combined the ETCR with his WTCR involvement, with the team seemingly struggling to extract the most pace out of the Veloster N ETCR this year. The Spaniard only has one victory to his name, at Vallelunga, and lies third in the points' table, 67 points behind Tambay.
"My first season with Hyundai Motorsport hasn't been easy but we have been constantly learning and improving. Maxime (Martin) has been very competitive in the last few weekends and he will be the man to beat. Taking second place in the manufacturers' and third in the drivers' will be like a victory," said Azcona.
Maxime Martin also made his series debut this year for Romeo Ferraris and, after a tough start at Pau-Ville, the Belgian has been consistent throughout the season, winning at Zolder with a perfect score of 100 points to keep in the title fight.
In the manufacturers' table, Cupra EKS leads the charge with 876 points, 247 ahead of Hyundai Motorsport, with Romeo Ferraris just two further points behind.
The ETCR heads for the 3.645-kilometre Sachsenring, chosen for the season finale after the cancellation of the Turkish and Korean rounds, a new track for the electric touring cars and for some of the drivers on the grid, such as Spengler, Azcona and Michelisz.
FIA ETCR Sachsenring timetable
Friday 16th of September
12:30 – Pool Fast Free Practice 1
18:05 – Pool Furious Free Practice 1
Saturday 17th of September
8:00 – Pool Fast Qualifying 1 500 KW
8:25 – Pool Fast Qualifying 2 500 KW
10:55 – Pool Furious Qualifying 1 500 KW
11:20 – Pool Furious Qualifying 2 500 KW
15:40 – Pool Fast Quarter Final 1 300kW – 4 laps
15:56 – Pool Fast Quarter Final 2 300kW – 4 laps
18:40 – Pool Furious Quarter Final 1 300kW – 4 laps
18:53 – Pool Furious Quarter Final 2 300kW – 4 laps
Sunday 18th of September
8:05 – Pool Fast Semi Final 1 300KW – 4 laps
8:21 – Pool Fast Semi Final 2 300KW – 4 laps
10:45 – Pool Furious Semi Final 1 300KW – 4 laps
11:01 – Pool Furious Semi Final 2 300KW – 4 aps
15:41 – Pool Fast Super Final 300 KW – 6 laps
18:01 – Pool Furious Super final 300KW – 6 laps
All times in CEST