Bruno Spengler wins season finale
A record at the season final: 149,000 spectators visited the race track this weekend, more than ever before in history of the DTM. The numerous motor sport fans got to see a lot of action, because they witnessed an action-packed DTM final at the Hockenheimring. With his fourth victory, Franco-Canadian Bruno Spengler became runner-up in the championship with his AMG-Mercedes C-Class. No other driver in the DTM won more races in the 2006 season than the driver who had been 16th last year. A happy Spengler said: "I am very happy with this season and today was just my day."
1.5 seconds down, Briton Jamie Green came second. The Mercedes-Benz-driver, who had been the best qualifier in 2006 with four pole-positions, moved up from seventh to fifth place in the final championship standings. Third place, both in the race and in the final standings of the drivers' championship, went to Tom Kristensen with the Audi A4 DTM. Mercedes-Benz-driver Bernd Schneider, who had already been crowned as the new DTM champion 2006 before the race, came home in fourth position ahead of Audi-drivers, Martin Tomczyk, Timo Scheider and Christian Abt.
It was "au revoir" and good bye for Jean Alesi. The 42-year old Frenchman finished eighth after the final DTM race of his long career in motor racing. In five years of racing in the DTM, the former Formula 1-driver and Mercedes-Benz-driver clinched four victories and two pole-positions in the most popular international touring car series. Two other ex-Formula 1-drivers didn't make it to the finish: Mika Häkkinen retired on lap 20 due to a damaged diffuser on his Mercedes-Benz. Heinz-Harald Frentzen, who had started from pole-position, had to retire with his Audi A4 DTM after a collision with team-mate Mattias Ekström on lap 34.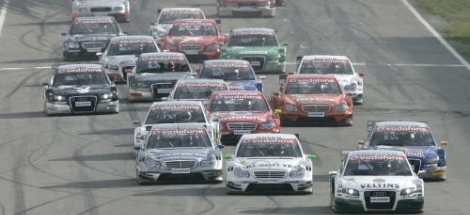 Bernd Schneider proved to be a worthy champion as he was the most consistent driver of the season by far. Admittedly, he scored only two victories in 2006, but he scored championship points in every round and finished on the podium in seven out of ten races. Victory in the team classification went to the Vodafone/Salzgitter AMG-Mercedes team with drivers Schneider and Green.
The two motor sport directors Dr. Wolfgang Ullrich (Audi) and Norbert Haug (Mercedes-Benz) were satisfied after an exciting DTM season with races in five countries. Norbert Haug said: "I can't see any losers in this series after this season. The fans have won, the series has won and so have we, the manufacturers." Dr. Wolfgang Ullrich added: It has been a great championship with great crowds and great TV images. We have raised touring car racing to a considerable level. Audi and Mercedes-Benz can be proud of that."
Bruno Spengler (winner, DaimlerChrysler Bank AMG-Mercedes): "Today, it was serious. There were five cars very close to each other, it was like in karting and it was really fun. My team had an excellent strategy. Today was just my day. I am totally happy with my season, even though it could have been even better. Making it into the top five was my goal, so I am really happy now."
Jamie Green (2nd place, Salzgitter-AMG-Mercedes): "I had a good start and initially, I was much faster than Heinz-Harald Frentzen. Second place is a good end of the season. Next year, I will take my maiden DTM victory."
Tom Kristensen (3rd place, Audi Sport Team Abt): "Today, it was a DTM race as good as they come and I am glad being on the podium. We have had highlights during the season, but at the end of the year is when it counts. Unfortunately, it wasn't enough. There was just no way to beat Bernd this year. I have great respect for his unique performance this year."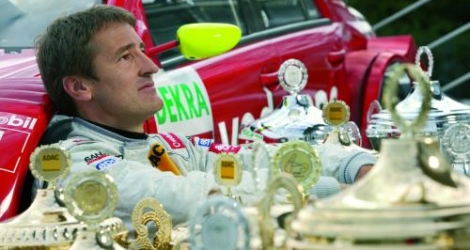 Mercedes-Benz motor sport director Norbert Haug: "First of all, I would like to thank Audi, it has been a great season. Now, it is six to four in terms of victories, because we were just better today. This was touring car racing at its highest level. The four victories for young Bruno Spengler are impressive. And even more impressive is Bernd Schneider's fifth title after having had a great and good fight with Tom Kristensen throughout the season.
The battle on the race track has never been closer than this year. You just have to look at the lap times to find out how close the cars are. Especially the races abroad really have impressed me this year. The premiere in Barcelona was an impressive start in a country where the series had been previously unknown. Right after that, we also had a very successful first race at Le Mans. I have a message for a possible third manufacturer: Audi and Mercedes-Benz have been entertaining the crowds with good and great competition in the past season and for us, opponents are always welcome."
Audi motor sport director Dr. Wolfgang Ullrich: "First of all, I would like to congratulate Mercedes-Benz with the great performance this year. Bernd Schneider is a worthy champion. With our performance, we have tried to give our best, but it just wasn't enough. That we got zero points from Brands Hatch instead of the ten points we had almost in our hands, was our fault. But in a championship like the DTM, you just can't afford something like that.
Next year, we will try to be a little but better, which is necessary to secure ourselves the title. Today, we have seen touring car racing at its best. It has been hard, but always fair racing. The spectators who are coming to the DTM here are coming, because they are expecting great motor sport. And this race today surely was the best promotion for it. Although we didn't get the results we had hoped for, my verdict is a positive one."