DTM teams complete comprehensive test at Vallelunga
The DTM manufacturers spent three days at the Italian track of Vallelunga in the first pre-season test with the cars in full 2017 specification.
Mattias Ekström and Jamie Green were on duty for Audi Sport, with the Swede being the first to run the brand new RS 5 DTM on Tuesday and completing 760 kilometres on the first day.
"We tried out a lot of different things: short stints, long runs, qualifying simulations and many different set-up variants. The new DTM cars are definitely more demanding in terms of driving skills. Plus, finding a perfect set-up compromise for the softer tyres and the changed aerodynamics is a great challenge", said an impressed Ekström.
Green was at the wheel on the second day, with Ekström taking over on Thursday. In total, the new RS 5 DTM completed 2,121 kilometres in three days of testing.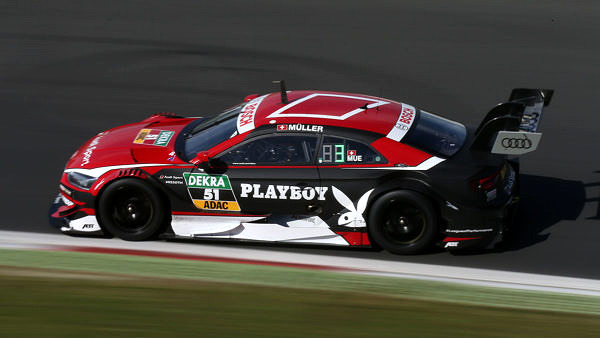 Dieter Gass, head of Audi Sport, was satisfied of having completed a fruitful test: "It was important for us to drive the final car in this last pre-season development test and to make optimum use of the few test days available to us. That's why we're very happy to have found perfect external conditions at Vallelunga and being able to drive for three days without any issues worth mentioning."
Mercedes AMG was on track with Robert Wickens, Gary Paffett and Edoardo Mortara, with the Briton completing the most laps on Wednesday at the wheel of the C63 DTM, but with the Italian being the fastest three-point star driver on the final day.
The test was mainly orientated at getting to work with the new, softer tyres. Gary Paffett said: "It was hard work, but we collected lots of useful data. Completing over 200 laps was pretty amazing."
Ullrich Fritz, head of DTM at Mercedes AMG, thinks the data collected will allow the team to prepare for the season opener: "The team's hard work has paid off so far with plenty of kilometres posted and data collected during two successful weeks of testing. Still, our work is far from over. We must now evaluate all the info, especially with regard to the new generation of tyres, and draw the right conclusions before final testing in Hockenheim."
BMW Motorsport split their work between Maxime Martin and Tom Blomqvist, both running for a day and a half each, focussing on the effect of the new regulations on the behaviour of the M4 DTM.
The final collective pre-season test will take place at Hockenheim from the 3rd to the 6th of April, the date of the series official launch and press day.