Manufacturers confident the DTM has a bright future with Class One
The manufacturers of the DTM expect that Class One regulations will ensure the prosperity of the DTM after Mercedes' exit from the series at the end of 2018. The presence of the Super GT cars at last week's season finale sparked further enthusiasm around the collaboration between DTM promoter ITR and the Japanese GTA.
The technical regulations implemented for 2017 already utilise a chassis built according to Class One, whilst the Super GT cars are already equipped with the two-litre, four-cylinder, 620bhp engine which is defined in the regulations.
The Lexus LC500 and the Nissan GT-R from Super GT were demonstrated at Hockenheim, with Audi Sport boss Dieter Gass impressed by their performance. "I thought they were great. I had the opportunity to watch them and, especially in the Motodrom, you could see the extra power," Gass said to TouringCarTimes. "I was surprised by the engine noise which, compared to ours, is a lot better, so I'm looking forward to hear the four-cylinder engine in our cars."
Discussions about Class One regulations have been ongoing since 2014, but there was a new impulse after Mercedes announced their exit from DTM from the end of 2018. BMW Motorsport director Jens Marquardt thinks all parts are close to a definitive set of regulations: "Discussions were difficult for a time, there was a lot of talk and it wavered a bit but I think we are on a high again, we are talking and things look positive to get Class One on top of each other. If you look at the Lexus car, is already very close to what we have. There are a few differences with the refuelling and everything, but I think you can see two series that are converging."
Gass added that the work on the new engine is almost complete: "If it was down to us, we would already be racing with the two-litre engine since the beginning of the season, possibly earlier. But, at the end of 2015, our friends from Stuttgart (Mercedes) put a veto on in order to continue with the V8."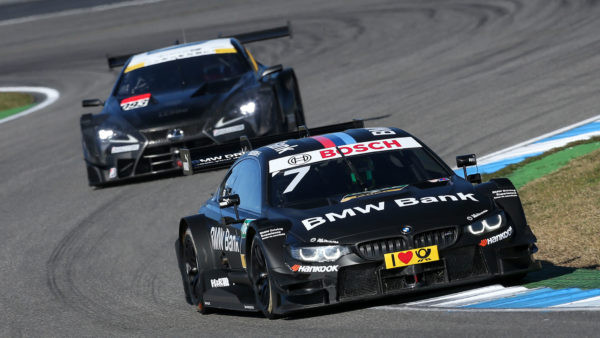 Many points of the Class One regulations are yet to be defined, but Gass already has an idea of how Audi will tackle the project: "I think we will continue with the RS 5. We are touring cars, anyway. I know that the Japanese call it 'Super GT', they are slightly different cars from us, especially the Honda, but if you look at the Lexus, it's very much like our RS 5. So I think that this is the best avenue to take with our cars."
"Still, I don't want to stress that Class One has to be a touring car class, as the Japanese and we have different views on some points. I don't want to upset our counterparts in Japan but, if you look at the cars, two doors and a coupé, that's a touring car."
DTM and Super GT have different sporting regulations, especially in respect of ballast and balance of performance. Gass doesn't think the differences will hamper the collaboration between both series: "The gap won't be so big, as we will be running the same engine. If it comes to the tyres, I think it's an easy approach: when you race in Japan, you adapt to their regulations, when you are in Germany, you race with ours. The problem may arise when you try to race together, then we will have to have some more discussions."
Marquardt believes that racing together is a real possibility as long as the technical regulations are the same for both series: "I think you have to separate between sporting and technical regulations. The technical regulations will be as much the same as they can be. With regards to sporting regulations, they have longer races, tyre wars, etc., But I don't see how this will affect the car. It was interesting, I spoke to Heikki (Kovalainen) on Saturday and the Super GT has 300-400-kilometre races which are seen not as endurance, but rather as sprint races over there."
Marquardt said it wouldn't be possible for BMW to compete next year in the Super GT with a modified version of the current DTM car: "There is no point in running the V8 in Japan. We have to fully focus our efforts, get the regulations, lower the bar for people to come here and bring manufacturers to join the regulations, because that is what would take us into the future. The goal is attracting more premium manufacturers to the series."
Mercedes AMG head of DTM Ulrich Fritz also supports the implementation of Class One, even if the Stuttgart-based manufacturer won't be in DTM beyond 2018: "We knew the Super GT cars from before from the successive workshops. It would be a shame if we couldn't merge the two series. It's great to have them at Hockenheim as our guests. Even if we won't be here beyond 2018 we will jointly develop a platform where is great to perform and compete."