René Rast wins again but Gary Paffett is the new DTM champion
Audi Sport Team Rosberg driver René Rast produced a strong drive at Hockenheim to take his sixth consecutive win of the season, but that wasn't enough to stop Mercedes-AMG's Gary Paffett from taking his second DTM crown with third spot.
It completed a hat trick for the Stuttgart-based manufacturer in their farewell season to the series although Fellow Team HWA driver Paul di Resta had a difficult race, finishing out of the points as his title bid ended.
Rast started like a rocket, taking first postion at Turn 1, followed by poleman Marco Wittmann (BMW) and Paffett. Further back, di Resta recovered three positions on the first lap to climb up to eighth, but had to give the position back to BMW Team RBM's Philipp Eng, losing two places.
Wittmann started closing the gap to Rast on lap three with Paffett watching the battle from a safe distance. Mercedes-AMG's Edoardo Mortara overtook BMW Team RBM's Bruno Spengler for fourth place on the following lap.
Di Resta was still stuck behind Eng, so he pitted at the end of the seventh lap, with the Team HWA mechanics completing a quick stop.
Paffett pitted at the end of lap 12, the first of the front runners to do so, completing a discreet 7.6-second stop. Mortara and Spengler were next, with the Italian released just ahead of the Canadian and investigated for an unsafe release.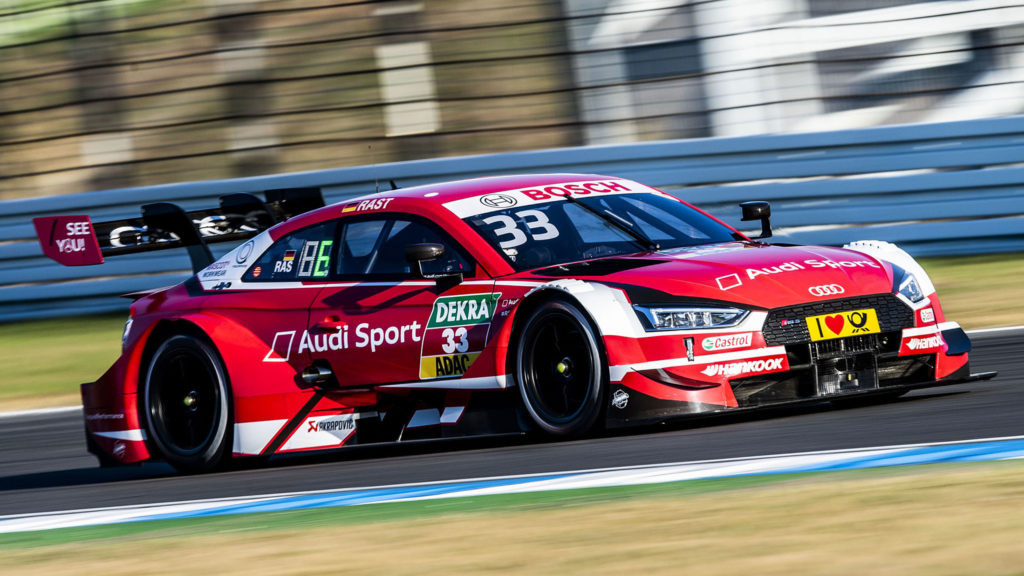 Rast pitted two laps after Paffett, with the Audi mechanics taking 6.8 seconds to change his tyres. Both title contenders started lapping significantly faster than Wittmann as soon as their tyres were up to temperature, with the twice champion losing over a second a lap to them. The BMW driver came for his pit stop at the end of lap 17, with Paffett undercutting him and rising to the virtual second place of the race.
The drivers who had not yet pitted played an important role in the middle of the race, as both Mercedes-AMG's Daniel Juncadella and Pascal Wehrlein didn't make it easy for Rast, whilst Audi Sport Team Rosberg's Jamie Green held up Paffett to the point that Wittmann came within DRS distance of the Briton, overtaking for virtual second position of the race at Turn 6 on lap 22.
Further back, di Resta was going through his personal penance, with his progression halted as Eng and Audi Sport Team Abt Sportsline's Nico Müller returned to the track right ahead of him after mounting fresh tyres.
As the front running positions remained stable, Audi Sport Team Abt Sportsline's Robin Frijns added spice to the race setting a new fastest lap with fresh tyres after a late stop, and recovering positions quickly. After overtaking di Resta and BMW's Joel Eriksson, the Dutch had within sight Mortara and BMW's Augusto Farfus and Eng, with the Austrian running in sixth place.
Farfus made a move on Eng on lap 31, with Frijns taking advantage to also overtake the Austrian. The Dutch continued gaining ground overtaking Spengler for fifth on the penultimate lap.
At the chequered flag, Rast took his sixth consecutive win and seventh of the season ahead of Wittmann and Paffett, who completed the podium.
Müller was fourth, ahead of Frijns, Spengler, Farfus, Eng, Eriksson and Glock, who completed the top ten.
After the final race of the season, Paffett wins the drivers' title with 255 points, four ahead of Rast and 22 over di Resta.