Mike Rockenfeller expects lap times "two or three seconds faster" in 2019
Audi Sport driver Mike Rockenfeller is excited ahead of the 2019 DTM season, which will start a new chapter for the series with the introduction of the new turbo engines.
The DTM cars will be powered by two-litre, four-cylinder, turbo engines, a step ahead in terms of power and efficiency from their 4.5-litre, eight-cylinder predecessors, producing over 600 bhp, 100 more than the previous engines.
"Depending on the track, the lap times will be two or three seconds faster than before," said the 2013 champion. "We pass the straights faster because we're driving at higher speeds – maybe at more than 300 km/h for the first time!"
"The turbo has less cubic capacity, four cylinders less and totally different characteristics," added Rockenfeller. "We have about 100 horsepower more output. Obviously, you can feel that. The engine has greater thrust. Feeling its acceleration even in fourth, fifth and sixth gear is awesome. You do have tremendous power as soon as the turbo kicks in."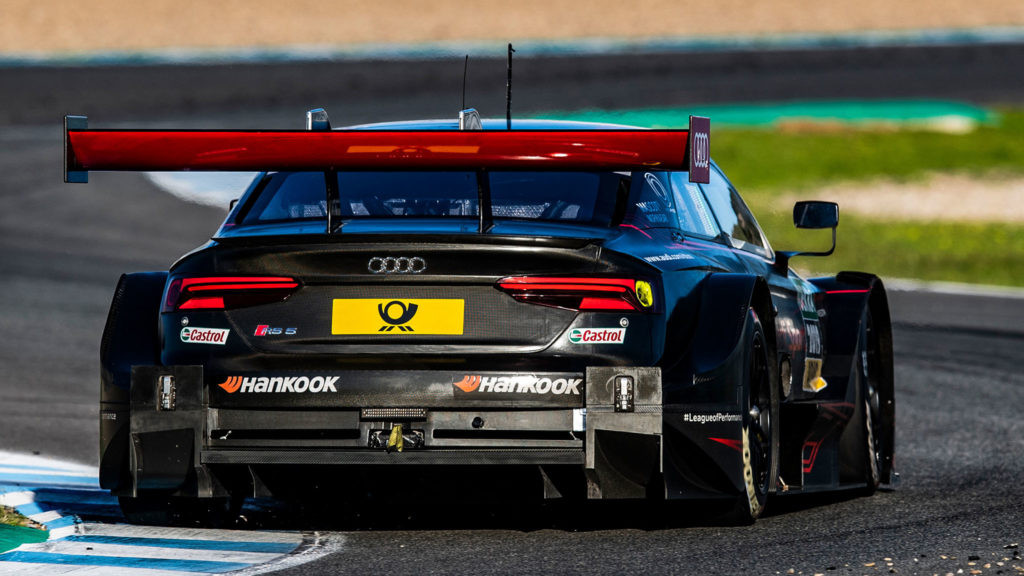 DTM tyre partner Hankook will maintain the same tyre specifications as in the two previous seasons, despite the tyres coming under pressure with the additional power. "The tyres are the same, but now 100 additional horses are driving the rear wheel, which makes them spin faster," said the 35-year-old. "The load is higher, especially for the rear tyres."
Audi was hard at work during the three days of testing in December at the southern Spanish track of Jerez, completing 500 kilometres each day with the new Class One specification Audi RS 5 DTM.
"Obviously, you run into some minor issues here and there, but that's why we test. On the whole, we've got a good base," said Rockenfeller. "We know where we still have to improve. There are only a total of seven pre-season test days left. This is a tight and intensive schedule."
'Rocky' is looking forward to the many challenges ahead in the next 12 months: "I'm extremely eager to see how the first race of the new DTM era will go. With Aston Martin joining, there'll be a new brand and new faces as well. And the first joint race with the Japanese Super GT is planned. I'm sure the 2019 DTM will be mega thrilling."