René Rast praises his team for a "perfect car"
Audi Sport Team Rosberg driver René Rast scored his second victory of the DTM season on Sunday at Zolder making him the only repeat winner so far this season.
The 2017 champion gave his team the credit for the achievement after Saturday's mechanical problems, when he had to retire from the opening race due to a damaged intercooler; his second retirement for an engine related issue in the new DTM turbo era.
The Team Rosberg mechanics dismantled Rast's car during the night to fit a new engine, which allowed Rast to score 27 points on Sunday.
"The guys worked up until the early morning hours," said Rast. "Even so, my car was immediately perfect again in qualifying on Sunday. A big thank you goes to the guys from my Team Rosberg, and to Audi Sport, who practically prepared the car from scratch again."
The Team Rosberg driver qualified in second place on the grid, barely six-thousandths of a second behind BMW's Sheldon van der Linde.
At the start he was momentarily passed by BMW's Philipp Eng and sat in second place for the first half of the race until he was able to get through ahead of the South African on lap 22.
"What a race! Incredible victory," added Rast. "Second victory on a Sunday and I'm now second in the championship, so I'm very grateful to the team for that."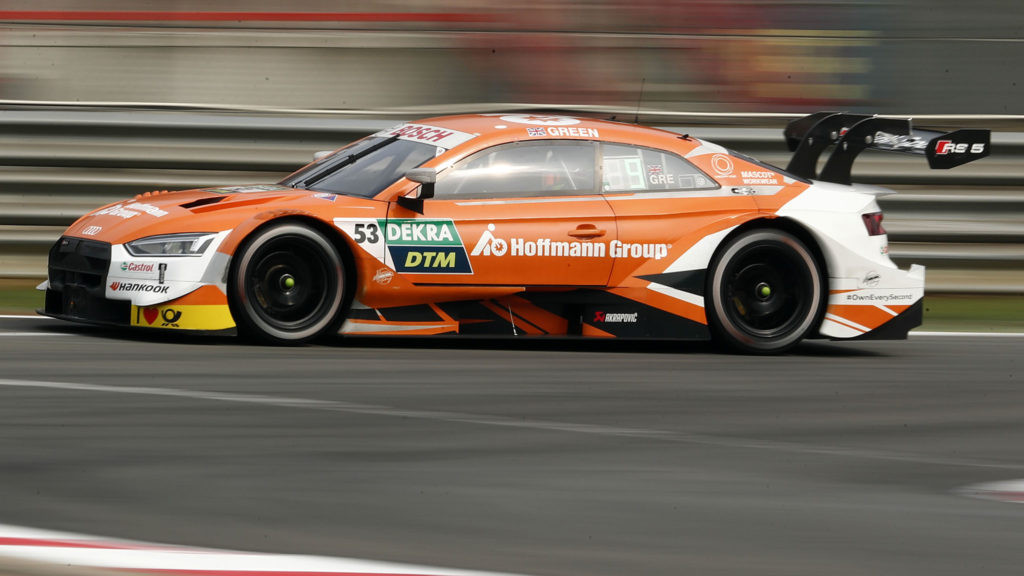 Team-mate Jamie Green also shook a few gremlins as he scored his first podium in the DTM in over a year.
The Briton started from ninth on the grid, climbing positions and changing tyres on lap ten. When the safety car came into action, Green came to the pits again, facing the latter part of the race with fresher tyres than his opponents.
The tactical decision allowed the Briton to gain nine places, attacking van der Linde in the closing stages to overtake the BMW rookie on the last lap for third place.
"I'm pleasantly surprised to get my first podium in more than one year, it means a lot to me. Last year was very tough so finishing on the podium, specially starting from ninth, it's good fun and I'm really happy," said Green after the race.
Rast is now second in the drivers' championship, five points behind Eng. In the manufacturers' classification, Audi leads with 213 points, 27 over BMW Motorsport.
"It was an incredible race, we wouldn't have expected it after yesterday when overtaking at Zolder seemed impossible, but today we saw plenty of overtaking manoeuvres and fantastic racing," said Audi Motorsport boss Dieter Gass. "It was an incredible race with an extremely good result for Audi. My thanks go to the entire squad that untiringly worked again this weekend. Without them, this success would not have been possible."