René Rast unhappy with race-deciding safety car at Misano
Audi Sport Team Rosberg driver René Rast was not satisfied by finishing second in Race 1 at Misano, despite climbing to the top of the championship.
Rast had scored his first pole position of the year in Saturday's session, and looked set for victory after the initial stages of the race. But BMW's Marco Wittmann had started from the back of the grid and played an aggressive strategy pitting at the end of the first lap.
Wittmann's move paid off when the safety car was called into action on lap three after fellow BMW driver Joel Eriksson stopped on the track.
Rast pitted at the end of lap 15, returning to the track 29 seconds behind Wittmann and confident the BMW driver wouldn't be able to finish the race without changing tyres again. But Team Rosberg's prospects failed as Wittmann nursed his tyres to the end, winning the race with an eight-second advantage over Rast.
"I'm not happy, though, that the race was decided by the safety car," said Rast after the race. "But that's the way things are in the DTM and we have to be able to cope with that."
Still, pole position and a second race provided the 2017 champion an important points haul that allows him to take the championship lead with 75 points, seven ahead of Wittmann.
"Actually, a second place is positive and the points are good for the championship," added Rast. "Generally, I'm very pleased with my car and my performance."
"It's a little disappointing not to win when you clinch the top four spots in qualifying and are fast in the race too," commented Audi Sport's boss Dieter Gass. "I'm having some difficulties with the many safety cars that influence the race results."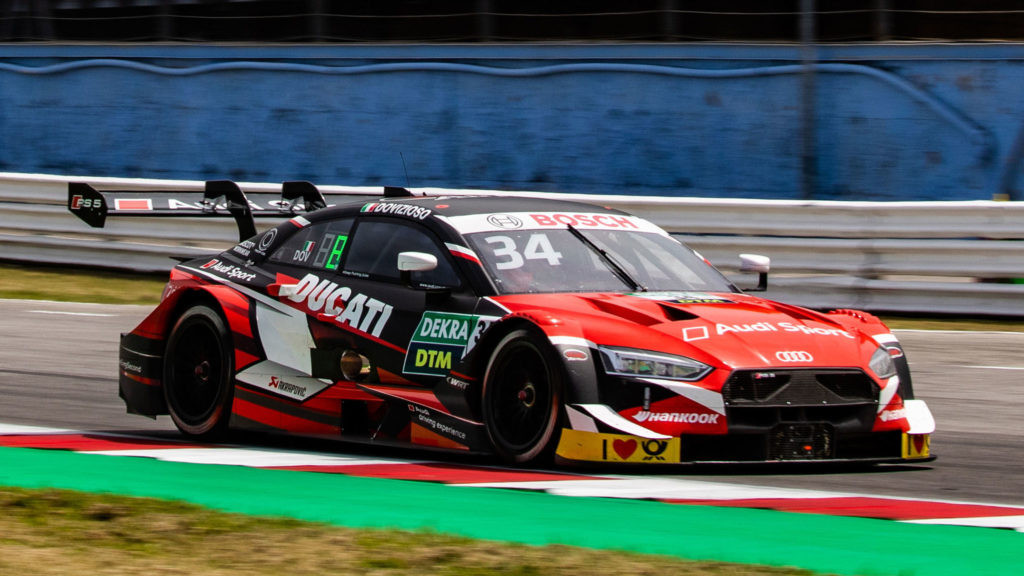 Audi's guest driver at Team WRT Andrea Dovizioso completed a strong race to finish 12th in his maiden appearance in the series.
"I learned a lot of things, it was nice to battle with a lot of drivers," said the MotoGP Ducati rider after the race. "I learned about racing lines but also about how to open the brakes and the throttle. The start wasn't so good but, in the end, I gained a lot of positions. The restart after the safety car was also really nice."
"What Andrea is showing here is truly impressive," said Gass. "It's fun to watch him and I'm already very excited to see what else is still possible with him tomorrow."
Audi Sport leads the manufacturers' standings with 272 points, 41 ahead of BMW Motorsport, with Aston Martin in third with 15 points.