Andy Priaulx is the champion!
Britons Andy Priaulx has won the World Touring Car Championship for the second consecutive year. Jörg Müller took second place in the standings, just one point behind Priaulx. Both Priaulx and Müller won a race at Macau, the final round of the season. Augusto Farfus failed to finish the last race and ended up in third spot in the championship.
Race 1: Priaulx closer to the title
Andy Priaulx turned pole into a win in Race 1, leading all the way and getting closer to a second consecutive World Championship. Second place went to Duncan Huisman while Yvan Muller passed the chequered flag third.
At the start Priaulx got off well while fellow BMW man Huisman had impressively promoted himself from fourth to second by the first corner.
It was at this corner on lap 1 that the first incident of the race happened. Augusto Farfus and Dirk Müller came into the Lisboa bend close; Farfus was on the inside and Dirk spun.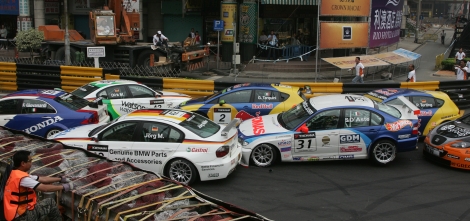 The German's car then blocked most of the track which caused the rest of the field to bunch up behind. However, a group of drivers – Fabrizio Giovanardi, Tom Coronel, Alain Menu, James Thompson and Nicola Larini – were fortunate to find a gap through.
In the first lap Stefano D'Aste and Jan Magnussen had sustained damage to their cars so had very slow journeys to the pits. The leading pack was held up severely by D'Aste at the Melco hairpin as overtaking on this part of the circuit is forbidden.
This resulted in Coronel making ground on the front drivers. Seconds later at Melco, Thompson hit Menu but both kept position – 8th and 9th respectively.
On lap 4 Giovanardi overtook Augusto Farfus for 4th at the Lisboa bend. The attack on Farfus was resumed on lap 5 by Jörg Müller and continued for the rest of the race.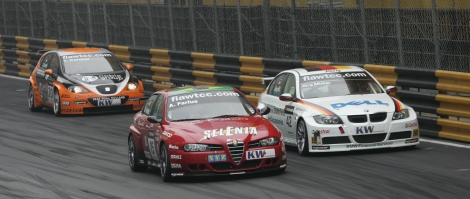 The Brazilian managed to keep Jörg at bay and came home 5th. Meanwhile Jörg had to do some defending of his own as Coronel was hot on his tail. Despite some nail-biting action Jörg finished 6th followed directly by the independent man from GR Asia.
Thompson was again involved in an incident on lap 7. The Briton went straight on at the Lisboa bend and rejoined 11th. Soon after, in a separate turn of events Nicola Larini crashed at the exit of San Francisco bend which meant the end of the race for him.
Fellow Chevrolet driver Alain Menu also suffered a premature ending as he crashed on lap 8. With Menu out Peter Terting claimed 8th position and the pole for Race 2.
Only three drivers remain in the title fight before the second race: Priaulx (69 pts), Farfus (64) and Jörg Müller (62).