Race 2: Priaulx is world champion!
Andy Priaulx has taken his third consecutive world touring car title on the street circuit of Macau, by winning the second race of the day. The BMW driver was in a very good position at the start of the second race of the day, after his main rivals in the champion already had failed to finish the first race and didn't manage to make it to the start of the second race.
After Priaulx had taken eight place in the first race, he was to start from pole position in the second race. The man from Guernsey made a good start and led into the Lisboa corner, ahead of James Thompson, who started in fourth and was the only remaining opponent for Priaulx.
However, Thompson was unable to keep up with the pace Priaulx was doing and slowly lost ground. His only hope left was that Priaulx would crash out or had to retire with a mechanical failure, and he won the race. However, the Briton came under threat from Chevrolet driver Nicola Larini. Thompson was able to stay ahead of Larini for a few laps, but had to let him pass in the end.
Priaulx's victory in the last race was not threatened for the rest of the race. After the flag had dropped, emotions came to Priaulx, who had a hard season and had to fight hard to defent his title. It had been a hard year for BMW alltogether, but in the end they won both the drivers title and the constructors title.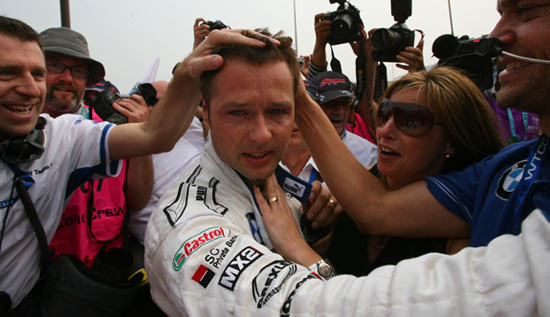 Stay tuned for more info!