Chevrolet confirms Cruze for 2009
Chevrolet Europe has announced it will race with the Chevrolet Cruze in the WTCC 2009 season. The Cruze will replace the Lacetti, with which Chevrolet has raced in WTCC for the past four years. The Cruze has been build and will be run by Ray Mallock Limited.
Chevrolet has already started testing the new car and are on schedule. The team will continue to develop the car over the winter and are confident the car will be a success. Drivers Alain Menu, Robert Huff and Nicola Larini are already confirmed for the 2009 season.
"Chevrolet has motorsport is deeply embedded in our DNA. With the new Cruze World Touring Car, Chevrolet continues to embrace its long tradition of winning on and off the track", Wayne Brannon of Chevrolet said. "In the past four seasons, Chevrolet had distinguished itself in racing with an increasing number of victories, not so different from the record sales growth which has developed in Europe. Again this year, sales are up by 23 percent in the first six months, and we are very proud that customers are choosing us in record numbers."
"For our European dealers, the WTCC has been an extremely useful communications tool, and they look forward to the next season with the Cruze. With the Cruze, we again look to emphasize the synergy between product and motorsports, and the WTCC is the best possible platform to achieve this. The championship's slogan is 'Real Cars, Real Racing', and that fits nicely with our philosophy to provide real cars for real lives, with expressive design, world class quality/reliability and an impressive list of standard features and content, all at an affordable price."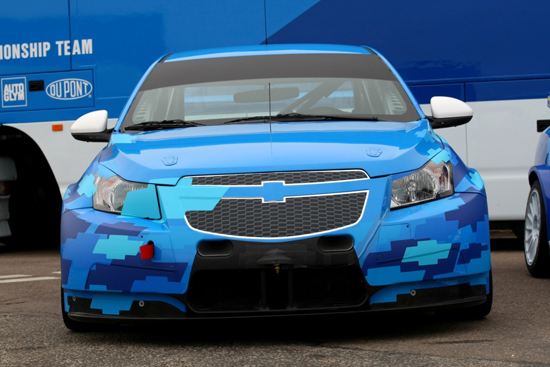 "The new Cruze will be the next milestone in Chevrolet Europe's motorsports history. So far, we have achieved every goal we set in 2005, step by step: challenge the competition, score points, prove we can win and then become regular frontrunners against competition with an established motorsports resume", Eric Nève adds. "With the Cruze, we will put the bar even higher and firmly aim at winning the World Championship."
"Chevrolet's unique 'trump card' is having worked with the same team, engineers and drivers for the past four seasons, with the success we all know. To be able to do this again with the Cruze will only help to increase our chances of achieving our goals."