Muller and SEAT voted Best of 2008
Not only did SEAT take a complete sweep of the 2008 FIA World Touring Car Championship, they dominated the TouringCarTimes Awards as well. Yvan Muller was voted best driver of the year by the readers of TouringCarTimes, SEAT Sport was voted the best team of the year and SEAT was voted best manufacturer of the year. The Spanish manufacturer has impressed the racing scene of 2008!
Yvan Muller's season of 2008 was indeed impressive. The Frenchman won three races and claimed no less than nine podium finishes.
In the TouringCarTimes Awards for driver of the year Muller was up against British Touring Car Championship champion Fabrizio Giovanardi, Swedish Touring Car Championship champion Richard Göransson and Deutsche Tourenwagen Masters champion Timo Scheider.
Muller got 34,6% of the votes, 1.2% more than Giovanardi who claimed second.
Final results of TouringCarTimes Driver Of The Year Awards 2008
1 – Yvan Muller – 34,6%
2 – Fabrizio Giovanardi – 33,4%
3 – Richard Göransson – 16,1%
4 – Timo Scheider- 15,8%
The support for SEAT Sport in the team of the year awards was major. The team got over 40% of the votes ahead of the BTCC Vauxhall team VX Racing.
Final results of TouringCarTimes Team Of The Year Awards 2008
1 – SEAT Sport – 40,3%
2 – VX Racing – 27,6%
3 – Audi Sport Team Abt – 17,6%
4 – West Coast Racing – 14,5%
SEAT was up against stiff competition against BMW in the manufacturer of the year awards. But the Spanish manufacturer got 38,4% of the votes, 9% more than BMW in second place.
Vauxhall was voted third with 17% of the votes and Audi was fourth with 15,2% of the votes.
Final results of TouringCarTimes Manufacturer Of The Year Awards 2008
1 – SEAT – 38,4%
2 – BMW – 29,4%
3 – Vauxhall – 17,0%
4 – Audi – 15,2%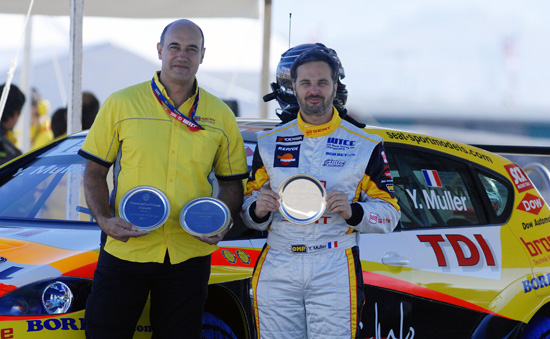 Yvan Muller and Jamie Puig with their TouringCarTimes trophies