Alain Menu targeting WTCC return in 2014
Last year's Championship runner-up is hopeful of a return to the World Touring Car Championship in 2014 if the rumoured manufacturer programmes come to fruition, but in the meantime he is getting ready for his Porsche Supercup debut this weekend in Barcelona.
The 49-year-old Swiss driver and two-time Super Touring-era British Touring Car champion is missing his first season in the WTCC since the Championship began in 2005, though admits he came close to a deal with could have put him on the grid with a Chevrolet Cruze this season.
"RML would have liked to have kept all three drivers, but RML needed money," said Menu to TouringCarTimes.
"It was the same with Bamboo and another team who were interested, but I had to bring money, and I told all of them, and I'm not being big headed, but I'm not even going to start looking as I know I will not find half a million…so I was honest with all of them from the start that I would not find it, so it closed quite a few doors," he joked.
"Bamboo were trying for a long time, Richard (Coleman, Team Principal) was really keen but it was all dependent on him finding his budget. Then this opportunity came up in the Porsche Supercup, and I thought at this stage in my career it's nice to start a new challenge," he added.
Alain Menu will drive for the Swiss FACH Auto Tech team this season in car #26 as the team makes its Porsche Supercup debut with the new Porsche 911 GT3 Cup car.
Menu admits that the challenge is harder than he expected after pre-season testing at the Circuit de Catalunya recently.
"We had a two day official Porsche test three weeks ago in Barcelona…I was 21st, a second and a half off, I just could not do a lap without making a mistake. OK, there were also some issues with the car, and then Porsche cancelled the second test to work on the gearbox, so testing wise it's been very limited.
"The first race is next weekend so really I'm unprepared – I don't think I've been that badly prepared for twenty-something years," added Menu.
"(I know) I need to change my driving style a bit, there's no question that I'm not up to speed yet, but I don't think I'm a second and a half off. In 2004 the only races I did with the Porsche I was quick straight away, but it had ABS, and in the (Supercup) car it's very hard to get the braking right without locking the front wheels."
The Porsche Supercup will feature all-new cars for this season which is something Menu hopes will level the field a bit, with the series featuring several established stars.
"The cars are new this year it should bring everybody more-or-less on the same level, but I don't know how much different they are to last year's car to drive and to set-up.
"The set-up is very limited…you can do toe, camber, ride-height, roll-bar, where there is seven different settings, and rear-wing and that's it. You cannot change dampers or springs, so on paper all the cars should be the same."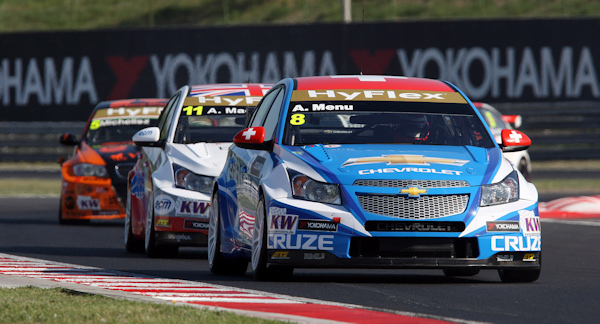 On Menu's 2014 aspirations, the Swiss driver still hopes to be able to return to the grid, and with rumours of Citroën, Renault and Subaru all poised to join Honda and Lada on the grid and perhaps even a fully-fledged manufacturer return from SEAT, he hopes his development experience with the Chevrolet Lacetti and Cruze will prove an asset to any new manufacturer.
"I'm not giving up, for sure I still love driving and obviously this Championship I know very well so I hope I can come back," said Menu.
"(As for development of the car) it's something I really like doing; I've done this before with Renault and Chevrolet, it's something I think I'm pretty good at, and I have the experience, so on paper I can bring a lot to a new manufacturer, I can only wait and see."
Menu has also recently tested Citroën's WRC-based DS3 prototype at Valencia, with the French manufacturer putting in some early ground work for a possible WTCC programme which is still so far unconfirmed.
"They call it an interim car. It's got some of the features of the new regulations and they needed an experienced WTCC driver to get feedback from somebody who knows the Championship and the cars, and yes they asked me and I was available, so yes, I tested for them," said Menu.