Last known territory of the year for WTCC as it heads to Shanghai
The Shanghai International Circuit will be the last circuit which drivers and teams will have prior knowledge this year, as four of the five last races are all new circuits for the WTCC. Shanghai is where Citroën wrapped up the manufacturers' championship last year, and they're likely to do so again this weekend in China, while an exceptional weekend for José María López could see the reigning champion pick up the drivers' title as well.
Mathematically speaking, López winning the drivers' title is unlikely. Pole position, a win and and a sixth place finish are the minimum the Argentinian would need to pull out the necessary margin over Citroën team-mate Yvan Muller, but that also assumes Muller not scoring any points over the weekend.
With López scoring his first DNF of the season two weeks' ago in Motegi, Japan – continuing to score is forefront of his mind.
"I'm sticking to my policy of trying to get the best possible result on every occasion," said José María López. "We saw at Motegi that you can find yourself out of contention after one turn. I can't control everything. You also need a bit of luck to win races and titles. I'm happy to be returning to Shanghai, a circuit where I did well last year and which holds excellent memories for us, as it is where we won the manufacturers' title. I hope we do just as well this year. We've certainly got the potential to do so."
It's also the home race for Citroën driver Ma Qing Hua, the only Chinese driver in the WTCC, and the young driver will be chasing his second win of the year after scoring a convincing victory in Vila Real, Portugal back in July.
"I have driven a lot of different cars in Shanghai: FR 2.0, GP2, F1, CTCC…most of the time, they were just one-off experiences, so I'm happy to be back here at the wheel of the Citroën C-Elysée WTCC," said Ma. "It's not an easy track, particularly with a front-wheel drive like ours. In terms of set-up, you have to find a compromise between peak speed – because we've got one of the longest two or three straights of the season – and stability on the fast turns."
Honda had their best weekend of the season in Japan, scoring pole position and winning race two with Tiago Monteiro, however Motegi was a very weight sensitive circuit which played into Honda's hands as they ran ballast free at the time. This weekend, their results have seen them gain an extra 40kg in compensation weight and so will be just 20kg lighter than Citroën.
"After Japan everyone is very motivated to continue the momentum," said Monteiro. "We showed progress last time out and our hard work paid off, but the downside is of course that with a win comes 40kgs penalty. Shanghai has never been an easy track for us and the characteristics of the Civics and with extra weight it will be tougher, but that's a challenge we accept and we're ready for it we never give up."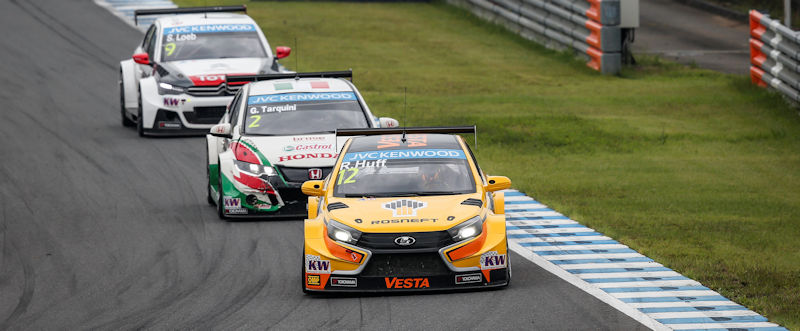 Lada will benefit from the compensation weight changes, in that Honda will be heavier but they remain on 0kg, so the Russian manufacturer will be the lightest cars on the grid along with the privateer Chevrolet RML Cruzes.
A podium result from 13th on the grid in Motegi was the highlight of the season for Lada's Rob Huff, and it hopeful of a strong weekend in China, where the team's title sponsor Rosneft is also the event's sponsor.
After the success of Japan I can't wait to get back behind the wheel of my Lada Vesta at the Shanghai International Circuit," said Huff. "The Formula 1 track is all about power and aerodynamics with its long straights, so I hope we will be better placed than with the Lada Granta last year. I have a lot of friends in China and know a lot of the local racers, and I always look forward to this weekend."
The entry list is unchanged from Motegi, although full-time entry Nika Racing's Rickard Rydell is likely to miss the event due to the logistics of having missed the ferry in Europe and will not likely appear before Thailand next month.
FIA WTCC Shanghai – Entry List
No – Driver – Nat – Team – Car
2 – Gabriele Tarquini – ITA – Honda Racing Team JAS – Honda Civic WTCC
3 – Tom Chilton* – GBR – ROAL Motorsport – Chevrolet RML Cruze TC1
4 – Tom Coronel* – NED – ROAL Motorsport – Chevrolet RML Cruze TC1
5 – Norbert Michelisz* – HUN – Zengő Motorsport – Honda Civic WTCC
7 – Hugo Valente* – FRA – Campos Racing – Chevrolet RML Cruze TC1
9 – Sébastien Loeb – FRA – Citroën Total WTCC – Citroën C-Elysée WTCC
10 – Nicky Catsburg – NED – Lada Sport Rosneft – Lada Vesta WTCC
11 – Gregoire Demoustier* – FRA – Craft-Bamboo – Chevrolet RML Cruze TC1
12 – Rob Huff – GBR – Lada Sport Rosneft – Lada Vesta WTCC
18 – Tiago Monteiro – POR – Honda Racing Team JAS – Honda Civic WTCC
19 – Rickard Rydell – SWE – Nika International – Honda Civic WTCC
25 – Mehdi Bennani* – MOR – Sébastien Loeb Racing – Citroën C-Elysée WTCC
26 – Stefano D'Aste* – ITA – Münnich Motorsport – Chevrolet RML Cruze TC1
27 – John Filippi* – FRA – Campos Racing – Chevrolet RML Cruze TC1
33 – Ma Qing Hua – CHN – Citroën Total WTCC – Citroën C-Elysée WTCC
37 – José María López – ARG – Citroën Total WTCC – Citroën C-Elysée WTCC
47 – Nicolas Lapierre – FRA – Lada Sport Rosneft – Lada Vesta WTCC
68 – Yvan Muller – FRA – Citroën Total WTCC – Citroën C-Elysée WTCC
* Driver eligible for the Yokohama Independents' Trophy
FIA WTCC Shanghai – Timetable
Friday 25th September
15:10 – Testing
Saturday 26th September
09:10- Free Practice 1
11:10 – Free Practice 2
14:30 – Qualifying
Sunday 27th September
14:45 – Race 1 (14 Laps)
15:55 – Race 2 (14 Laps)
All times China time (CST)