Sunday qualifying & twilight for WTCC in Thailand
There's a compact schedule on Sunday for the World Touring Car Championship's first visit to Thailand, as José María López heads to the penultimate round of the season all set to wrap up his second drivers' title for Citroën Racing.
The Chang International Circuit in Buriram will host the 11th weekend of the 2015 WTCC season, with qualifying taking place on Sunday morning, just as it had last time out in Shanghai, though this time by design. The second race of the day will also take place at 17:30, becoming the WTCC's first official twilight race, just a month before Qatar will host the first ever night race as the year's finale.
Only his worst weekend on record will stop José María López from wrapping up his second drivers' title in Thailand, with only team-mate Yvan Muller mathematically able to close the gap before the season's end.
Muller would need to close the points gap to López by at least five points throughout qualifying and the first race, and then by over 20 points over the whole weekend in order to keep any chance of the title alive heading to the season finale at Losail, Qatar.
"Obviously, I'm really looking forward to this meeting," said López. "I have prepared well and I know how many points I need to score to become world champion. Of course, whenever I get into my Citroën C-Elysée WTCC, I'm aiming for the best possible result, but this weekend, my sole objective will be to secure the title.
"It would be great to do it with a win, but I'll be trying to stay out of the in-race battles to make sure I get the points I still need. I'll be battling with myself rather than against my competitors."
Muller, never one to exaggerate his chances, admits the odds are against him and his target is just to do his best during the weekend and see what happens.
"Mathematically, I'm still in with a shot in the title race. But realistically, I don't think it's going to happen," he said. "I would have to produce two perfect weekends and hope that Pechito went virtually pointless…it seems a little far-fetched. Above all, I will be trying to enjoy myself, to perform well and to win some more races."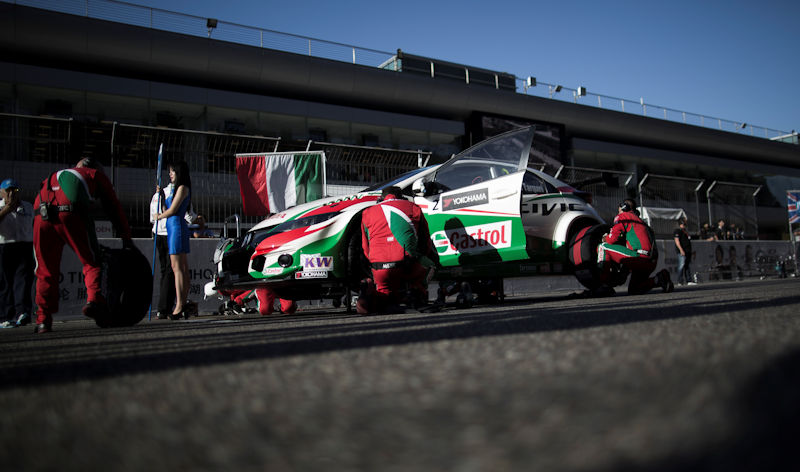 Honda will again carry 40kg of compensation weight, just 20kg less than the dominant Citroëns, but after a strong performance in China, where Gabriele Tarquini secured second place in race two after an intense battle with López, the Japanese manufacturer is still targeting podiums at least, though it's already known that Tarquini will be aiming for the reversed grid pole position for race two, courtesy of a penalty he earned in China.
Tarquini had been handed a five-place grid penalty by the stewards for the next race after an incident with Lada's Rob Huff in Shanghai, which means the Italian would start race one at best from sixth position. The Italian has already admitted he plans to write off race one and put all effort into achieving pole for race two, as he chases his first race victory since Suzuka last October.
"There are some similarities to Shanghai layout-wise, in particular the two long straights," said Tarquini. "The Civic WTCC doesn't favour those but we know we are stronger in race trim and as seen last time round, we've definitely closed in to the competition. We must go there challenging for podium results."
Lada will benefit from no compensation weight again this weekend, with an unchanged driver line-up of Rob Huff, Nicolas Lapierre and Nicky Catsburg driving the team's Vesta WTCCs in Thailand. The Russian marque continues to chase its first victory since Macau last year, while the privateer field of Chevrolet RML Cruze TC1s will also run at the minimum weight of 1,100kg.
Amongst the Chevrolet pack, two drivers taking part will be the only ones to have experience of the circuit, with Campos Racing's Hugo Valente and Tin Sritrai having raced last weekend during the TCR International Series event at the same circuit. Valente was due to start the second TCR race from pole position, but a mechanical problem saw him forced off the grid at the start, while Sritrai scored a victory in the TCR Asia class, driving an Asia Racing Team entered SEAT León Cup Racer.
WTCC Race of Thailand Entry List
No – Driver – Nat – Team – Car
2 – Gabriele Tarquini – ITA – Honda Racing Team JAS – Honda Civic WTCC
3 – Tom Chilton* – GBR – ROAL Motorsport – Chevrolet RML Cruze TC1
4 – Tom Coronel* – NED – ROAL Motorsport – Chevrolet RML Cruze TC1
5 – Norbert Michelisz* – HUN – Zengő Motorsport – Honda Civic WTCC
7 – Hugo Valente* – FRA – Campos Racing – Chevrolet RML Cruze TC1
9 – Sébastien Loeb – FRA – Citroën Total WTCC – Citroën C-Elysée WTCC
10 – Nicky Catsburg – NED – Lada Sport Rosneft – Lada Vesta WTCC
11 – Gregoire Demoustier* – FRA – Craft-Bamboo – Chevrolet RML Cruze TC1
12 – Rob Huff – GBR – Lada Sport Rosneft – Lada Vesta WTCC
18 – Tiago Monteiro – POR – Honda Racing Team JAS – Honda Civic WTCC
19 – Rickard Rydell – SWE – Nika International – Honda Civic WTCC
25 – Mehdi Bennani* – MOR – Sébastien Loeb Racing – Citroën C-Elysée WTCC
26 – Stefano D'Aste* – ITA – Münnich Motorsport – Chevrolet RML Cruze TC1
27 – John Filippi* – FRA – Campos Racing – Chevrolet RML Cruze TC1
33 – Ma Qing Hua – CHN – Citroën Total WTCC – Citroën C-Elysée WTCC
37 – José María López – ARG – Citroën Total WTCC – Citroën C-Elysée WTCC
47 – Nicolas Lapierre – FRA – Lada Sport Rosneft – Lada Vesta WTCC
68 – Yvan Muller – FRA – Citroën Total WTCC – Citroën C-Elysée WTCC
99 – Tin Sritrai* – THA – Campos Racing – Chevrolet RML Cruze TC1
* Driver eligible for the Yokohama Independents' Trophy
WTCC Race of Thailand Compensation Weights
Car – Gap – Ballast – Total Weight
Citroën C-Elysée WTCC – 0.0 – +60kg – 1,160kg
Honda Civic WTCC – 0.5 – +40kg – 1,140kg
Chevrolet RML Cruze TC1 – 0.9 – +0kg – 1,100kg
Lada Vesta WTCC – 1.4 – +0kg – 1,100kg
WTCC Race of Thailand Timetable
Saturday 31st October
09:00 – Testing
14:30 – Free Practice 1
17:00 – Free Practice 2
Sunday 1st November
10:00 – Qualifying
16:25 – Race 1 (14 Laps)
17:30 – Race 2 (14 Laps)
All times Thailand time (ICT)