Team Mulsanne relying on set-up progress after difficult Nordschleife weekend
Team Mulsanne's Alfa Romeo Giulietta TCRs failed to score points at the Nordschleife, as Fabrizio Giovanardi took a 14th place in the third race of the weekend and Gianni Morbidelli managed a 15th-place finish in Race 2. However, the team seem to have found a new set-up solution which could help in the coming races.
"We have tried a new solution which we believe has improved the car," said Giovanardi to TouringCarTimes. "The Giulietta seemed to respond much better, although the Nordschleife is not exactly the best place to evaluate the effect of the changes due to the nature of the track. I am more optimistic for the coming races, as long as we can improve our qualifying pace."
Starting at the back of the grid is causing the touring car legend to fight harder than he would expect, as several incidents since the start of the season have proven.
"In the second race I had a miscommunication with James Thompson, took evasive action in the grass at high speed and picked up a puncture. I just managed to save the car, which was the only positive side of that race. Things such as this have already happened in Morocco and in Hungary, I picked up damage due to contact and had to retire. This is typical of starting at the back of the grid. Hopefully the changes we made will allow us to start a bit further up ahead and finally give the Giulietta its first points of the year. The team and Romeo Ferraris are working so hard and they deserve good results."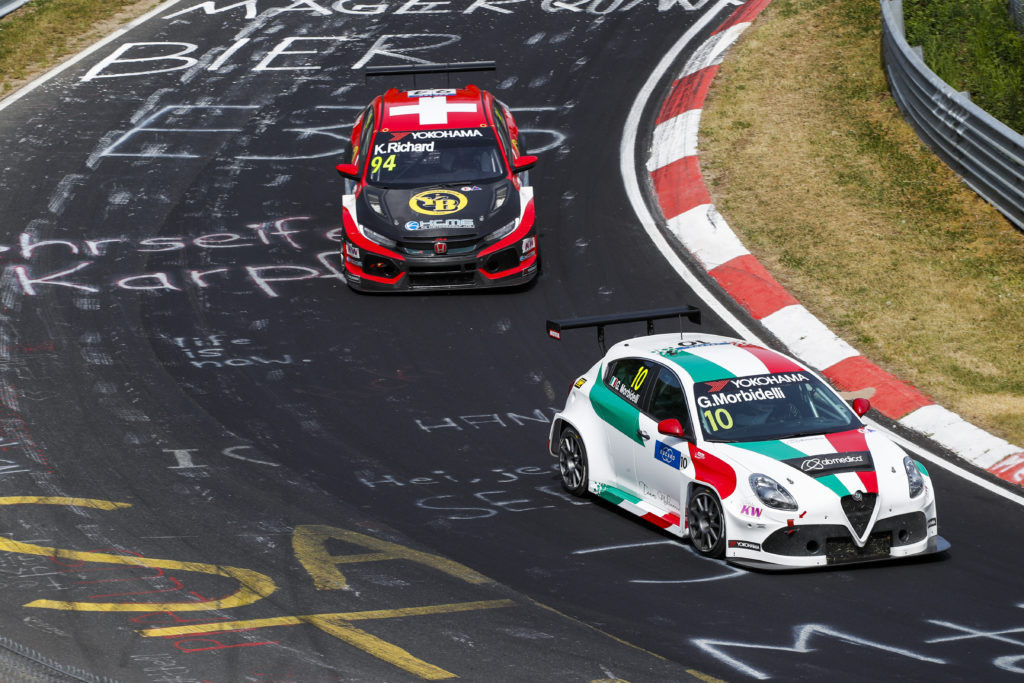 Gianni Morbidelli was a victim of the crash which involved BRC Racing's Norbert Michelisz and Volkswagen's Rob Huff in Race 3, as the Italian collected a wandering wheel from the Hungarian's Hyundai i30 N TCR.
"The incident itself was quite scary," said the former Formula 1 driver to TouringCarTimes. "There was a lot of dust and the wheel from Norbi's car just appeared from nowhere, I had no time to avoid it and the car jumped up in the air. In general I think the Nordschleife is more suited to endurance racing, I'm glad I made it home in one piece."
Morbidelli is also more optimistic as the Giulietta seems to have improved compared to the last few races.
"Zandvoort is a more conventional circuit and hopefully with the progress we have made we will be able to fight for points. We are learning a lot together as a team and I hope our hard work pays off soon, it would also be a morale boost for Team Mulsanne and Romeo Ferraris."
The Giulietta's best result remains Giovanardi's 13th-place finish at Marrakech in Race 2.